In this issue:
REGISTRATION DEADLINES
Sirens is just over two months away! If you haven't purchased your registration yet, or your Sirens Shuttle or Sirens Supper ticket, please make sure to do so before registration closes on September 13. All payments for registrations and tickets are due no later than September 20, 2014. If you have any questions, please contact us at (registration at sirensconference.org).
HOTEL RESERVATIONS
If you haven't yet made your hotel reservation, please do so as soon as possible. Skamania Lodge is a resort, and so some reservation and guarantee policies are different than standard hotel policies, including a requirement to reserve rooms well in advance. Please see the hotel page on our website for more details. Hotel reservations must be made no later than September 25, 2014. If you find you have questions during your reservation process, or you have concerns that we need Skamania to address, please contact us at (help at sirensconference.org); we are often able to assist, including communicating with the hotel.
If you'd like a roommate (or two or three), please check out our Facebook page and website message boards, where there is at least one person in need of a roommate!
PROGRAMMING UPDATES AND SPONSORSHIPS
We've posted some of the presentations offered up by Sirens attendees on the accepted programming page, with more to come as we finalize details, verify presenters, and tidy up the descriptions. If you see one you love, consider sponsoring the presentation under your name or on behalf of a group! Presentation sponsorships cost only $35, and the proceeds go entirely to Sirens 2014 expenses. We appreciate your donations, and if you sponsor a presentation by September 1, we'll be able to list your donation not just on the website, but in the printed program book that all attendees receive.
A schedule for the weekend will be posted soon; please keep an eye out on Twitter and Facebook for an announcement later this month.
Speaking of programming, Erynn Kerwin has been accepted to present "Graphic Fantasy Femme Fair," an interactive offering for sharing comics and other graphics-oriented work. If you would like to share your collection during the presentation, please contact Erynn through her sign-up form.
NARRATE BOOKSTORE AT SIRENS
Narrate Conferences, Sirens's 501(c)(3) presenting organization, will again be running a bookstore during the conference in 2014. It's a great fundraiser that helps Sirens continue, and it means that we get to share a great selection of books by and about women in fantasy.
We will have new books, of course, but a fun part of the bookstore is our used section. Readers can pick up copies of older (and perhaps out of print) books, or try new-to-them authors. Our attendees, our friends, our families, and sometimes people we don't even know send us fantasy books by or about women, and each of these books will cost our attendees only $5, with the proceeds going toward the conference.
We hope you'll consider donating your gently used books, both for the support it provides Sirens and also because our attendees are always great next readers. (We also take new books, if you'd like to augment our bookstore with some of our favorites, as donors have done in the past.) If you'd like to send books—new or used—please send them to us at:
Sirens
c/o Narrate Conferences
P.O. Box 149
Sedalia, Colorado 80135
The last day we can visit the box before Sirens is September 19, so please be sure to ship books in plenty of time. If you use the US Postal Service and ship only books, you should be eligible for media mail rates.
AUTHOR SIGNINGS
Sirens hosts time for author signings on Friday and Saturday during the conference. If you are a published author attending Sirens and you'd like to participate in our author signings, please email us at (help at sirensconference.org) as soon as possible. We'd love to have you join us.
SIRENS AUCTION
Each year, a significant amount of our Sirens expenses are funded through our auction of always interesting, sometimes fun, sometimes important items during the conference. In the past, we have auctioned off everything from reader kits to first editions, from editorial development letters to custom artwork. All of our auction items come from friends and attendees of Sirens, and if you'd like to donate an item or two, please contact Amy at (donate at sirensconference.org).
VOLUNTEERING AT SIRENS
Would you like to help out during Sirens? Volunteer shifts vary in length and responsibilities, but most are fairly short and low-key, and you're always able to ask a staff member for assistance if you encounter a problem. Most volunteer shifts are during programming and allow you to attend presentations; you might help people find seats, turn microphones on or off, give presenters their five-minute warnings that time is up, and gather lost and found items. See the volunteers page on our website for more details. If you're a returning volunteer, you don't need to fill out the form—just keep an eye out for email from the Google Group. We'll be sending information about available volunteer shifts to group members. Many thanks in advance!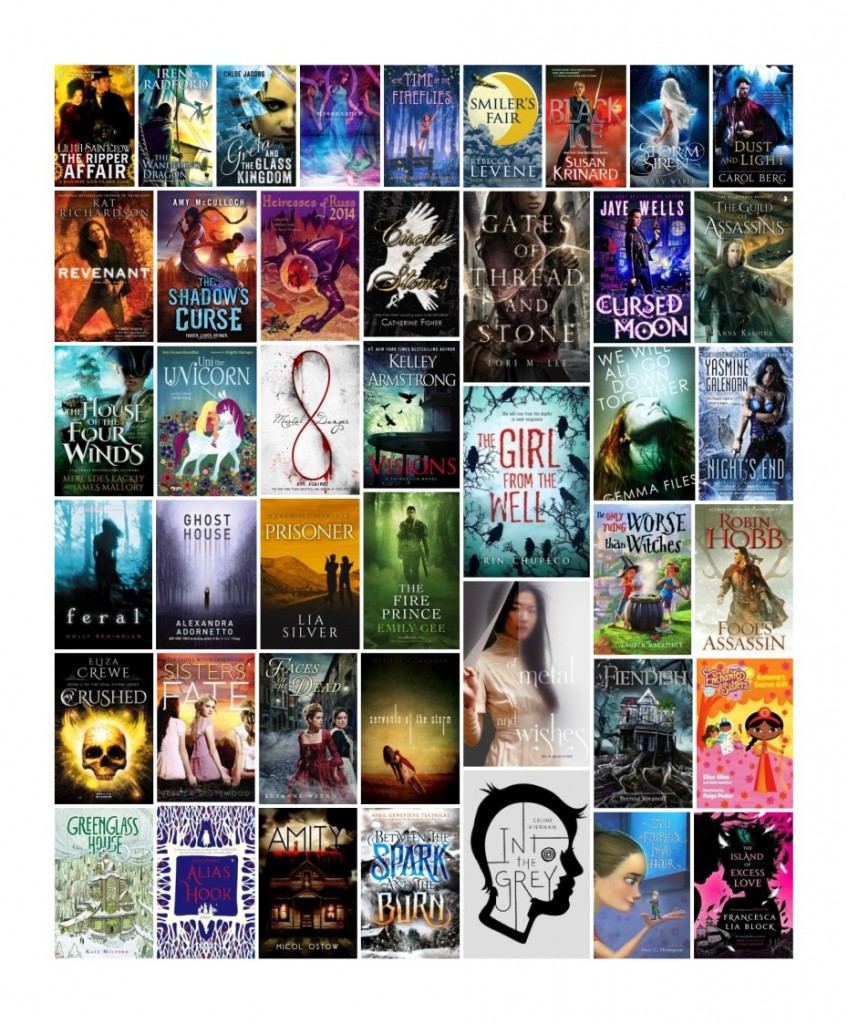 Click the image for a closer look at the covers.
Prisoner, Lia Silver (June 29)
Night's End (Indigo Court), Yasmine Galenorn (July 1)
Alias Hook, Lisa Jensen (July 8)
The Shadow's Curse, Amy McCulloch (July 8)
Dissonance, Erica O'Rourke (July 22)
The Time of the Fireflies, Kimberley Griffiths Little (July 29)
Smiler's Fair, Rebecca Levene (July 29)

Crushed, Eliza Crewe (August 5)
Dust and Light, Carol Berg (August 5)
Evil Fairies Love Hair, Mary G. Thompson (August 5)
Gates of Thread and Stone, Lori M. Lee (August 5)
The Girl from the Well, Rin Chupeco (August 5)
Greta and the Glass Kingdom (Mylena Chronicles #2), Chloe Jacobs (August 5)
The Guild of Assassins (Majat Code #2), Anna Kashina (August 5)
Jim Henson's Enchanted Sisters: Autumn's Secret Gift, Elise Allen and Halle Stanford, ill. Paige Pooler (August 5)
The House of the Four Winds, Mercedes Lackey and James Mallory (August 5)
Mortal Danger, Ann Aguirre (August 5)
Of Metal and Wishes, Sarah Fine (August 5)
Revenant (Greywalker #9), Kat Richardson (August 5)
Servants of the Storm, Delilah S. Dawson (August 5)
The Wandering Dragon (Children of the Dragon Nimbus #3), Irene Radford (August 5)

Black Ice (Midgard #2), Susan Krinard (August 12)
Cursed Moon (The Prospero's War #2), Jaye Wells (August 12)
Heiresses of Russ 2014: The Year's Best Lesbian Speculative Fiction, Melissa Scott and Steve Berman, eds. (August 12)

Between the Spark and the Burn, April Genevieve Tucholke (August 14)
Fiendish, Brenna Yovanoff (August 14)
Fool's Assassin, Robin Hobb (August 14)
The Only Thing Worse Than Witches, Lauren Magaziner (August 14)
Sisters' Fate (The Cahill Witch Chronicles #3), Jessica Spotswood (August 14)

The Ripper Affair (Bannon & Clare #3), Lilith Saintcrow (August 19)
Storm Siren, Mary Weber (August 19)
Visions (Cainsville #2), Kelley Armstrong (August 19)

Amity, Micol Ostow (August 26)
Faces of the Dead, Suzanne Weyn (August 26)
Ghost House, Alexandra Adornetto (August 26)
Greenglass House, Kate Milford (August 26)
Feral, Holly Schindler (August 26)
Into the Grey, Celine Kiernan (August 26)
The Island of Excess Love (Love in the Time of Global Warming #2), Francesca Lia Block (August 26)
We Will All Go Down Together, Gemma Files (August 26)
Uni the Unicorn, Amy Krouse Rosenthal, ill. Brigette Barrager (August 26)

The Fire Prince, Emily Gee (August 27)

Circle of Stones, Catherine Fisher (August 28, US edition)

Trailer for Mortal Heart by Robin LaFevers.

Nnedi Okorafor reads "Poison Fish."

First episode of Outlander (TV series version) by Diana Gabaldon available August 2.

World Fantasy Award nominees for 2014; Ellen Datlow and Chelsea Quinn Yabro to receive lifetime achievement awards.

Obituary Note: Mary Rodgers, who might be known to readers of genre fiction as the author of Freaky Friday, passed June 26.

J. K. Rowling expanded the Potterverse with a new short story on Pottermore.com (registration required).

Interested in cover design? Check out the 2014 Chesley Awards finalists.

2014 Locus Awards winners.

You might be familiar with Mette Ivie Harrison's fantasy work, so you might be interested to know that her forthcoming mystery The Bishop's Wife is one of Publishers Weekly's most anticipated books of fall 2014.

Warner Bros. has optioned the rights to Anne McCaffrey's Dragon Riders of Pern.

Trailer for the movie of musical Into the Woods.

Holly Black to write installment in Dr. Who book series.

A good illustration for the existence of Sirens.
Do you have exciting book news or fantasy links to share? Send it to (help at sirensconference.org) and we'll include it in the next newsletter. We appreciate your contributions!
SIRENS REVIEW SQUAD
In the not-so-distant past, we had a review squad: volunteer readers reviewing books that they would recommend to others interested in women in fantasy. We're pleased to bring back the review squad, and to feature their book reviews in the Sirens newsletter. If you think you could contribute a book review of at least 250 words sometime during the next year, please visit the volunteer system and on the third page, where you are offered different volunteer team choices, indicate that you'd like to be a book reviewer in the section that says "Please tell us of any specific position you are interested in." Review squad volunteering is very flexible; we simply ask that you share information about books you've enjoyed. You can contribute once or on an ongoing basis, and on a schedule that works for you.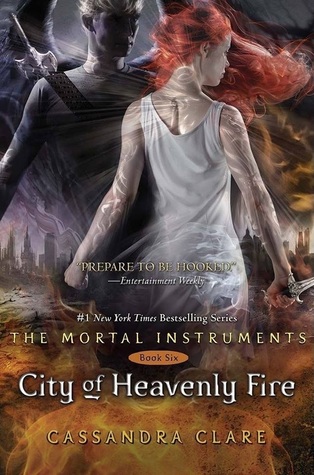 City of Heavenly Fire
Cassandra Clare
City of Heavenly Fire is the sixth and final installment of the Mortal Instruments young adult urban fantasy series. The series was originally supposed to be a trilogy, ending with City of Glass, before Clare decided to extend it another three books. As a devoted fan, I eagerly read the second "trilogy" of the series, only to be rather disappointed by the first two books. So if City of Heavenly Fire was going to "save" the series, it had big expectations to live up to—especially considering the ending of City of Glass was pretty much perfect.
City of Heavenly Fire follows Shadowhunter Sebastian Morgenstern, who has chosen to turn against his kind and ally with demons in a bid to take over not only our world, but the demon realms. In his quest for power, he takes the Shadowhunter's most sacred object, the Mortal Cup, and uses it to create the Infernal Cup, a device capable of stripping Shadowhunters of their souls and turning them into mindless killers loyal to him. Now, Sebastian is determined to turn as many Shadowhunters as possible so he can get revenge on those who wronged him (namely his Shadowhunter mother, Jocelyn, his sister, Clary, and her boyfriend, Jace, of whom Sebastian is jealous) and rule the world. The war that he creates pits Shadowhunter against Shadowhunter and strains their fragile alliances with the faeries, vampires, werewolves and warlocks, threatening to send the entire magical world into chaos and, ultimately, ruin.
While I was hoping for a little more dramatic of a conclusion, I have to say I enjoyed this book. It felt more like the first three, like I was "home" with friends I really cared about. That may be because the group of five (Clary, Jace, Isabelle, Alec, and Simon) were together through most of the book, giving the story a great group dynamic. Many of the characters retained the signature qualities that made me fall in love with them, while Jace and Simon matured to men who think of others before themselves. While this maturity somewhat dampens Jace's snarky sarcasm, it also makes him a character worthy Clary's affection. Simon, too, matures admirably, allowing him to make decisions that change the fate of everyone involved, especially his own.
Some reviewers have criticized the story, saying that while their world is coming to an end, the characters are focused in their love lives and don't have their priorities straight. First of all, the book is young adult, so it makes sense that the characters will be thinking about love (it's what you do when you're a teenager). Plus, it's not just love interests that consume the thoughts of the characters, but parents, siblings and friends. In many ways, the story is about relationships, with others and with ourselves. It's about overcoming what we think we want to be able to see what we truly need – all wrapped in a page-turning adventure that will keep you wondering who lives and who pays the ultimate price.
Fair warning: about a third of this book is setup for Clare's next Shadowhunter series, The Dark Artifices. The prologue and a subplot are devoted to introducing the next generation of Shadowhunters and getting us to like them enough to want to read their story. It didn't work with me, and so much time was spent on them with so little impact to the main plot of this book that it felt forced. Similarly, the frequent nods to the Infernal Devices series (the prequel series to this one, set in the Victorian era) also drove me crazy. I didn't care about past and future. I just wanted to know what happened in this story. But, thankfully, that was something I was able to look beyond.
Despite these shortcomings, City of Heavenly Fire is a good conclusion to the series. While I still think City of Glass was stronger, it was a pleasant reading experience and I'm happy to know how things turned out for my favorite characters. If you're into the Mortal Instruments, I think this will provide a satisfying conclusion. – Nicole Evelina
---
Questions? You can comment here or write to us at (help at sirensconference.org).