We're excited to bring you a roundup of interesting links and December book releases of fantasy by and about women.
As always, we'd love to hear from you. If you've sold a fantasy work, read a great recently-released story, discovered a fantastic link that we missed, or if you've got a book or story review to share, please get in touch. Send news to (help at sirensconference.org).
YOU'RE EXCITED ABOUT…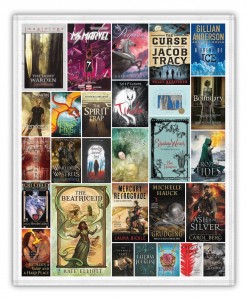 Click the image for a closer look at the covers.
December 1:
Crucible: All-New Tales of Valdemar, ed. Mercedes Lackey
Tinder, Sally Gardner, ill. David Roberts
A Daughter of No Nation, A. M. Dellamonica
Rise of the Titans, Kate O'Hearn
Sweet Ruin, Kresley Cole
Gateway to Fourline, Pam Brondos
The Rosemary Spell, Virginia Zimmerman
The Curse of Jacob Tracy, Holly Messinger
The Light Warden, Liz Williams with introduction by Kari Sperring
Ash and Silver, Carol Berg
Hawthorn, Carol Goodman
Ms. Marvel Vol. 4: Last Days, G. Willow Wilson, ill. Adrian Alphona
December 7:
The Sleeping Beauty Theatre, Su Blackwell and Corina Fletcher
December 8:
A Dream of Ice, Gillian Anderson and Jeff Rovin
Mercury Retrograde, Laura Bickle
December 11:
Boundary, Mary Victoria Johnson
The Spirit Trap, Veryan Williams-Wynn
December 15:
Frozen Tides, Morgan Rhodes
Warlords and Wastrels, Julia Knight
December 17:
Deadly Sweet Lies, Erica Cameron
December 19:
Shadow Wrack, Kim Thompson
December 22:
The Beatriceid, Kate Elliott
Grudging, Michelle Hauck
December 29:
Endure, Sara B. Larson
Escaping Peril, Tui T. Sutherland
Between a Vamp and a Hard Place, Jessica Sims
Vendetta, Gail Z. Martin
December 31:
A Fantasy Medley 3, ed. Yanni Kuznia