In this issue:
SCHEDULE
Before arriving in Denver, you might want to review the accepted programming and schedule for Sirens—and daydream about owning a Time-Turner or consider volunteering (see below). You might also want to review the Books and Breakfast list and pick something to chat about before the day's programming starts. Or perhaps you'd like to squeeze in a few more books from this year's themed reading list; after all, you have a couple more weeks!
UPCOMING INSTRUCTION EMAILS
If you've registered for Sirens, please keep an eye on your inbox during the weeks leading up to Sirens. We'll be sending you emails about meeting the Sirens Shuttle, checking in for the Sirens Studio, finding the Sirens Supper, and claiming your Sirens registration. If you are a presenter, please keep an eye out for email communications from the programming team as well.
Also, if you're riding the Sirens Shuttle and haven't provided your flight information, please check your email for a note from the help desk or write to (help at sirensconference.org). We'll track your progress toward Sirens and make sure that you haven't run into any delays along the way!
VOLUNTEERING
We'd love your help at Sirens! Volunteer shifts vary in length and responsibilities, but most volunteer shifts are during programming and allow you to attend presentations. See the volunteers page on our website for more details. If you're a returning volunteer, you don't need to fill out the form—just follow the directions in the email sent through the Google Group.
We could really use your help filling a few remaining shifts. If you're planning to stick to a room for the whole morning or afternoon anyway, and don't mind flagging down help if any problems arise, we'd be thrilled to have you volunteer for a few hours, and so would the presenters! Thanks in advance for your help.
GUEST OF HONOR INTERVIEW
We're interviewing our Sirens 2016 Guests of Honor about their inspirations, influences, and craft, to the role of women in fantasy literature as befits our 2016 focus on lovers and the role of love, intimacy, and sex. We can't wait for you to meet them this October! Here's the last of our interviews.
From our interview with Laurie J. Marks on the philosophy of aspects of Shaftal that powers the plot of her Elemental Logic series: "[I]t seems feminist to emphasize the importance of an entire community in accomplishing anything worth doing."





You may find our interviews with our other 2016 Guests of Honor, Kiini Ibura Salaam and Renée Ahdieh, here and here.
BOOKS AND BREAKFAST
Each year, Sirens selects a variety of popular, controversial, and just plain brilliant books related to our theme—and invites attendees to bring their breakfast during the conference and have an informal conversation about those books. For 2016, we've kicked Books and Breakfast off early—so all of you have time to choose a couple books and read! This year, we've also launched a program to get these books into your hands prior to Sirens.
For extra motivation, we're giving away copies of each Books and Breakfast book—two each month! Congratulations to @StellaLuna617 on Twitter for winning August's Giveaway. Check out how you can win Pantomime and Like Water for Chocolate in our post here.
BOOKSTORE
Thank you to everyone who has donated books! We really appreciate your support for our mission, and we hope you'll stop by during Sirens to browse and maybe find a new (or new-to-you) book to add to your collection. If you're planning to shop, we'll have books by the guests of honor, from the Books and Breakfast list, and by attending authors, as well as a selection of other really good reads.
AUCTION
Do you have an item to donate for this year's auction? Please let us know by the end of the day on Thursday, October 20, so that we can get your donation onto the auction list. All sorts of items are welcome! If you'd like to donate an item or you have questions, please email Amy Tenbrink at (amy.tenbrink at sirensconference.org). She'd love to hear what you're planning and address any concerns you might have. Thank you in advance for your support!
CONTACTING US DURING SIRENS
Many of our staff will be traveling to Denver as early as Friday, October 14, to prepare for Sirens. While we are in transit and when we're on site unpacking and setting things up for the conference, we will not be able to monitor our emails as closely as we do at other times. If you have an urgent inquiry during this time, please send it to (help at sirensconference.org) and we will get back to you as quickly as possible.
During the conference, the best way to contact us is in person! While we do check our email, we're only able to do so sporadically. If you have any questions or would simply like to chat, please stop by our information desk in the Inverness's Summit D starting at 3:00 p.m. on Thursday, October 20.
TWITTER SCHEDULE
Beginning on Tuesday, October 18, we will be posting the Sirens Studio and conference schedule on our Twitter. If you prefer not to receive these reminders, you may want to mute or unfollow @sirens_con until Monday, October 24. (The schedule will not be posted on Facebook, though a few highlights might be.)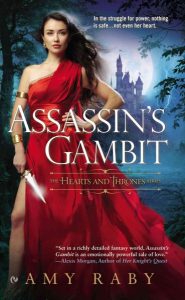 Last month, Sirens co-founder Amy Tenbrink read Amy Raby's Assassin's Gambit, full of fantasy romance, rebel assassins, and sex: "Assassin's Gambit has solid fantasy world-building, pretty funny dialogue, and unlike a lot of fantasy heroines, a super-competent heroine who saves the world." Check out her review on the blog and Goodreads.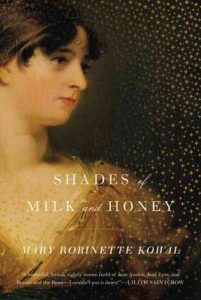 Are you close to finishing the 2016 Sirens Reading Challenge? Faye is! Last month she read Mary Robinette Kowal's Shades of Milk and Honey, which she found full of Jane Austen analogues and "familiar plot twists like secret arrangements, duels and carriage chases" but she was impressed by the masterful weaving of magic, or "glamour" into the worldbuilding. Check out her review on the blog and Goodreads.
---
Questions? Concerns? Please email general queries to (help at sirensconference.org) and questions about programming to (programming at sirensconference.org).