In this issue:
REGISTRATION PRICE JUMP
Registration for Sirens increases to $205 on July 6. Beat the deadline and save that money for books!
SIRENS SUPPER AND SIRENS SHUTTLE TICKETS
The price of tickets to the pre-conference Sirens Supper and for the shuttle from Portland International Airport won't go up on July 6, but about half of the tickets for the Sirens Supper are already gone. You can find more information on the registration page.
BOOKS AND BREAKFAST
Books and Breakfast will be held on Friday, October 17, and Saturday, October 18. For those of you who are new to Sirens, this is where we invite you to bring your own breakfast and join us for informal chats about books before presentations begin in the morning. It's perfectly okay to join in Books and Breakfast if you haven't read any of the books, but if you'd like to come prepared, the schedule is listed below.
This year, our reading list includes tales of hauntings and the haunted. Some of them are new, some of them were game-changing or controversial books, and some we just loved and wanted to share.
Friday, October 17, 2014
The Demon Catchers of Milan, Kat Beyer
The Diviners, Libba Bray
The Red Tree, Caitlín R. Kiernan
The Frangipani Hotel, Violet Kupersmith
A Stranger in Olondria, Sofia Samatar
Saturday, October 18, 2014
Long Lankin, Lindsey Barraclough
Anya's Ghost, Vera Brosgol
Comfort Woman, Nora Okja Keller
White Is for Witching, Helen Oyeyemi
My Real Children, Jo Walton
AMY'S BOOK CLUB
One of Sirens's chairs, Amy Tenbrink, is reading "hauntings and the haunted" books in preparation for October. Ghosts, specters, memories, visions, and other patterns show up across fantasy, horror, and non-genre fiction, and she keeps talking to us about them, so we thought she should talk to you, too! If you'd like to read along, there are discussions up for Dreaming in Cuban by Cristina García and Imaginary Girls by Nova Ren Suma, and the following books will be featured on the Sirens Goodreads Group in coming months.
July: The Ghost Bride, Yangsze Choo
August: In the Shadow of Blackbirds, Cat Winters
September: The Woman in Black, Susan Hill
October: The Haunting of Hill House, Shirley Jackson
NARRATE BOOKSTORE AT SIRENS
Narrate Conferences, Sirens's 501(c)(3) presenting organization, will again be running a bookstore during the conference in 2014. It's a great fundraiser that helps Sirens continue, and it means that we get to share a great selection of books by and about women in fantasy.
We will have new books, of course, but a fun part of the bookstore is our used section. Readers can pick up copies of old, but perhaps out of print, favorites, or try new-to-them authors. Our attendees, our friends, our families, and sometimes people we don't even know send us fantasy books by or about women, and each of these books will cost our attendees only $5, with the proceeds going toward the conference.
We hope you'll consider donating your gently used books, both for the support it provides Sirens and also because our attendees are always great next readers. (We also take new books, if you'd like to augment our bookstore with some of our favorites, as donors have done in the past.) If you'd like to send books—new or used—please send them to us at:
Sirens
c/o Narrate Conferences
P.O. Box 149
Sedalia, Colorado 80135
The last day we can visit the box before Sirens is September 19, so please be sure to ship books in plenty of time. If you use the US Postal Service and only ship books, you will be eligible for media mail rates.
SIRENS AUCTION
Each year, a significant amount of our Sirens expenses are funded through our auction of always interesting, sometimes fun, sometimes important items during the conference. In the past, we have auctioned off everything from reader kits to first editions, from editorial development letters to custom artwork. All of our auction items come from friends and attendees of Sirens, and if you'd like to donate an item or two, please contact Amy at (donate at sirensconference.org).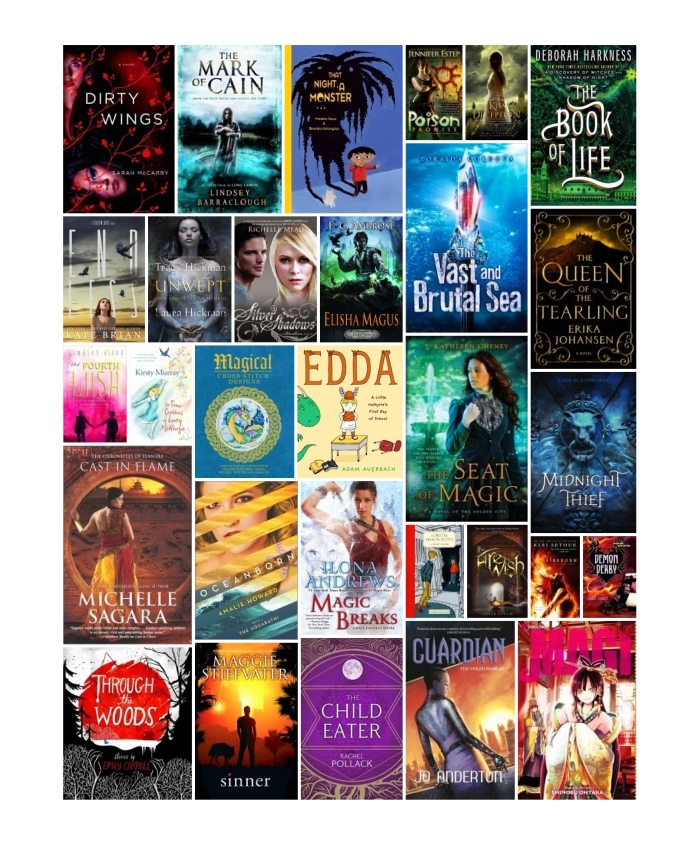 Click the image for a closer look at the covers.
Guardian, Jo Anderton (June 6)
Magi: The Labyrinth of Magic, Vol. 6, Shinobu Ohtaka (June 10)
Edda: A Little Valkyrie's First Day of School, Adam Auerbach (June 24)

Elisha Magus (The Dark Apostle #2), E. C. Ambrose (July 1)
Fireborn, Keri Arthur (July 1)
Unwept (The Nightbirds #1), Tracy Hickman and Laura Hickman (July 1)
The Seat of Magic: A Novel of the Golden City, J. Kathleen Cheney (July 1)
Sinner (The Wolves of Mercy Falls #4), Maggie Stiefvater (July 1)
Through the Woods, written/.ill Emily Carroll (July 1)
The Vast and Brutal Sea (The Vicious Deep #3), Zoraida Cordova (July 1)

The Child Eater, Rachel Pollack (July 3)
The Mark of Cain, Lindsey Barraclough (July 3)

Demon Derby, Carrie Harris (July 8)
The Kiss of Deception, Mary E. Pearson (July 8)
Midnight Thief, Livia Blackburne (July 8)
The Queen of the Tearling, Erika Johansen (July 8)

The Book of Life (All Souls Trilogy #3), Deborah Harkness (July 15)
Dirty Wings (All Our Pretty Songs #2), Sarah McCarry (July 15)
Loretta Mason Potts (reissue), Mary Chase, ill. Harold Berson (July 15)
That Night, a Monster…, Marzena Sowa, ill. Berenika Kolomycka (July 15)

Endless, Kate Brian (July 22)
The Fire Wish, Amber Lough (July 22)
Poison Promise, Jennifer Estep (July 22)

The Four Seasons of Lucy McKenzie, Kirsty Murray (July 24)

Magical Cross Stitch Designs: Over 60 Fantasy Cross Stitch Designs Featuring Fairies, Wizards, Witches and Dragons, Various Authors (July 28)

Cast in Flame (Chronicles of Elantra #10), Michelle Sagara (July 29)
Magic Breaks (Kate Daniels #7), Ilona Andrews (July 29)
Oceanborn (The Aquarathi #2), Amalie Howard (July 29)
Silver Shadows (Bloodlines #5), Richelle Mead (July 29)

The Fourth Wish, Lindsay Ribar (July 31)

TU BOOKS has opened the review period for the New Visions Award, a path to publication for MG and YA books by authors of color writing speculative fiction, with entries due October 31.

The Sunburst Award Society for Excellence in Canadian Literature of the Fantastic announced the shortlist for the 2014 Sunburst Award (including some great reads you just might have heard of).

The 2014 Mythopoeic Awards finalists have been announced.

The New Visions Award is accepting submissions until October 31.

Andre Norton's young adult novels.

MIND MELD: When Genre Intersects Classical Literature and Myth.

Erynn Kerwin has been accepted to present "Graphic Fantasy Femme Fair," an interactive offering for sharing comics and other graphics-oriented work. If you would like to share your collection during the presentation, contact Erynn through the sign-up form.
Do you have exciting book news or fantasy links to share? Send it to (help at sirensconference.org) and we'll include it in the next newsletter. We appreciate your contributions!
SIRENS REVIEW SQUAD
In the not-so-distant past, we had a review squad: volunteer readers reviewing books that they would recommend to others interested in women in fantasy. We're pleased to bring back the review squad, and to feature their book reviews in the Sirens newsletter. If you think you could contribute a book review of at least 250 words sometime during the next year, please visit the volunteer system and on the third page, where you are offered different volunteer team choices, indicate that you'd like to be a book reviewer in the section that says "Please tell us of any specific position you are interested in." Review squad volunteering is very flexible; we simply ask that you share information about books you've enjoyed. You can contribute once or on an ongoing basis, and on a schedule that works for you.
If you're with a publisher and are interested in providing review copies or similar, please contact us at (help at sirensconference.org). On to this month's reviews!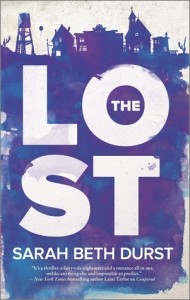 The Lost
Sarah Beth Durst
Harlequin MIRA (2014)
eBook edition
A silver hoop earring. The other black flip flop. A recipe for blueberry coffeecake. I've lost other more important things. My way in my early twenties. A belief in love after the demise of a relationship. Trust in a friend.
Sarah Beth Durst's The Lost introduces us to the place where all of these things go when they are lost, including people who have lost their way physically, mentally and emotionally. Stuck in a rut professional, twenty-seven-year-old Lauren Chase, Durst's narrator, is facing a reality at home she just doesn't want to deal with. So, she does what we've all thought about doing at some point: getting in the car and just driving. She wants to get as far as she can on one tank of gas.
It's in the first two chapters Durst develops a claustrophobic, arid atmosphere which helps the reader to feel Lauren's panic. When she finds herself on a stretch of road with no exits, no towns and a sandstorm, Durst's power of imagery chokes the reader with alarm. Then we meet the strangest character of the whole book—and that's saying a lot because there are some odd ones—the town of Lost.
If the claustrophobic imagery of this book hits you in the gut, then Durst's character development is a perfect knockout. She forces you to scrape the veneer of trash and dirt from her cast and begin to peer into the broken humanity in Lost. Beauty emerges in the brokenness. And Lauren Chase evolves from fugitive on the run from her mother's illness to discovering that she's "interesting." And, of course, we get to meet "The Finder" of Lost, who just happens to be a mysterious, tattooed man who spouts passages from literature. Swoon!
Durst, author of both adult and YA novels, offers a journey full of cacti, trash and beauty. It's an unexpected combination and it works in this adult novel. When I picked it up I had no idea it was the first in a trilogy. Now, I'll be waiting for the void to spit out the second in this series. That will make sense once you read this stellar novel, which you should do now. – Courtney Marquez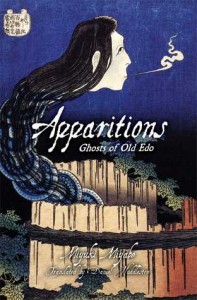 Miyuki Miyabe, Apparitions: Ghosts of Old Edo (first published as あやし = Ayashi, 2000; English trans. Daniel Huddleston, 2013)*
Apparitions includes nine tales threaded by the supernatural. It could have been on the official Sirens reading list this year if not for publication timing, given its multifarious engagement with hauntings and situation of female characters. The one commonality amongst the stories, aside from their early nineteenth-century setting in Edo—now Tokyo—is shopkeeping. Each story features a shop's family, employees, and the unspoken rules that bring individual and communal voices into conflict. The collection's first two stories, "A Drowsing Dream of Shinjū" and "Cage of Shadows," are perhaps the most straightforward; from there the tales become more complex. My favorite story of the set is "The 'Oni' of the Adachi House," in which two women who have married into a shopkeeping family muse upon the mother-in-law's unusual past in ways that encircle the shop's fortunes yet stand somewhat apart from them, at once independent and dependent.
Haikasoru, publisher of the English translation, has taken pains to include Masao Higashi's learned yet pithy introduction to the original publication. Higashi asserts that Miyabe balances a Japanese spirit tradition with a slightly dizzying array of anglophone influences. These stories may also be read as slice-of-life historical fiction, however, evocative of times and places when sane adults talk to dead relatives and when spirits (kami) are adjacent to everyday existence. If the reader doesn't mind the stories' absence of trains, motor vehicles, and telephones, then several of the stories could nearly be set today, with multiple ways to construe their interest in the nuances of social convention, socioeconomic barriers, and transgression.
Huddleston's translation reads smoothly for someone who (like me) doesn't read Japanese. He expects the reader to be minimally familiar with Japanese culture, however, which means that some key terms are left unglossed, such as shinjū (double suicide), the annual Obon festival, woven floor mats called tatami, -cho to indicate a location, and the O- prefix on women's names (not matched in the volume by -san or similar). One may look these things up easily via the internet, of course, and they help to maintain the sense of a slightly opaque setting. In a few places it seems that Huddleston or the editor has decided to take pity upon the unwary reader; after someone addresses a character named Yonesuke as "Mr. Rice," for example, the narrative adds a bit clumsily, "using a nickname based on the first kanji of Yonesuke's name" (p. 241).
I've enjoyed Apparitions well enough to want more, and it turns out that Miyabe is not only prolific but relatively well translated into English. Available to me are Crossfire (1998, English trans. 2005) and Shadow Family = R.P.G. (2001, English trans. 2004), whose original publication dates bracket Apparitions neatly. Both have contemporary thriller settings from a US-inflected genre perspective, Crossfire with a paranormal bent and Shadow Family a police procedural. Three others—ICO: Castle in the Mist, The Book of Heroes, and Brave Story—are available from Haikasoru. Miyabe's first translation into English, All She Was Worth, should also be mentioned. There is a single-volume treatment of Apparitions = Ayashi in manga form, Oedo Fushigi Hanashi Ayashi (お江戸ふしぎ噺 あやし, published 2010), but it appears not to be translated into English, whether officially or by fans.
* Throughout this review, Japanese names are written surname last; if the review were in Japanese, names would appear surname first.– thistleingrey
BOOK GIVEAWAY
Post a comment of at least two sentences on our blog or LiveJournal by July 20, 2014, and tell us which June release you're most excited about and why. We'll choose one lucky winner from the participants and contact them for a mailing address, and that person will win a copy of the book they chose. (U.S. addresses only, please!) Current Sirens staff members are not eligible to win, though they may leave a comment, but all volunteers, attendees, and I-wish-I-could-attendees are welcome to tell us their favorites.
JUNE GIVEAWAY WINNER
Congratulations to Kate Larking, who picked Rain! Please email us at (help at sirensconference.org) to arrange for your book to be sent.
---
Questions? You can comment here or write to us at (help at sirensconference.org).