We're excited to bring you a roundup of interesting links, June book releases of fantasy by and about women, and a quick review of Signal to Noise by Silvia Moreno-Garcia. Look for this ever-expanding collection of good news to come to you mid-month in the future.
As always, we'd love to hear from you. If you've sold a fantasy work, read a great recently-released story, discovered a fantastic link that we missed, or if you've got a book or story review to share, please get in touch. Send news to (help at sirensconference.org), and see the Sirens Review Squad section below for how to become a reviewer.
ON THE BLOG: JUNE 2015
Sirens Newsletter – Volume 7, Issue 8 (June 2015)
Testimonials: Why did you decide to attend Sirens the first time?
Five Amazing Science Fiction/Fantasy Works for Fantasy Readers Who Struggle with Science Fiction
Testimonials: Why do you think Sirens is important?
10 Fantasy Books with Lovely, Lyrical Prose
Inverness Hotel: It's Where You Want to Be
YOU'RE EXCITED ABOUT…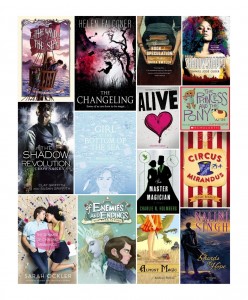 Click each image for a closer look at the covers.
May 26:
The Bloody Chamber and Other Stories: 75th Anniversary Edition, Angela Carter, introduction by Kelly Link
June 1:
Girl at the Bottom of the Sea, Michelle Tea
Sisters of the Revolution: A Feminist Speculative Fiction Anthology, ed. Ann VanderMeer and Jeff VanderMeer
June 2:
Because You'll Never Meet Me, Leah Thomas
Briar Queen, Katherine Harbour
Children of the Earth, Anna Schumacher
Circus Mirandus, Cassie Beasley
Deadly Design, Debra Dockter
Descent, Tara Fuller
The Dragons of Heaven, Alyc Helms
The Edge of Forever, Melissa E. Hurst
Fandemic, Jennifer Estep
From a High Tower, Mercedes Lackey
Hidden Huntress, Danielle L. Jensen
The Hidden Prince, Jodi Meadows
The Master Magician, Charlie N. Holmberg
Powerless, Tera Lynn Childs and Tracy Deebs
The Shadow Revolution, Clay Griffith and Susan Griffith
Saving Her Destiny, Candice Gilmer
Shards of Hope, Nalini Singh
Siren's Fury, Mary Weber
Spelled, Betsy Schow
Stories of the Raksura: The Dead City and The Dark Earth Below, Martha Wells
The Summer of Chasing Mermaids, Sarah Ockler
The Witch Hunter, Virginia Boecker
June 4:
The Changeling, Helen Falconer
June 9:
Alive, Chandler Baker
The Clockwork Crown, Beth Cato
Crash, Eve Silver
Dead Ice, Laurell K. Hamilton
The Invasion of the Tearling, Erika Johansen
The Mechanical Theater, Brooke Johnson
The Stars Never Rise, Rachel Vincent
Waking the Dragon, Juliette Cross
June 10:
Waters of Versailles, Kelly Robson
June 15:
Almost Magic, Kathleen Bullock
June 16:
Glittering Shadows, Jaclyn Dolamore
Pure Blooded, Amanda Carlson
June 23:
The Blood Curse, Emily Gee
The Book of Speculation, Erika Swyler
A Book of Spirits and Thieves, Morgan Rhodes
The Leveller, Julia Durango
Trailer Park Fae, Lilith Saintcrow
The Wand and the Sea, Clare M. Caterer
June 25:
The Year's Best Dark Fantasy & Horror 2015, ed. Paula Guran
June 30:
Of Enemies and Endings, Shelby Bach
The Fire Children, Lauren M. Roy
Heat of the Moment, Lori Handeland
The Hollow Queen, Elizabeth Haydon
The Philosopher Kings, Jo Walton
The Princess and the Pony, Kate Beaton
Shadowshaper, Daniel José Older
The Singular & Extraordinary Tale of Mirror & Goliath, Ishbelle Bee
Soul Scorched, Donna Grant
Storm, Amanda Sun
Supervillains Anonymous, Lexie Dunne
SIRENS REVIEW SQUAD
We'd love to have more volunteers contribute short reviews of works they have read and loved. If you think you could contribute a book (or short story, or a work related to fantasy literature) review of at least 250 words sometime during the next year, we would be pleased—nay, thrilled—to have your recommendation for the Sirens newsletter.
Review squad volunteering is flexible; we simply ask that you share information about work you've enjoyed. (We are, of course, focused on fantasy books by and about women, and we hope you'll consider interesting, diverse selections; if you're not sure about a particular work, email help at sirensconference.org and we'll advise!) You can contribute once or on an ongoing basis, and on a schedule that works for you. Please visit the volunteer system and, when we ask you what position you're interested in, type in "Book Reviewer."
Signal to Noise
Silvia Moreno-Garcia
Meche, Sebastian, and Daniela are struggling with their social status in high school in Mexico City in 1988. Meche, fluent in the language of music (one of the few things she has in common with her father), makes a startling discovery: she can use music to harm a bully. The manifestation of magic is something she shares with her grandmother, but their communication is too strained for Meche to learn from her. Meche realizes that she can feel magic's power in vinyl, and that with Sebastian and Daniela's (sometimes reluctant) help, she can make their wishes come true—only, not all of their wishes are for good, and the magic could tear her friendships apart.
Interspersed with the scenes of 1988 are scenes of Meche's return to the city in 2009 after a long absence. She has come to mourn her father, not to mend old wounds. Still, she can't escape the evidence of her past, and all of the feelings and memories that come with having once had a taste of magic.
While music is an important theme in Signal to Noise, I am fascinated by the oft-ignored theme of magic with consequences. Here, magic complicates what is already complicated, and its potential for destruction is neither academic nor remote; instead, its dangers are highly personal. I particularly want to chew on the idea of failure, too—failure to reach across generations and friendship fault lines, and what happens when people fail to pass on important information, leaving the followers to draw conclusions that aren't always kind, or true, or fully understood. Failure to see the outcome of actions. Failure to find self-realization. Still, all of the failures lead to bittersweet reckoning.
If none of this hooks you, consider Signal to Noise for Meche, its angry, flawed heroine. She's a character you'll want to both comfort and unravel. –Undusty New Books