Today, we present you a love letter to Sirens by co-founder Amy Tenbrink. To those who have have attended Sirens previously, you know Amy's speeches are legendary. 
Dear Sirens,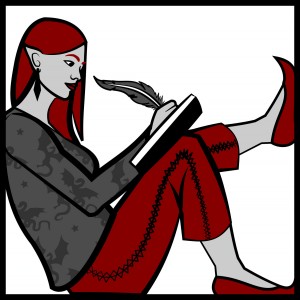 Over the years, we've come up with an easy response for people who inquire as to your nature: why, of course, you're a conference about the remarkable women of fantasy literature. With a name that both demands attention and references the legendary sirens, what else would you be?
In founding Sirens, we knew what we wanted: a place about women and women's work and women's passions. A place where a woman can, without shame or irony, declare herself a queen, a dragon-master, a general. A place where women aren't constrained by what our real-world society demands.
That was the seed of what we wanted to build: a light in a world of stories that frequently exclude us. And we did. Sirens is a blazing sun devoted to discussion, debate, and celebration of the remarkable women of fantasy literature, whether they are readers, authors, scholars, publishing professionals, librarians, or educators.
But, Sirens, you've become so much more than that.
Sirens, you've become a community. A thoughtful community. A smart community. A warm, friendly community that welcomes people of all genders, sexualities, races, abilities, and identities. A community that discusses, with respect, what fantasy literature by women has done—and what it can and should do in the future. A community that reads. That listens. That disagrees. That celebrates. A community that, to many, many people, now feels like home.
Sirens, women are extraordinary.
And fantasy literature gives us the chance to explore the full depth, breadth, and complexity of that extraordinariness. Without limits. Without boundaries. Without reality. Where success doesn't look so homogenous and agency isn't reserved for men. Where women can rise and rule—our way, with our skills and our goals. Where we aren't too ambitious, too outspoken, too strong, too weak, too collaborative, too afraid. Where we choose, and things happen not to us, but because of us. Where we can celebrate what we are, not excuse what we aren't. Where we emerge victorious, accomplished, proud. Because we are extraordinary.
Sirens, you are those conversations. You are that choice. You are that complexity. You are the voice of every member of your community. You are that celebration.
So often, people end love letters with "don't ever change"—which is utter nonsense. Sirens, change. Welcome new voices and new thoughts. Expand your universe. Learn. Become something smarter and friendlier and better than what you even are today.
Sirens, you are extraordinary.
Love,
Amy