We're excited to bring you a roundup of interesting links and July book releases of fantasy by and about women. Look for this ever-expanding collection of good news to come to you at the end of the month in the future.
As always, we'd love to hear from you. If you've sold a fantasy work, read a great recently-released story, discovered a fantastic link that we missed, or if you've got a book or story review to share, please get in touch. Send news to (help at sirensconference.org), and see the Sirens Review Squad section below for how to become a reviewer.
ON THE BLOG: JULY 2015
Sirens Newsletter – Volume 7, Issue 9 (July 2015)
Testimonials: Write about a good friend that you've met at Sirens.
Six Fantasy Books with Non-US Settings
Sirens Guest of Honor Interview: Kate Elliott
Five Fabulous Epic Fantasy Works by Women
Seven Fantasy Books Featuring Non-Western Mythology and Folklore
Sirens Guest of Honor Interview: Yoon Ha Lee
June Recap: Sirens News, Book Releases, and Interesting Links
Sirens Accepted Programming for 2015: Papers
Influential Fantasy for Heroines
YOU'RE EXCITED ABOUT…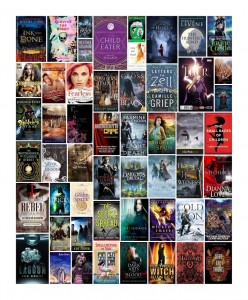 Click the image for a closer look at the covers.
July 1:
Beneath the Cape: The Superhero Anthology, Angela McPherson, Cheryl McIntyre, Christine Zolendz, D. Nichole King, Laura Thalassa, Lynn Vroman, Magan Vernon, and Sunniva Dee
The Blood Curse, Emily Gee
Bone Swans: Stories, C. S. E. Cooney
Darkness Brutal, Rachel A. Marks
Letters to Zell, Camille Griep
No Time Like the Past, Jodi Taylor
July 2:
Fearless, Marianne Curley
July 6:
An Immortal Descent, Kari Edgren
The Hunter's Kind, Rebecca Levene
July 7:
The Small Backs of Children, Lidia Yuknavitch
Chicks and Balances, ed. by Esther Friesner
The Child Eater, Rachel Pollack
Cities and Thrones, Carrie Patel
Elisha Rex, E. C. Ambrose
Flight from Death, Yasmine Galenorn
Hallowed, Tonya Hurley
The Heart of Betrayal, Mary E. Pearson
The House of the Stone, Amy Ewing
The House of War and Witness, Linda Carey, Louise Carey, and Mike Carey
Ink and Bone, Rachel Caine
Renegade, Kerry Wilkinson
The Shores of Spain, J. Kathleen Cheney
Silver in the Blood, Jessica Day George
Spellcasting in Silk, Juliet Blackwell
Survive the Night, Danielle Vega
Wicked Embers, Keri Arthur
Witchlock, Dianna Love
July 14:
About a Girl, Sarah McCarry
The Blind Wish, Amber Lough
The Golden Specific, S. E. Grove
Cold Iron, Stina Leicht
Lagoon (US edition), Nnedi Okorafor
Rebel Mechanics: All is Fair in Love and Revolution, Shanna Swendson
The Seer's Spread, Kami Garcia and Margaret Stohl
The Watchmaker of Filigree Street, Natasha Pulley
July 20:
Ether & Elephants, Cindy Spencer Pape
Hollywood Witch Hunter, Valerie Tejeda
July 21:
Backyard Witch, Christine Heppermann, ill. Ron Koertge, Deborah Marcero
Bound in Black, Juliette Cross
The Dark Arts of Blood, Freda Warrington
The Obsidian Temple: A Desert Rising Novel, Kelley Grant
Pale Kings and Princes, Cassandra Clare and Robin Wasserman
Resonance, Erica O'Rourke
Stormbringer, Alis Franklin
July 28:
The Accidental Afterlife of Thomas Marsden, Emma Trevayne
The Conquering Dark, Clay Griffith and Susan Griffith
Every Last Breath, Jennifer L. Armentrout
The Forgotten, Heather Graham
Oblivion, Kelly Creagh
Old Dog, New Tricks, Hailey Edwards
Siren's Call, Jayne Ann Krentz writing as Jayne Castle
Spider's Trap, Jennifer Estep
Thor Volume 2: Who Holds The Hammer?, Jason Aaron and Russell Dauterman
SIRENS REVIEW SQUAD
We'd love to have more volunteers contribute short reviews of works they have read and loved. If you think you could contribute a book (or short story, or a work related to fantasy literature) review of at least 250 words sometime during the next year, we would be pleased—nay, thrilled—to have your recommendation for the Sirens newsletter.
Review squad volunteering is flexible; we simply ask that you share information about work you've enjoyed. (We are, of course, focused on fantasy books by and about women, and we hope you'll consider interesting, diverse selections; if you're not sure about a particular work, email help at sirensconference.org and we'll advise!) You can contribute once or on an ongoing basis, and on a schedule that works for you. Please visit the volunteer system and, when we ask you what position you're interested in, type in "Book Reviewer."