Thank you to everyone who donated generously to fund our scholarships this year. Our fundraising for our 2016 scholarships is complete, but if you'd like to donate to Sirens itself, please visit our donation page to see the types of support we can most use.
We're thrilled to say that the Sirens community raised the funds for eight scholarships in 2016. Please see our scholarships page for more information and how to apply.

Eight years ago, we created Sirens as a space to support and discuss the remarkable work of women in fantasy literature. As past Sirens attendees know, critical to that mission is not only welcoming a wide array of new voices to our community, but sometimes making attendance at Sirens possible for individuals who otherwise wouldn't be able to join us.
In 2015, for the first time, Sirens raised funds specifically to support scholarships for people of color, exemplary programming proposals, and those with financial hardships. Our community showed tremendous support for that goal, raising nearly $2,500 to help welcome new voices at Sirens.
In 2016, we are again asking for your help! We want to provide nine Sirens scholarships again this year: three for people of color, three for exemplary programming proposals, and three for those with financial hardships. To do so, we again need to raise nearly $2,500—but we know that, just like last year, our community can make Sirens possible for others.
To learn more, please keep reading. If you've already decided to donate, though, please just scroll down to our donation fields below—and thank you for your support!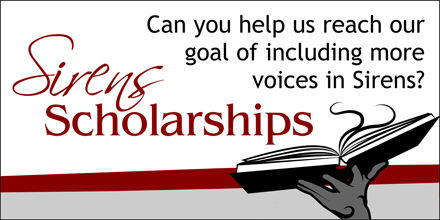 Why offer scholarships?
Sirens is an in-person conference, and attendance requires funds—which means that not everyone who wishes to is able to join us. Their absence makes both our conference and our community less vibrant.
Because each Sirens attendee comes with additional conference expenses, from food to registration materials, and because Sirens endeavors to keep its attendance cost as low as possible for everyone, Sirens does not have funds available to both present Sirens itself and to award scholarships. As in 2015, we hope that you'll help us raise the funds necessary to do so.
What kinds of scholarships will be available?
Scholarships will cover both a Sirens registration and a Sirens Shuttle ticket for each recipient. We're hoping to receive enough funds to cover the following proposed scholarships, designed to serve a multitude of potential attendees. But in the event that we don't, we will fund scholarships in the following order:
Con or Bust
Con or Bust helps people of color/non-white people attend science fiction and fantasy conventions. This year, Sirens would like to provide Con or Bust with three Sirens registrations and Sirens Shuttle tickets in order to help people of color/non-white people attend Sirens. Con or Bust will allocate these registrations according to its rules.

Programming Presenters
Every voice at Sirens is vital to the vibrancy and diversity of our conversations, but we always appreciate the skill, talent, and expertise that our accepted programming presenters have volunteered to share with our community. This year, we'd again like to recognize three exemplary programming proposals with a Sirens registration and Shuttle ticket. (Selected presentations with co-presenters who have opted in for scholarship eligibility will share the funds across applicable presenters.) These are merit-based scholarships, and will be selected by a committee.

Financial Hardship
People sometimes say that money makes the world go round; we'd like to counter with the idea that generosity makes the world go round. Not all individuals who wish to attend Sirens can afford to do so, and you can help make Sirens a possibility for those who can't. Sirens would like to award at least three selected recipients with a Sirens registration and Sirens Shuttle ticket, in the hopes that this will enable them to attend Sirens in the fall. Recipients will be chosen randomly from those who seek assistance.
Scholarship Donors


Anonymous (5 donors)
Dahlia Adler
Meg Belviso
Edith Hope Bishop
The Charitable Arm of the Ladies with Swords, Wands, and Potions International Committee
Sabrina Chin
Rebecca Coffindaffer
Nivair H. Gabriel
A grateful previous scholarship recipient, paying it forward
Suzanne Rogers Gruber
Jaylee James
Lauren Kent
Manda Lewis
Darian Lindle
Sharon
Kayla Shifrin
Simon
Nova Ren Suma
Amy Tenbrink
Hallie Tibbetts
YAYfantasy
Jae Young

Please help our scholarship campaign by sharing news of your support!