As Sirens veterans know, each year, Sirens selects a variety of popular, controversial, and just plain brilliant books related to our theme—and invites attendees to bring their breakfast during the conference and have an informal conversation about those books. Over the years, this program has highlighted the depth and breadth of each year's theme and given early risers both company and book talk!
For 2016, we're kicking Books and Breakfast off early! So often, attendees haven't had a chance to read the selected books in time for Sirens—but not this year. Today, we're not only announcing all eight books for 2016, we're also launching a giveaway program to get these books into your hands prior to Sirens.
2016 BOOKS AND BREAKFAST SELECTIONS
Friday, October 21
About a Girl by Sarah McCarry
Pantomime by Laura Lam
Joplin's Ghost by Tananarive Due
Sorcerer to the Crown by Zen Cho
Saturday, October 22
Like Water for Chocolate by Laura Esquivel
Project Unicorn, Vol. 1 by Jennifer and S. E. Diemer
Song of Blood and Stone by L. Penelope
There Once Lived a Girl Who Seduced Her Sister's Husband, and He Hanged Himself: Love Stories by Ludmilla Petrushevskaya
JUNE GIVEAWAY
For June, we'll be giving away, to one lucky winner, two Books and Breakfast selections: About a Girl and Song of Blood and Stone. You can read more about the books below, but here are the rules:
To enter, you must tell us your favorite fantasy book written by a woman. All entries must be submitted by June 30, 2016, either by Tweeting them to @sirens_con or by emailing them to (help at sirensconference.org). Each individual may enter only once and you must currently reside in the United States in order to win. By entering, you grant Sirens the right to use your entry and to name you (by name or Twitter alias) in connection with that entry. The winner must provide their address to Sirens in order to receive the prize. This offer void where prohibited.
About a Girl by Sarah McCarry
Tally is quite certain of her life—and its trajectory—thank you very much. Despite abandonment by her mother, and never knowing her father, she's got it all figured out: her substitute family, her rock-solid best friend, and her unwavering commitment to a PhD in astronomy. Until her friend throws her for a loop, a friendly acquaintance pulls the right string, and the tidy boxes into which she's stored her life start to collapse. She sets off—as all the best adventurers do—in search of one thing, but finds another something entirely: a mesmerizing girl who steals her heart.
About a Girl is for anyone who likes a strong authorial voice, a bit of a mystery, or a book that seems to be entirely grounded in reality until the magical realism smacks you upside the head. It's bold, unpredictable, inclusive, and surprisingly dreamy.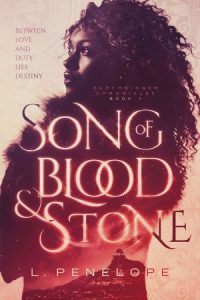 Song of Blood and Stone by L. Penelope
An outcast orphan girl. An injured spy. Enemy soldiers—and mages. What would lovers year be without a bit of fantasy romance?
Jasminda is an outcast in her country, a child of a bicultural marriage that visibly marks her both as different and as a magic-worker. She keeps to herself, living in the remote mountains and only traveling to town when necessary. As the book opens, she travels back from town to her home, only to encounter an injured spy held by enemy soldiers—enemy soldiers who should have been blocked from entering her country by a magical shield. Jasminda is forced to shelter both the soldiers and the spy in her home. [Trigger warning for rape.] She and Jack, hopeless smitten, escape together, and Jack is forced to reveal his true identity. (If you're a regular romance reader, you've already guessed that identity.)
In a world of armies, politics, and magic, Penelope makes her characters and their evolution intimate and personal. The racism against Jasminda is never handled lightly; nor is her lesser status than Jack's. But love (and sex) conquer all, even prejudiced politicians and evil mages.