As Sirens veterans know, each year, Sirens selects a variety of popular, controversial, and just plain brilliant books related to our theme—and invites attendees to bring their breakfast during the conference and have an informal conversation about those books. Over the years, this program has highlighted the depth and breadth of each year's theme and given early risers both company and book talk!
For 2016, we've kicked Books and Breakfast off early–so all of you have time to choose a couple books and read! This year, we've also launched a giveaway program to get these books into your hands prior to Sirens.
JULY GIVEAWAY
For July, we'll be giving away, to one lucky winner, two Books and Breakfast selections: Sorcerer to the Crown and Project Unicorn, Volume 1. You can read more about the books below, but here are the rules:
To enter, you must tell us your favorite fantasy book written by a woman. All entries must be submitted by June 31, 2016, either by Tweeting them to @sirens_con or by emailing them to (help at sirensconference.org). Each individual may enter only once and you must currently reside in the United States in order to win. By entering, you grant Sirens the right to use your entry and to name you (by name or Twitter alias) in connection with that entry. The winner must provide their address to Sirens in order to receive the prize. This offer void where prohibited.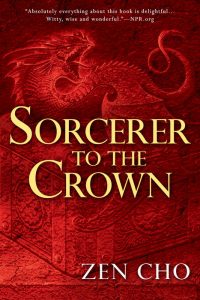 Sorcerer to the Crown by Zen Cho
Set in England during the Napoleonic Wars, Sorcerer to the Crown is an alternate-history delight. Magic abounds, and England's Sorcerer Royal (an important but stubbornly apolitical post) has just died under mysterious circumstances. The staff of office has chosen his successor: Zacharias, his adopted black son—a promising magician, but controversial choice. Meanwhile, in a school created to teach girls to suppress their magic (unless, of course, used in small ways around the house; think cooking and cleaning), Prunella longs for adventure. When Zacharias's and Prunella's paths cross unexpectedly, Prunella makes a series of audacious decisions that change her life, Zacharias's life, and England forever.
Sorcerer to the Crown, when read with the right appreciation of its dry wit, is seriously subversive: Cho's craft lends the reader a strong lens of our modern sensibilities through which to root for Zacharias and Prunella: both to revise England's hopelessly sexist and racist policies with respect to magicians, and to finally, will they please finally, kiss already?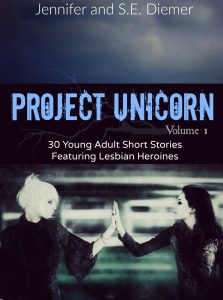 Project Unicorn, Volume 1 by Jennifer and S. E. Diemer
The subtitle of the first volume of Project Unicorn is 30 Young Adult Short Stories Featuring Lesbian Heroines. A couple years ago, wife-and-wife team, Jennifer and S. E. Diemer, began publishing two short stories a week: always young-adult, always speculative, always featuring lesbian heroines. As you might guess, the goal is to address the regrettable lack of lesbian heroines in young-adult speculative literature. While the project stalled—but has since been restarted—the authors did publish the first two volumes, a full six months of short stories, with some bonus stories that are included in only the published collections.
If you've read S. E. Diemer's The Dark Wife, a re-telling of the Persephone myth with a genderbent Hades, you'll have some idea what you might find in Project Unicorn: smart, defiant lesbian heroines who challenge expectations and make bold decisions. Additionally, a great lot of Project Unicorn is about kissing, so much kissing, so many awesome girls kissing each other.