As Sirens veterans know, each year, Sirens selects a variety of popular, controversial, and just plain brilliant books related to our theme—and invites attendees to bring their breakfast during the conference and have an informal conversation about those books. Over the years, this program has highlighted the depth and breadth of each year's theme and given early risers both company and book talk!
For 2016, we've kicked Books and Breakfast off early—so all of you have time to choose a couple books and read! This year, we've also launched a giveaway program to get these books into your hands prior to Sirens.
AUGUST GIVEAWAY
For August, we'll be giving away, to one lucky winner, two Books and Breakfast selections: Joplin's Ghost and There Once Lived a Girl Who Seduced Her Sister's Husband, and He Hanged Himself: Love Stories. You can read more about the books below, but here are the rules:
To enter, you must tell us a fantasy book, written by a woman or genderqueer author, that you think everyone should read. All entries must be submitted by August 31, 2016, either by Tweeting them to @sirens_con or by emailing them to (help at sirensconference.org). Each individual may enter only once and you must currently reside in the United States in order to win. By entering, you grant Sirens the right to use your entry and to name you (by name or Twitter alias) in connection with that entry. The winner must provide their address to Sirens in order to receive the prize. This offer void where prohibited.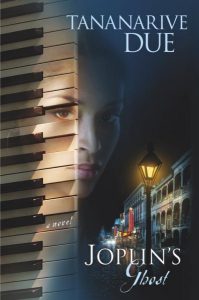 Joplin's Ghost by Tananarive Due
Joplin's Ghost is, more than anything, a genre-busting, ambitious work of tremendous scope. It's part historical re-creation, part contemporary bildungsroman, part complex ghost story, and part heated erotica. And in a year when Sirens is going to talk about lovers, an affirmation that, yes, sexual encounters with the ghost of Scott Joplin definitely fit the bill.
When she was ten, Phoenix Smalls was nearly killed in a freak encounter with a haunted piano. Shortly thereafter, her father found her in the middle of the night, playing ragtime melodies on the piano with a skill years beyond her training. Now in her early twenties, Phoenix is an up-and-coming R&B singer, one who incorporates ragtime syncopation into her work in a way heretofore unknown in the world. As Phoenix's story weaves around Joplin's—both his early 1900s history and his contemporary, erotic ghostly return—Joplin's Ghost turns into a coming-of-age tale featuring Phoenix, her dreams, and her desires.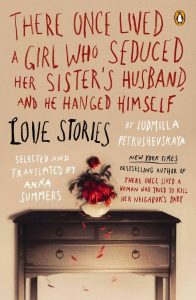 There Once Lived a Girl Who Seduced Her Sister's Husband, and He Hanged Himself: Love Stories by Ludmilla Petrushevskaya
Several years ago, when Sirens focused on Tales Retold, much of the Sirens community read another work of Petrushevskaya's: There Once Lived a Woman Who Tried to Kill Her Neighbor's Baby: Scary Fairy Tales. In that work, Petrushevskaya uses fairy tale motifs, often in combination with ghostly happenings, to tell stories that should be, and yet too often aren't, important to Mother Russia: stories of kitchens, of bedrooms, of gravesites. Stories important to women and featuring women.
The next translated collection of her work, There Once Lived a Girl Who Seduced Her Sister's Husband, and He Hanged Himself: Love Stories, features similarly important women's stories. This time, however, Petrushevskaya approaches her stories not through fairy tale themes, but through contemporary romance tropes. There's little fantasy to be found in this collection, but Petrushevskaya has much to say about romance, love, sex, and regret.