As Sirens veterans know, each year, Sirens selects a variety of popular, controversial, and just plain brilliant books related to our theme—and invites attendees to bring their breakfast during the conference and have an informal conversation about those books. Over the years, this program has highlighted the depth and breadth of each year's theme and given early risers both company and book talk!
For 2016, we've kicked Books and Breakfast off early—so all of you have time to choose a couple books and read! This year, we've also launched a giveaway program to get these books into your hands prior to Sirens.
SEPTEMBER GIVEAWAY
For September, we'll be giving away, to one lucky winner, two Books and Breakfast selections: Pantomime and Like Water for Chocolate. You can read more about the books below, but here are the rules:
To enter, you must tell us of your favorite female character in fantasy literature. All entries must be submitted by September 30, 2016, either by Tweeting them to @sirens_con or by emailing them to (help at sirensconference.org). Each individual may enter only once and you must currently reside in the United States in order to win. By entering, you grant Sirens the right to use your entry and to name you (by name or Twitter alias) in connection with that entry. The winner must provide their address to Sirens in order to receive the prize. This offer void where prohibited.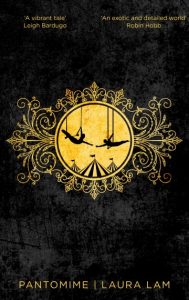 Pantomime by Laura Lam
Pantomime kicks off a remarkable series about an intersex protagonist, set somewhere between the world of the pampered and over-privileged and the gritty backdrop of a traveling circus. More important than the setting, and the uncertain magic that builds the fantasy thread, is the main character's questioning—not only of who they are, but who they are going to become, and how they will become.
When Iphigenia—Gene—realizes that her social and class circumstances are forcing her into very strict rules of behavior (and gender expression), as well as continued medical examinations and secrets, she leaves home, joining the circus as Micah. While the secrets don't exactly end, Micah can finally begin to explore what it means to be Micah, and to explore loving in Micah's body, and to explore the magic that Micah can make. This leads into future books, so note that this is only the beginning of a series.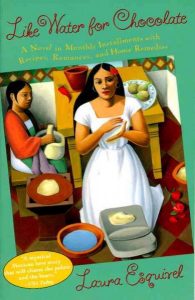 Like Water for Chocolate by Laura Esquivel
Like Water for Chocolate is a worldwide bestseller, a work that many in the US know only in translation, and has been adapted for film. It's the sort of book that we include in Books and Breakfast because it has fantastical elements—and because we are always discussing and debating whether we can include magical realism as a part of the fantasy family (even if only as a beloved cousin).
Tita lives in Mexico of more than a hundred years ago, and she can't marry; she'll have to devote her life to caring for her mother. However, she's in love with Pedro, her sister's husband…. Her tumultuous feelings are expressed through the magic of food. Forbidden romance, recipes, family relationships, sex, and tradition all play a part.