By Faye Bi
This year's Sirens conference has come and gone, and I'm excited to share that I've completed the 2016 Reading Challenge! I love that it encouraged me to read more widely, especially with that asterisk rule of needing to read authors whose work I hadn't read before. That made several books—ones I was even looking forward to—ineligible for the challenge, so I had to look for new-to-me authors and not just ones I'm familiar with. Here's my brief 5 question survey, which I encourage anyone else to also fill out and share.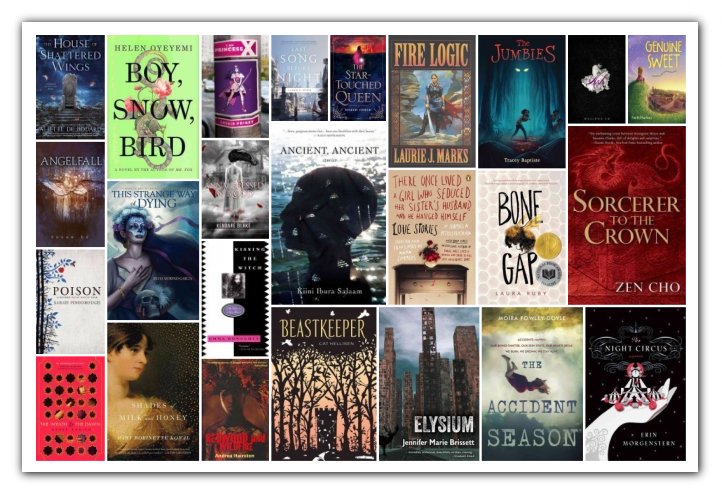 Favorite Book: Kiini Ibura Salaam's Ancient, Ancient, which was so bold, vibrant and full of pulsing energy.
Favorite Theme (Lovers) Book: Laura Ruby's Bone Gap, for its stunning writing and deft handling of one of the hardest things for me to read (sexual violence).
Favorite New (Or New-to-You) Author: Moira Fowley-Doyle's The Accident Season—I listened to this on audio and got lost in the words.
Favorite Female/Genderqueer/Non-Binary Character in a Book: Prunella Gentleman in Zen Cho's Sorcerer to the Crown, who was unabashedly herself and gave zero shits.
Book that wasn't what you expected: Lots. Too many! Sarah Pinborough's Poison, which I did not know was horror; Jennifer Marie Brissett's Elysium, which had one of the best in-world reasons for shifting narrator identities; Andrea Hairston's Redwood and Wildfire, which… I don't know what I expected, but turned out to be super awesome.
I'm ready for the 2017 Challenge!
Here's the full list of what I read for the 2016 Challenge:
Guests of Honor: Required
Renée Ahdieh, The Wrath and the Dawn
Laurie J. Marks, Fire Logic
Kiini Ibura Salaam, Ancient, Ancient
Required Theme
Kendare Blake, Anna Dressed in Blood (read in a previous Sirens year)
Jennifer Marie Brissett, Elysium
Emma Donoghue, Kissing the Witch (read in a previous Sirens year)
Andrea Hairston, Redwood and Wildfire
Malinda Lo, Ash (read previously)
Erin Morgenstern, The Night Circus (read previously)
Ludmilla Petrushevskaya, There Once Lived a Girl Who Seduced Her Sister's Husband, and He Hanged Himself
Additional Theme Books: Select Five
Zen Cho, Sorcerer to the Crown
Roshani Chokshi, The Star-Touched Queen
Mary Robinette Kowal, Shades of Milk and Honey
Sarah Pinborough, Poison
Laura Ruby, Bone Gap
Middle Grade/Young Adult: Select Five
Tracey Baptiste, The Jumbies
Susan Ee, Angelfall
Cat Hellisen, Beastkeeper
Faith Harkey, Genuine Sweet
Cherie Priest, I Am Princess X
Adult: Select Five
Aliette de Bodard, House of Shattered Wings
Moira Fowley-Doyle, The Accident Season
Helen Oyeyemi, Boy, Snow, Bird
Silvia Moreno-Garcia, This Strange Way of Dying
Ilana C. Meyer, Last Song Before Night
---
Faye Bi works as a book publicist in New York City, and is a member of the Sirens communications team. She's yet to read an immigrant story she hasn't cried over, and is happiest planning nerdy parties, capping off a long run with brunch, and cycling along the East River.