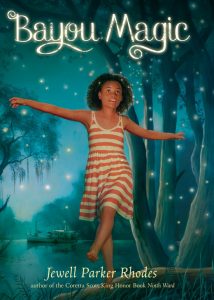 Read Along with Faye is back for the 2017 Sirens Reading Challenge! Each month, Sirens communications staff member Faye Bi will review and discuss a book on her journey to read the requisite 25 books to complete the challenge. Titles will consist of this year's Sirens theme of women who work magic. Light spoilers ahead. We invite you to join us and read along!
Jewell Parker Rhodes once wrote that, despite not being from the area, "Louisiana profoundly stirs my heart, mind, and spirit." This sums up my feeling as well, despite having only visited once—and too briefly, at that. Her Bayou Magic so strongly evokes a sense of place: the humidity and swampiness of the bayou, the aroma of Cajun spices and stews, the layers of family dynamics atop a multitude of geographies, religions and immigrant histories, the very real economic and environmental concerns of oil spills, and of course, magic.
As the youngest of four sisters, it's ten-year-old Maddy's turn to have a bayou summer with her Grandmere Lavalier, hours away from her family home in New Orleans. The people of the bayou have been waiting for her. Grandmere (or Queenie as she's known) is famed for her magical abilities, and she's picked Maddy to carry on her legacy. And it is indeed a magical summer. Rhodes sets Maddy's journey of self-discovery against winking fireflies, menacing gators and fantastic food, and Maddy has some great interactions with the vibrant, diverse cast of locals. She and Bear, an eleven-year-old boy, become fast and adorable friends. Better yet, Maddy glimpses Mami Wata, a mermaid only she can see—which Rhodes reworked from an African diaspora folktale in a way that's beautiful, unsettling and powerful.
It's really hard not to love Bayou Magic. There's just so much goodness and atmosphere, with some heartbreaking family moments (Bear and his father, for instance, keep reappearing in my mind), and is there anything better than the grandmother-granddaughter relationship that Rhodes has become known for? In the end, Maddy is a heroine easy to cheer for as she discovers her powers to save the bayou from environmental disaster. Spoiler alert: the book is set the same summer as the Deepwater Horizon Oil Spill.
If there was one criticism, it's that Bayou Magic is paced a little unevenly, because two-thirds through I did realize that there was a plot, and the resolution to the environmental conflict was fairly unsubtle. But it's so easily forgivable for its wonderful themes and powerful setting. Read it, give it to your friends, and give it to your friends' kids. Definitely read it out loud. And for black children in the United States, I'm so glad this book exists.

---

Faye Bi works as a book publicist in New York City, and leads the Sirens communications team. She's yet to read an immigrant story she hasn't cried over, and is happiest planning nerdy parties, capping off a long run with brunch, and cycling along the East River.