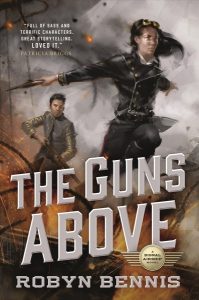 The Sirens Review Squad is made up of Sirens volunteers, who submit short reviews of books (often fantasy literature by women authors) they've read and enjoyed. If you're interested in sending us a review to run on the blog, please email us! Today, we welcome a review from Casey Blair on Robyn Bennis's The Guns Above.
The Guns Above, released just this spring, is the first in the Signal Airship series by Robyn Bennis. It's a flintlock military fantasy following the adventures of a nation's first female airship captain and all her associated challenges—including dealing with the dandy assigned to spy on her.
Captain Josette Dupre's strength is sheer competence in her career as an airman, though she doesn't relate to people well. The foppish Lord Bernat can read people exceedingly well, but otherwise does not understand the realities of the world at all. The contrast between their perceptions is fantastic.
Spoiler: the whole book is fantastic.
Actual spoiler: Although Josette and Bernie are both point-of-view characters, there is not a romance between them. Which I loved. I was initially worried the book would go down that path due to the chapters with alternating perspectives; what Bennis does instead is develop an unlikely friendship between the two of them—and it's delightful. The characters are complicated, and so is how they relate to one another. Even if a romance develops later in the series, I'm glad Bennis didn't tack that on, because the friendship strengthened the core of this book. And because of the two main characters' respective strengths, when there is emotional labor to be done, it's not assumed that the lead female character will do it. That's something I really appreciated.
Bennis is also great at using point-of-view to highlight power imbalances and structural nonsense with humor that avoids punching down. The target of the joke is never the person being oppressed, unless the narrative is actively presenting that joke as A Problem rather than supporting it.
All that said, what drew me to The Guns Above in the first place was the promise of amazing women (yes, there's more than one!) participating in explosive airship battles, which it absolutely delivers. The book also delves into strategy, on both small and large scales—in terms of the military battles as well as the political ones—and it's clear Bennis knows what she's talking about. While reading, I knew I was in good hands, able to relax and enjoy military airship shenanigans without nitpicking the world-building and questioning whether the physics held up. That's a rare feeling for me, and that alone is enough to keep me seeking out Bennis's next book.
But what makes The Guns Above truly special is the tone. Many books pay lip service to war being terrible, but either those effects never actually touch the characters or else the books wallow in their awfulness. Bennis strikes a balance in between: the awfulness is there. It's present. It affects the characters. They acknowledge that, and still they keep moving. And there is still space for naps and meals, games and flirting and laughter, and worrying about money and family members while still getting the job done. This book struck me as one of the most fundamentally human approaches to war I've ever read.
I mentioned jokes earlier, but really, I was not at all expecting the high quantity of humor. It's the constant thread that ties all the pieces together and makes everything work. Bennis is brilliant at shifting from wry humor to poignancy or absolutely scathing critique in the space of a line, and more often than not, she accomplishes all that simultaneously. Even when a situation is dire, and both the readers and characters recognize how dire, the book's tone still trends towards fun rather than overwhelming.
I'm a sucker for daring women adventuring, but it's really the heart of The Guns Above that pulled me in and has me eagerly anticipating the sequel, happily planned for publication next year. If you love wit and self-awareness in your fantasy to go with your airships, I highly recommend checking this one out.
---

Casey Blair writes speculative fiction novels for adults and teens, and her weekly serial fantasy novel Tea Princess Chronicles is available online for free. She is a graduate of Vassar College and of the Viable Paradise residential science fiction and fantasy writing workshop. After teaching English in rural Japan for two years, she relocated to the Seattle area. She is prone to spontaneous dancing, exploring ancient cities around the world, wandering and adventuring through mountains, spoiling cats terribly, and drinking inordinate amounts of tea late into the night.