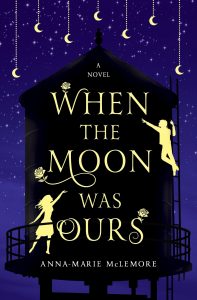 Each year, Sirens chair Amy Tenbrink posts monthly reviews of new-to-her books from the annual Sirens reading list. You can find all of her Sirens Book Club reviews at the Sirens Goodreads Group. We invite you to read along and discuss!
Books have to have a plot.
I said that recently to my six-year-old niece. Last winter, an author-illustrator of children's books visited her school, read them his books, and taught them to draw a tree. She — a tremendous lover of books — was rapt. And ever since, she's wanted to be an author-illustrator. That is, when she doesn't want to be a mom or a boss.
So we make her books. We take a few pieces of paper, fold them in half, and staple them. Then she can write and illustrate her books to her heart's content.
Her first books were what you might imagine. Pages after pages, and books after books, of scintillating prose like "This is blue," with an equally scintillating blue dot.
On her own, she progressed. Her next round of masterpieces had pages after pages of statements like "I eat the egg," accompanied by a picture of an egg. (Not even a fried egg, or perhaps a scrambled egg, mind you. Just an egg, still in its shell.) Each page had the same action, but a different food. Though there was no clear context of time or progression, one could assume that she would eat the egg prior to eating the grapes on the next page.
Next, she moved on to her friends. "I talk to Jenna," with a drawing of Jenna looking lovely with her stick arms and blue skirt. "I talk to Ben." Clearly, my niece is a fan of the present tense.
At this point, we had a talk. About plot and how, in the most interesting books, things happen. About how maybe she talked to Jenna, but then went home, learned some Spanish, ate her dinner, read some books, and didn't talk to Ben until the next day. My niece was shockingly unconcerned about this thing called plot, though in her next book, Ben did accomplish a series of chores at the pet store. (Sorry about those hamster cages, Ben.)
As I read When the Moon Was Ours, though, I considered the accuracy of my assertion that books have to have a plot.
When the Moon Was Ours is a love story. Sam, a boy who paints moons and hangs them around town, and Miel, a girl who has roses that grow out of her wrists, are best friends who find that best friendship can be a harbinger of more. SMALL SPOILER Or, put another way, Sam, a part-Pakistani, transgender boy, and Miel, a queer Latina girl, are best friends who find that best friendship can be a harbinger of more. /SMALL SPOILER
I don't draw that dichotomy to be reductive. Rather, Anna-Marie McLemore's second novel is two things: one of them lovely, the other transcendent.
First, When the Moon Was Ours is a fairy tale, a story of two teens, one who paints moons and hangs them all over town, the other who has maybe magical roses growing out of her wrists. It's about love and community and relationships and magic – maybe not always spells or potions, though there are some of those as well, but more the magic of finding your community, your family, and your romantic love. It's about discovery and forgiveness. And even if that's all When the Moon Was Ours were, it would be lovely because Anna-Marie McLemore is one of most lyrical fantasy authors writing today.
But that's not even close to everything that When the Moon Was Ours is.
SAME SMALL SPOILER
McLemore has crafted a fairy tale – a lovely, magical, hopeful fairy tale – for people who don't often see themselves represented in such things. Sam is a transgender, part-Pakistani, part-Italian boy with a single mom. Miel, a queer Latina girl who appeared from a water tower, has been raised by Aracely, the town's curandera. These identities, so remarkable to readers who too rarely get to experience an enchanted love between people like Sam and Miel, are utterly unremarkable to Sam and Miel themselves. Not because Sam doesn't have to work to come to terms with his gender (just like Miel has to work to come to terms with her water-tower origins), but because it never occurs to Miel not to love Sam, no matter his gender (just like it never occurs to Sam to judge Miel for, essentially, being born of a water tower). /SPOILER
And that, that layering of inclusive identities on top of painted moons and roses grown from wrists, on top of a fairy-tale love story, on top of McLemore's dazzling prose, that makes When the Moon Was Ours transcendent. McLemore took the best parts of fairy tales and the best of who we, as people, might be, and with her stunning craft, put it all on the page.
That said, here's where some of you might struggle with this book: The plot is virtually non-existent. There's a bit about four sisters, maybe witches, who very much want Miel's roses. There are some revelations, especially regarding Miel's family, but they don't drive the story so much as shape the characters. The tension and the minimal action, indeed, are almost entirely character driven. This is a book about coming to terms with yourself, your family, and your community, rather than antagonist witches or saving the world.
It turns out, not every book has to have a plot.
Amy

---

Amy Tenbrink spends her days handling content distribution and intellectual property transactions for a media company. Her nights and weekends over the last twenty years have involved managing a wide variety of events, including theatrical productions, marching band shows, sporting events, and interdisciplinary conferences. Most recently, she has organized three Harry Potter conferences (The Witching Hour, in Salem, Massachusetts; Phoenix Rising, in the French Quarter of New Orleans; and Terminus, in downtown Chicago) and eight years of Sirens. Her experience includes all aspects of event planning, from logistics and marketing to legal consulting and budget management, and she holds degrees with honors from both the University of Southern California's Thornton School of Music and the Georgetown University Law Center. She likes nothing so much as monster girls, Weasleys, and a well-planned revolution.