The Sirens Review Squad is made up of Sirens volunteers, who submit short reviews of books (often fantasy literature by women authors) they've read and enjoyed. If you're interested in sending us a review to run on the blog, please email us! Today, we welcome a review from Amanda Hudson on Tomi Adeyemi's Children of Blood and Bone.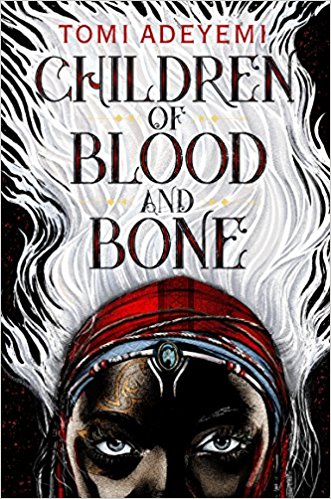 In her debut novel Children of Blood and Bone, Tomi Adeyemi blends African heritage into a vivid new fantasy world called Orïsha, where a merciless king has driven away magic. By his decree, divîners—those capable of controlling Orïsha's magic—are systematically killed, leaving their families discriminated against and forced into hiding. Adeyemi expertly weaves the themes of prejudice and oppression into Zelie, her brother Tzain, and the princess Amari's quest to restore magic to the divîners before it is erased from the Orïsha for good.
Adeyemi tells the story of this journey with three point-of-view characters, and in doing so, creates a page-turner that is hard to put down when a chapter ends. I either wanted to know what happened next, or I wanted to get back to a particular character's perspective. The book begins with Zélie, who was forced to watch the monarchy kill her divîner mother, yet still teams up with a fleeing princess who possesses an artifact required to restore magic to their lands. That princess, Amari, is determined to do what she believes is right, even if it goes against her father's wishes. Inan, Amari's brother and the prince, is desperate to show his father that he is capable and worthy of one day becoming king. Alternating between Zélie, Amari, and Inan's perspectives reveals the complexity of the world Adeyemi has created, and delves deeper into the ethical and political issues of the king's tyrannical regime.
Adeyemi creates a beautifully rich world, with deeply-drawn characters and social structures to match. There are gentle reminders every so often that this world is not my own, such as the animal Zélie and her family rides. This is what I look for in great fantasy—a place I can relate to, but also new and different in intriguing ways. Adeyemi's Orïsha feels spellbinding and alive.
I cannot think of a book that does not contain at least one trope, but occasionally, the unexpected use of a popular trope completely removes me from the page. Children of Blood and Bone, for all its wondrous worldbuilding, contains a trope I've come to abhor in YA fantasy: children forced to fight other children in a tournament or arena setting until only one is left alive, explicitly for the entertainment of adults. Perhaps the inclusion of this trope would have been less irksome if it had not been entirely unnecessary to the plot.
It wasn't surprising to me, given the overall predictable quest structure of Children of Blood and Bone, that Amari, Zélie and Tzain would find their way to a town of laborers living in miserable conditions, and that the laborers would be forced into stockades and treated like animals. From the setup, I knew that Zélie would likely learn that the princess (and maybe the prince) are not like their ruthless father. I also suspected that Amari would realize the extent of the king's horrific regime. I was there, I was engrossed. But, at the mention of an arena, I disconnected from the story for several chapters. I wish I could have removed these chapters altogether; this one aspect jolted me out of a powerful, enticing world, and forced me into a generic, worn-out trope. Suddenly, I was comparing this book to the last one I'd read featuring the same trope.
The plot progresses fairly quickly from there, but then I was nervous about what other contrived trope would be thrown my way. By the end, my only other complaint was that I foolishly had not realized that Children of Blood and Bone is the first of a series. At 525 pages, I was so sure it would be a standalone. I wish it were! I picked it up when it was recently released, with the second book far off in the future. Now I'm completely invested in the world, the characters and Adeyemi's language; and I crave closure. The wait for book two begins.
---
Amanda Hudson works full time as a game developer in Malmö, Sweden. She holds a JD from Baylor University and previously practiced law in Texas. When not reading or writing fantasy, Amanda enjoys eating delicious Scandinavian foods and playing video games and board games.