The Sirens Review Squad is made up of Sirens volunteers, who submit short reviews of books (often fantasy literature by women authors) they've read and enjoyed. If you're interested in sending us a review to run on the blog, please email us! Today, in honor of Kameron Hurley's Guest of Honor week here at Sirens, we welcome a review from Manda Lewis on Kameron Hurley's The Stars Are Legion.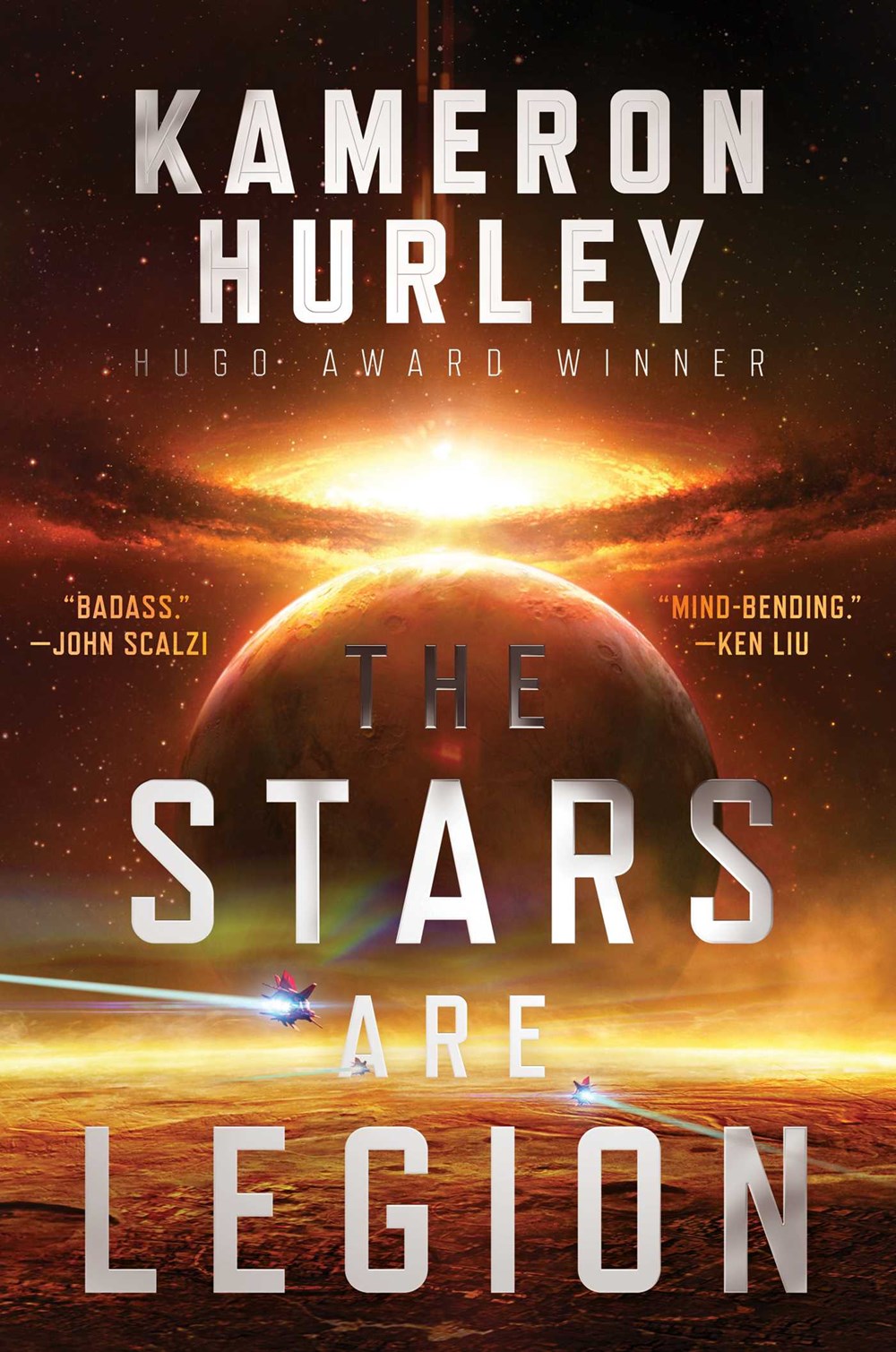 Pungent. Can a story be pungent? That is the word that keeps coming to mind as I try to describe this wonderfully brutal, disturbingly weird, and fantastically creative space opera set in an extremely oozy, sticky, slimy, living world-ship. I quite loved it.
In The Stars Are Legion, Kameron Hurley gives us an epic journey of a damaged heroine who is trying to uncover her past as well as achieve a goal she doesn't remember setting out for. Zan wakes aboard the world-ship with no memory of who she is, how she came to be there, or whom she can trust. The world-ship belongs to the Katazyrna family, who claim Zan as one of their own—although she seems more like a prisoner. The ruling matriarch, Anat, is attempting to conquer another world-ship owned by the Mokshi family, and Zan has been the main force in trying to achieve this, over and over and over again. The Mokshi, it seems, have the ability to move among and away from the Legion of dying world-ships—an ability the other ruling families desperately wish to control. Zan's faulty memory is blamed on these repeated attempts to capture the Mokshi, but we're left feeling like there is a much larger mystery to solve as she interacts with her supposed sister, Jayd. While Jayd refuses to provide answers, the narrative hints at a deeper history and relationship, as well as a dangerous plan that Zan must follow without fully understanding it.
A botched alliance lands Zan, near death, at very center of the world, a biological waste processing hold complete with recycler monsters. Zan finds herself in the company of a lost and discarded woman from another world, and a smart and cheerful engineer from a level above. Together they begin a harrowing ascension to the surface where Zan will have to decide if she is to carry out the scheme devised by Jayd and her past self.
This is where I fall in love with the story. Hurley's vivid worldbuilding unfolds as we journey with Zan though the many levels of the world-ship. It's wildly imaginative and kept me curious for what could possibly be next. The world-ship itself is fascinating; I found myself trying to imagine how the mix of technology and biology evolved to the point of creating this life-sustaining environment. One of the details I particularly liked was that the all-female population aboard the ship gives birth to things the world needs to sustain itself—not just children, but biomechanical pieces and so forth. The themes of birth, rebirth and reuse come up throughout in many ways. I am in the early motherhood years of my life, so all of the emotions and physicality associated with birth are still at the forefront of my mind. Grossness and bodily fluids are a part of my everyday life, so much of this text felt viscerally real and completely natural. This is what you deal with when keeping something alive—a person or a world.
There are so many more things that make this book an amazing read. The characters are complex and interesting women—many are unlikable or even terrible. Both Zan and Jayd are unreliable narrators, which keeps you guessing, mistrusting how you feel about them and wondering whether you want them to succeed. The various levels of the ship present different cultures and societal norms, and different ways of interacting with the world. There is also a plethora of ideas around identity, agency, and body autonomy presented throughout that make for great discussion.
The Stars Are Legion is, for me, an excellent blend of dark fantasy and weird fiction in a unique sci-fi setting filled with a strong cast of characters who have complex and often disturbing relationships. I enjoyed the ride, but it is not for the squeamish.
---
Manda Lewis holds a BS degree in aerospace engineering and a Masters of Tourism Administration, and served in the Air Force for seven years. She currently works for a children's museum in Raleigh, North Carolina, hosting after-hours special events. She is also the caretaker of two small humans who look like her and often have dragon tea parties. Manda has always made it a habit to draw, color, and doodle on just about everything within reach and loves themes far more than anyone really should. Manda has been a volunteer for Phoenix Rising, Terminus, and Sirens for the last ten years.