Each year, Sirens chair Amy Tenbrink posts monthly reviews of new-to-her fantasy books by women and nonbinary authors. You can find all of her Sirens Book Club reviews at the Sirens Goodreads Group. We invite you to read along and discuss!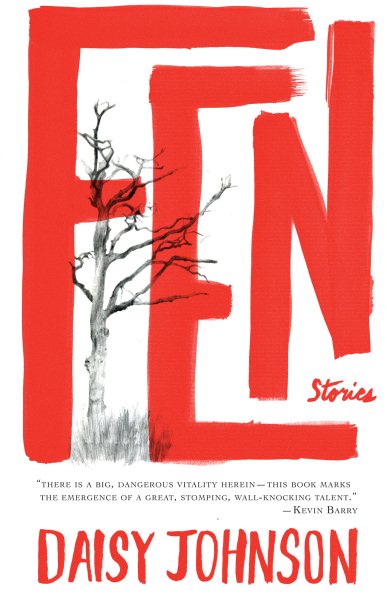 Some days, I aspire to a more feral version of myself. To respond with fang and claw to admonishments to be more civilized—to calm down, stand down, take it down a notch. To be nothing more or less than my prodigious unfettered aggression.
Which is to say that, at a visceral, atomic level, I get Fen. I know this work in my bones and my fangs and my claws. I know this work in my violence and my solitude. This work and I met, bloodied and snarling, under a sliver moon in the wild.
This work and I know each other.
Maybe this work and you know each other, too.
Fen, by Daisy Johnson, is a collection of twelve short stories, each more feral and fantastic than the last. These stories come with titles like "Blood Rites," and "A Bruise the Size and Shape of a Door Handle," and "How to Fuck a Man you Don't Know." The titles are reflective of the work: a warning, a red flag of blood and bruises and fucking. You may not be ready for what you find here.
All of these stories revolve around the fen, an unnamed portion of Great Britain that is purportedly still wild, still free, still full of strange things that don't go bump in the night so much as crawl into your bed, shaped like a fox or a cat or a girl, and worm their way into your bones. You may never be the same after what you find here.
But what Fen is really about, beyond its wildness and strangeness, is what men take from women. The quotidian existence of attention paid, and assurance granted, and bruises formed, and sex reluctantly given. The collection's determined, insistent feral-ness is a furious reaction to all the desperate time and energy women spend trying to manage men's demands: our smiles, our acquiescence, our sex, our blood. Attention must be paid, Willie Loman, but in Fen, it might come with fang and claw.
In "Starver," a girl, trying to achieve impossible beauty standards, starves herself—perhaps accidentally, but perhaps not—until she turns into an eel. Is she happier as an eel, slim, sleek, and glossy? You tell me, and further, if so, tell me why. Did she finally get the form she wanted? Or did she finally escape the constraints of societal expectations?
In "Blood Rites," three beasts, jittery from living on raw meat, consume men, gore and all. But they find themselves with those same men's vile words in their mouths, demanding their attention, even after death. You would think death would be enough to finally get men and their words to leave you alone.
In "A Bruise the Size and Shape of a Door Handle," which can—and perhaps should—be read in juxtaposition with Helen Oyeyemi's White Is for Witching, a jealous house consumes Salma's lesbian lover. While the house isn't explicitly gendered, come on, that house is a dude.
In "Language," a mother can't live without her newly dead son, so she brings him back. But after death, every word he utters bruises his wife. The wife loves him—of course she loves him—but every single thing he says harms her. He doesn't mean to—of course he doesn't mean to—but that doesn't change the hurt. Even one bruise is too many.
In "A Heavy Devotion," a son's growth robs his mother of her memories, both emotional and practical. She becomes a shell of herself, unable to recall even her name. Finding that his mother has nothing more to give, her son leaves—and pieces of her world slowly return.
In "The Lighthouse Keeper," a woman wants to be left alone with a fish and even that's too damned much to ask.
Fen is for when you're ashamed, when you're furious, when you're desperate to regain just a piece of yourself from the daily exhaustion of being a woman in a world founded on men's demands. Fen is for when you're told you're too loud, too shrill, too bossy, too big, too much. Fen is for the days of blood and bruising and fucking, when you need to remember that you're dangerous, too. Fen is for your fangs and your claws.
---
Amy Tenbrink spends her days handling strategic and intellectual property transactions as an executive vice president for a major media company. Her nights and weekends over the last twenty-five years have involved managing a wide variety of events, including theatrical productions, marching band shows, sporting events, and interdisciplinary conferences. Most recently, she has organized three Harry Potter conferences (The Witching Hour, in Salem, Massachusetts; Phoenix Rising, in the French Quarter of New Orleans; and Terminus, in downtown Chicago) and nine years of Sirens. Her experience includes all aspects of event planning, from logistics and marketing to legal consulting and budget management, and she holds degrees with honors from both the University of Southern California's Thornton School of Music and the Georgetown University Law Center. She likes nothing so much as monster girls, Weasleys, and a well-planned revolution.