The Sirens Review Squad is made up of Sirens volunteers, who submit short reviews of books (often fantasy literature by women authors) they've read and enjoyed. If you're interested in sending us a review to run on the blog, please email us! Today, in honor of Roshani's Guest of Honor week here at Sirens, we welcome a review from Jae Young Kim on Roshani Chokshi's Aru Shah and the End of Time.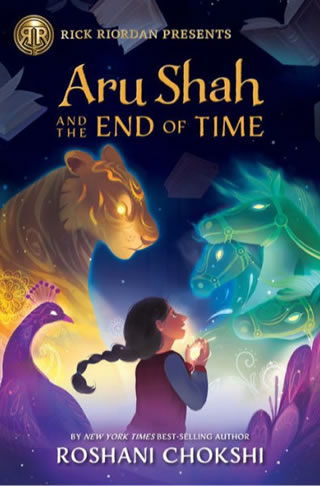 Roshani Chokshi's middle grade debut, Aru Shah and the End of Time, is delightful from start to finish. I am not even mad that Chokshi ended the book on a wicked cliffhanger, because it means she has to give us a sequel! (Book two, Aru Shah and the Song of Death, came out on April 30, and it's on the top of my to-be-read pile.)
Twelve-year-old Aru Shah thinks she's just an ordinary middle schooler trying to fit in. One day, on a dare, she rubs a cursed lamp and discovers she is, in fact, the reincarnation of one of five Pandava brothers, semi-divine heroes of a famous Hindu epic—and she must save the world. Mild spoilers ahead, but they are on the book's jacket copy and are revealed very early on.
Chokshi dives deeply into the rich world of Hindu mythology, introducing gods, demons, beasts, and magic that is exciting, weird and fun. I love all mythology and fairy tales, so for me, this was an easy sell. It's also not a surprise that a book curated by Rick Riordan on his Rick Riordan Presents imprint tells a story with mythology bursting from every page. But Chokshi adds her own stamp on a very old story. I am very glad that she chose to have the brothers be sisters. How can someone be reincarnated hundreds of times and always be male? Patriarchy, of course, but to have Chokshi subvert that from the very beginning was deeply gratifying.
And it's not only important that Aru is a girl, she's an Indian-American girl. As a Korean-American girl, I would have loved to see girls of color accepted without question as heroes— nay, heroines—of the story. I had read books with white girls as protagonists, but that meant ignoring an important part of myself, being Korean. Aru is not only a girl but an Indian girl, and her identity deeply informs how she interacts with the world around her.
The diasporic aspects of this re-telling were compelling for me but may be a mixed sell for others. Reimagining demons as hair stylists and night bazaars as Costco is just fun, and as one character in the book notes, "families moving to new countries and imaginations evolving" means adapting and changing. But Aru still maintains traditions like not eating beef, as a Hindu, or pranama, touching the feet of elders, or immediately calling all Indian women auntie upon meeting them. Since I am also of the Korean diaspora, I appreciate the references to American pop culture, and the unique take on mythology and culture from that lens, while still maintaining traditions of our families. Chokshi tells us the stories she's loved and heard many times, but provides context for the readers. The one minor gripe I have is that some of the references feel a bit dated, like Johnny Cash and Die Hard, and may resonate more with adults than children. I say this only because I understood all of the American pop culture references, and I am definitely not twelve years old.
My favorite part of Aru Shah and the End of Time, though, is Aru and her found family. She meets a fellow Pandava sister, Mini, very early on and the development of their relationship is amazing. I love romance storylines, and out of most of my reading, I don't often see a family and friend relationship celebrated as much as Chokshi's Aru and Mini. It's clear that Aru and Mini becoming sisters is just as important as their quest to save the world.
If you love friendship stories, sibling stories, reimagined Hindu mythology, and just plain fun, Aru and Mini's adventures will crack you up and warm your heart. So run, don't walk to the bookstore and be glad you get to jump right into the sequel when you're done!
---
Jae Young Kim is a born-and-bred New Yorker and a lifelong fan of fairy tales, fantasy and science fiction. She is a non-profit attorney by day and writes when she can, not always by night. The only thing that keeps her up until dawn these days is a good book.