The Sirens Review Squad is made up of Sirens volunteers, who submit short reviews of books (often fantasy literature by women authors) they've read and enjoyed. If you're interested in sending us a review to run on the blog, please email us! Today, we welcome a review from Casey Blair on Tasha Suri's
Empire of Sand.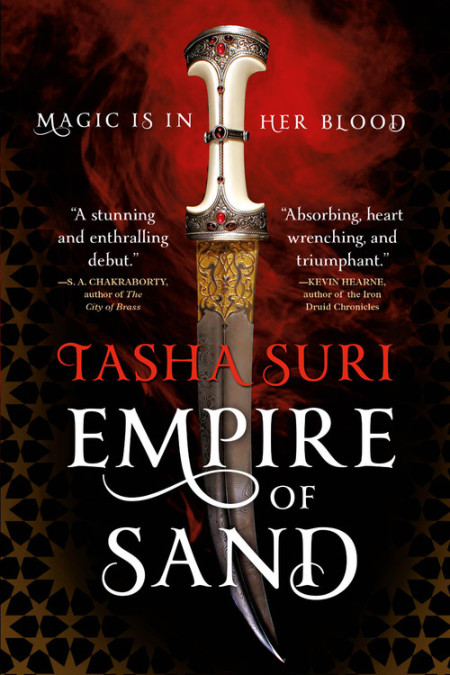 The first of Tasha Suri's Books of Ambha series, Empire of Sand, is a stunning fantasy debut. The setting is inspired by Mughal India, ranging from court culture to a desert nomad lifestyle, and the worldbuilding is thorough, immersive, and unique. And it has romance, dancing magic (dancing! magic! TAKE MY MONEY), politics, world-destroying stakes, and women coming into their power.
In short, in terms of sheer features, it includes basically all my favorite things, and that alone would have been enough for me to be shouting about Empire of Sand. (I will keep my exclamation points and all caps-pronouncements to a minimum henceforth, but please appreciate it requires Heroic Restraint.)
But there is so much more to shout about. Because as much as I delight in epic stories of fantasy romance and dancing magic, those features are not what make this book so noteworthy and so special to me.
I love this book, first and foremost, because of how thorough and nuanced its approach is on the matter of choice.
In Empire of Sand, choices are complicated. They're hard. Even when choices are technically available, this is a book that is very aware of the pressures that constrain truly "free" choice. This is a book that understands that even people with the best of intentions and love in their hearts can't always do what they want for the people who matter to them. This is a book that understands that there are pressures—from society, family, and your own hopes and dreams and fears—that circumscribe the freedom of choices. This is a book that understands that choices have costs, and sometimes making the choice at all is part of it. And it understands what all this means for women in particular.
The Ambhan people have conquered the Amrithi, and Mehr—who has parents from both backgrounds—attracts the attention of the Ambhan emperor's mystics with her Amrithi powers. She is effectively forced to give up her sacred right to choose (or not choose) a husband, in order to save a family that has put her in the impossible position of being unable to reconcile her heritage. She does find love, but even that is complicated: how can you give or withhold real consent when someone else is commanding your actions?
How Empire of Sand examines how earnest, open, wholehearted, and selfless that love is and can be, and how it can change everything and nothing, is one of my favorite parts. Stories with characters who exercise compassion even when it's hard beyond belief are a particular favorite of mine. Suri does an especially fantastic job of handling consent within the confines of an oppressive system. Love doesn't magically negate the effects of oppression, but it helps them survive it. The romantic arc of this story is absolutely gorgeously done, and I will say no more on that lest I ascend once more into all caps and exclamation points.
Mehr's journey to owning her own power is inseparable from her learning to navigate disparate identities. Her parents, who are of two different worlds and cultural heritages, were ultimately unable to reconcile their own differences and can neither help Mehr do so nor help her learn the fullness of one or the other. Mehr reconciling all the parts of her background—what to let go of, what to hold, and how to handle not just the expectations of people around her but her own—is critical to becoming her fully empowered self.
Finally, in stories rooted in western frameworks, agency is portrayed as character actions that shape the plot. There is an argument that this is why, historically, so many fantasy books are about kings, chosen ones, knights, and wizards, and, let's be honest, generally straight cisgendered men: the people with the ability to make choices that change their worlds.
But that leaves us with such a limited scope of stories. In Empire of Sand, Suri gives us something else: a story about a character—a woman—not with no ability to choose, exactly, but a woman whose agency and choices stem from a point of survival. And the kind of character Mehr is, as well as the world she lives in, broadens our understanding of romance and agency in what truly makes a hero.
So. Do you want beautifully wrought non-western fantasy settings? Do you want numinous dancing magic and romance you can cheer for with your entire being? Do you want women who grapple with fundamental, impossible choices, own their power, and change their worlds?
Then you want Empire of Sand.
---
Casey Blair is an indie bookseller who writes speculative fiction novels for adults and teens, and her weekly serial fantasy novel Tea Princess Chronicles is available online for free. She is a graduate of Vassar College and of the Viable Paradise residential science fiction and fantasy writing workshop. After teaching English in rural Japan for two years, she relocated to the Seattle area. She is prone to spontaneous dancing, exploring ancient cities around the world, wandering and adventuring through forests, spoiling cats terribly, and drinking inordinate amounts of tea late into the night.