The Sirens Review Squad is made up of Sirens volunteers, who submit short reviews of books (often fantasy literature by women authors) they've read and enjoyed. If you're interested in sending us a review to run on the blog, please email us! Today, we welcome a review from Jo O'Brien on Kiersten White's The Dark Descent of Elizabeth Frankenstein.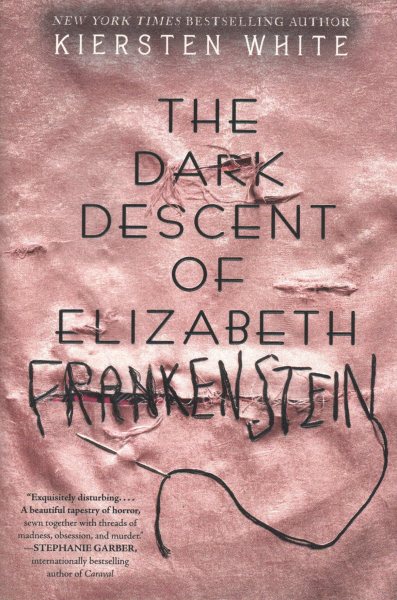 Mary Wollstonecraft Shelley was a stone-cold badass.
Her intellect and imagination were monumental. She invented a whole genre of literature when she was a teenager by writing a story that, two hundred years later, is still a cultural touchstone. And that's to say nothing of the adventurous life she led—she climbed glaciers, sailed Lake Geneva, and traversed Europe, partially on foot when she didn't like her chauffeurs. She survived the grief when death claimed her parents, two of her children, her half-sister, and then her husband. She kept Percy Shelley's calcified heart wrapped in his poetry after he died.
But yet, Percy continues to be credited for her accomplishments. His "corrections" in the margins of a found draft of Frankenstein still have some people convinced that he must have at least been a co-author (never mind that his part seems to just graze the level of line edits). Some would even go as far as to say that genesis of the book, or even the very idea, belong to him. Even now, Mary Shelley isn't given the respect she deserves for her work.
So it feels like it's about time for The Dark Descent of Elizabeth Frankenstein. Author Kiersten White calls it a retelling, but I found myself thinking of it as a companion to the original Frankenstein: a different perspective, dissecting the events and uncovering truths that Victor Frankenstein couldn't—or wouldn't—divulge. The Dark Descent is narrated by Elizabeth Lavenza, the child purchased by Victor's parents to temper his strange, violent behavior.
At the opening of the book, Victor, attending university, has fallen out of contact with his family. Elizabeth—having grown up alongside Victor as his primary caretaker and companion—follows him across Europe, determined to marry him and secure her position. She finds him indisposed in a rented warehouse, where he's done the terrible, impossible thing that was the subject of Shelley's original book. After seeing that he's taken care of medically, she goes through his notes. She discovers what he's done, and she foresees the reaction if his work is discovered. So she burns the evidence. She manipulates witnesses. She makes sure that Victor can return home without facing any consequences for his actions, just as she's always done.
All this paints a bleak picture of a girl straining to make her way in a world where she can't stand on her own, and The Dark Descent is, in some ways, a bleak book. Elizabeth is slow to realize her mistakes, because her conviction that she has to protect Victor is so well-trained. It feels familiar to how we are all trained to shelter those in power from the consequences of their toxic behavior. But there are moments that glimmer through, and they accumulate and accelerate. Elizabeth does learn. This is a book about a girl breaking the shackles that bind her to an abuser.
It is slow, painful work. Elizabeth doesn't know that it needs to be done. She doesn't know that she can unlearn her resentment of other women as rivals, or her too-quick instinct to cover Victor's tracks. Things get worse before they get better. But Elizabeth is not the soft girl that Victor and his family believe she is. She is fierce and defiant and capable of her own terrible and impossible things. As her limits are stretched, she stretches to fill the gaps.
Just like Mary Shelley had to.
The Dark Descent is not just a companion to Frankenstein, it is an homage to Shelley herself. It's about a girl whose tremendous abilities are credited to the men in her life. But it's also about how, leveraging her own incredible power, she breaks free of them.
I won't spoil the ending of The Dark Descent of Elizabeth Frankenstein, but I will say that, in order over the last several pages, I felt heartbreakingly satisfied, and then I gasped, and then I sobbed. (I'll also say that it's been a long time since I read any book that used the graphic formatting of a single page to such spectacular effect.) The novel is moody, atmospheric, and often difficult, but I felt it in my bones.
Victor Frankenstein, in his arrogance, told us one story. Elizabeth now claims her voice to tell another. And what she's telling us is that there is no one more powerful than a girl who will fight to have something that's hers.
---
Jo O'Brien is a writer, artist, cosplayer, mythical creature, and Viking who lives in northern Colorado, wrangling a host of familiar spirits. She writes about ambitious, unrepentant, sometimes vicious women in novels and for live steel horse theater. She has been a member of the Sirens community since 2011.