As we look toward Sirens, we're pleased to bring you exclusive interviews with this year's brilliant Sirens Studio faculty. These conversations are a prelude to the workshops that these faculty will teach as part of the Studio later this year. Today, Sirens registrar Erynn Moss speaks with Marie Brennan.
ERYNN MOSS: Can you believe it has been a decade since you were a guest of honor at Sirens? Our theme that year was faeries and you were in the midst of publishing your Onyx Court series, a centuries-long epic following the fae of London. But I recall you also led us in a workshop on writing fight scenes and your methods, like your writing, were so clear and enjoyable that it's no surprise you've continued to dedicate time to teaching. Recently you held a similar workshop at Clarion West in Seattle and your New Worlds Patreon is essentially a world-building encyclopedia of knowledge gleaned from your folklore and anthropology background, which some of us love for the nerdy sake of human culture factoids. How are you balancing your time/efforts between teaching/essays and your own writing?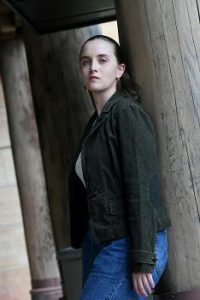 MARIE BRENNAN: This really has been the year of me diving back into teaching—not just the in-person workshop for Clarion West, but also a slew of online ones, plus I've taught for Cat Rambo's Academy for Wayward Writers and the Kelly Yang Project, which works one-on-one with students in Hong Kong. The good news is, unlike when I taught in an academic context, I don't have to do any grading!
To some extent I'm able to do both because they come out of different buckets in my brain. Writing nonfiction doesn't make the same demands on me as fiction does—which isn't the same thing as saying it doesn't make any demands, but I'm able to shift gears and work on A when I'm tapped out on B. I'll admit, though, that the Patreon is intermittently draining: it's been running for over three years now, with an essay every single week, and I'm not anywhere near done yet. I'm still excited by the project as a whole, but I go through periods where I drag my feet on actually writing that week's essay, because ugh didn't I just do this last week?
In the long run, though, the New Worlds project has also been really good for my fiction. Brainstorming possible topics of discussion doubles as reminding me of cool things I could be doing with my worldbuilding—which has particularly fed into the Rook and Rose trilogy I'm writing with Alyc Helms. They've got the same academic background I do, and I'm only sort of joking when I call the trilogy "When Anthropologists Attack." We've been having a blast thinking through all the different elements of the setting and how they could feed into our story. And hey, the other day I re-read my own Patreon essays on security systems as a refresher before Alyc and I worked out a plot problem—so they're becoming a resource I can use, too!
ERYNN: A mythically rare and majestic beast, your dragon-naturalist heroine, Lady Trent, is—gasp!—an older female main character. Her story starts off in her youth but continues over a lengthy career of adventuring and all told from her post-retirement perspective. She frequently stops the flow of her story to inject humorous details and opinions from her mature viewpoint. As a reader, I felt like you were having a lot of fun with her. Can you tell us a bit about writing from this particular point of view? And to follow up, your latest book in that world, Turning Light into Darkness, is the story of Lady Trent's granddaughter, Audrey Camherst, and written in an entirely different style. What was it like continuing in this world, but with such a different voice?
MARIE: I don't think I'm the type of writer typically cited as having amazing character voices…but man, when they click, they click. It took all of a paragraph for Lady Trent's voice to materialize when I first started poking at her story. And although I didn't realize it at the time, the approach I took to the viewpoint was absolute gold for the story. It isn't just first-person; it's her consciously relating her life story to an audience presumed to exist in her own world. Which meant I could get away with absolutely everything, because in the end, it's all characterization. I need to describe a jungle? You're not just getting the jungle; you're getting Isabella's experiences and opinions of the jungle. I need to explain something about the setting? Drop in a line where she says, "You young people won't realize this because things have changed so much, but here's how it used to be." I can play freely with foreshadowing and irony, because she has fun pulling her audience's strings on purpose. I won't say that suits every kind of novel, but for this series, it worked out perfectly.
As for Audrey, figuring out how to make her different was pretty much the first challenge I faced—especially since I decided to keep up the conceit where every story from that world exists in the world. Audrey's novel is assembled out of many different kinds of documents, from diary entries to letters to newspaper articles to police reports…and yes, that did make for some interesting hurdles along the way, as I had to figure out how to get certain bits of information across. Audrey primarily shows up via her diary, which was a more immediate kind of first person than Isabella's—told immediately after the fact, rather than decades later—but I also tried to modernize her tone, since she lives in a period that's more like the 1920s than the late Victorian era. A lot of it also boiled down to thinking about the ways in which her situation is different from her grandmother's: Her drive to prove herself comes less from facing sexism and more from feeling the burden of having famous relatives. She's much more rash in some ways, and also much more careless of the consequences, because she trusts that her family will always be there to help her out.
ERYNN: You've got a reputation for very structured worlds and defined characters—and there was talk of color-coded reference charts on your coming collaborative trilogy. By contrast, one of your amazing short stories, "This Is How," is so poignant and elegantly pared-down that it's almost a poem. It's essentially about transformation and makes me wonder how you, consciously or not, go about achieving that kind of squishy organic space for your characters when they might have the span of an epic series or less than 2,000 words.
MARIE: Now, let's be clear: Those color-coded charts for Rook and Rose are very much an anomaly! On my own, I tend far more toward the "discovery writing" end of the spectrum, figuring out my plot as I go along. But when you're working with someone else, and furthermore when you're writing a two hundred thousand-word novel with complex intrigue and multiple viewpoint characters, you can't just hold it all in your head as a vague cloud and hope the other writer can read your mind. Especially not when you find yourself describing your characters' lives as "a layer cake of lies and deception"—that's when you wind up having to chart who knows what, which persona of theirs knows it, who knows they know it, and when they learned it. There was a point along the way when Alyc and I realized our cleverness had looped clear around and stabbed us in the back; it took something like two hours of chewing on the problem before we found a way to un-break our plot.
A short story is not only a different beast, I think it might belong to a different taxonomical kingdom entirely. "This Is How" fell out of my head when I was getting ready for bed one night: I sat down and wrote the whole thing in a single go, and when I was done I wasn't even sure what I had. Was it a story? Was it just a weird pile of words? It's an intuitive creation, not one I consciously built. I've yet to have a novel happen that way, though I know for some writers it's possible.
So I think part of the answer is that they're different skill sets. I used to be abysmal at writing short stories, because I was a natural novelist first; it took me years before I even learned what a short story-sized idea looked like. But at this point I've published more than 60 short stories, so I've had lots of practice in how to do cool character stuff both in a few thousand words and in tens or hundreds of thousands.
Articulating how to do it, though…? Let's just say there's a reason I teach things like worldbuilding and fight scenes, not short story techniques. Just because I can do a thing doesn't mean I can explain it.
ERYNN: As I mentioned, you are currently working with fellow anthropologist, Alyc Helms, under the joint pseudonym M.A. Carrick on a series called Rook and Rose, the first book of which (The Mask of Mirrors) is currently expected in January. The two of you met on an archaeological dig in Wales, which is a great backstory. You've mentioned how helpful travel and richness of experience has been to getting the factual historical details of your books correct. Since your Sirens Studio workshop will be "Faith in Fantasy: Building Believable Religions," what sort of non-academic experiences have been helpful for you to accurately and sensitively represent cultural practices and beliefs?
MARIE: It's a bit of a fuzzy boundary between academic and non-academic experiences, because a lot of it boils down to "I've read things." For any kind of worldbuilding, I think one of the most valuable things you can do is read about actual cultures in the real world; don't just draw all your ideas from novels and other forms of fiction. And while it's fine to start with the simple, Wikipedia level of research—especially when the topic is one you aren't very familiar with, and you need that kind of basic orientation—you can't stop there. It takes an investment of time and energy, not just to understand X, but to understand the things around X that affect it and give it context. Especially since that can help you find the places where you have unexamined assumptions coloring how you process everything else.
But it helps not to rely entirely on books, either. That's why travel is good, if it's something you can afford, and anything else that helps get you out of your familiar zone. Sometimes I think the brain has a range of motion just like the body does, and building up mental flexibility means it's that much easier to learn about New Thing #17.
ERYNN: Speaking of your Sirens Studio writing workshop, what can attendees expect from "Faith in Fantasy: Building Believable Religions"?
MARIE: It's going to be a ground-up approach, focusing not on high-level theological concepts like "let's design a pantheon" or "write a myth for how the world got created," but on what it means to be a character in that world who follows that religion. When a faith is strongly felt, it tends to permeate people's lives in a hundred different ways—and those ways are what's going to show up the most frequently in a story.
ERYNN: Sirens is about discussing and deconstructing both gender and fantasy literature. Would you please tell us about a woman or nonbinary person—a family member, a friend, a reader, an author, an editor, a character, anyone—who has changed your life?
MARIE: There's no contest: Diana Wynne Jones.
Some of you reading this probably recognize her name, but for those who don't: She was a British fantasy author, writing primarily for children and young adults (though the YA category didn't really exist as we think of it now for most of her career). I credit her with turning me into a writer.
Like most kids, I made up stories. But when I was about nine or ten, I read her novel Fire and Hemlock—which, in addition to starting my fascination with the ballad "Tam Lin," featured two characters who were writing a story together. It was the first time in my life I'd thought about that as a thing I could do, not just to entertain myself, but to entertain other people. I more or less decided on the spot that I wanted to be an author, and never let go of that decision.
(Though if you want to sample her work, I'm not sure I would recommend Fire and Hemlock as the place to start. It's amazing, but its ending is also…really weird, and it was decades later that I found out part of the reason for its weirdness and half-comprehensibility was that I hadn't read the T.S. Eliot poem woven into the logic and imagery of the climactic scene. Basically, I love that book even though I can't entirely explain it.)
---
Marie Brennan is a former anthropologist and folklorist who shamelessly pillages her academic fields for material. She recently misapplied her professors' hard work to Turning Darkness into Light, a sequel to the Hugo Award-nominated Victorian adventure series The Memoirs of Lady Trent. She is the author of the Doppelganger duology of Warrior and Witch, the urban fantasies Lies and Prophecy and Chains and Memory, the Onyx Court historical fantasy series, the Varekai novellas, and nearly sixty short stories, as well as the New Worlds series of worldbuilding guides.
For more information about Marie, visit her website or her Twitter.
Erynn Moss is an enthusiastic reader who likes refreshing her soul by spending time with the brilliant people she finds at Sirens. She's into comics, sewing, knitting, costumes, and camping. She currently lives in Louisville with her bff spouse and their toddler trainee-Siren.