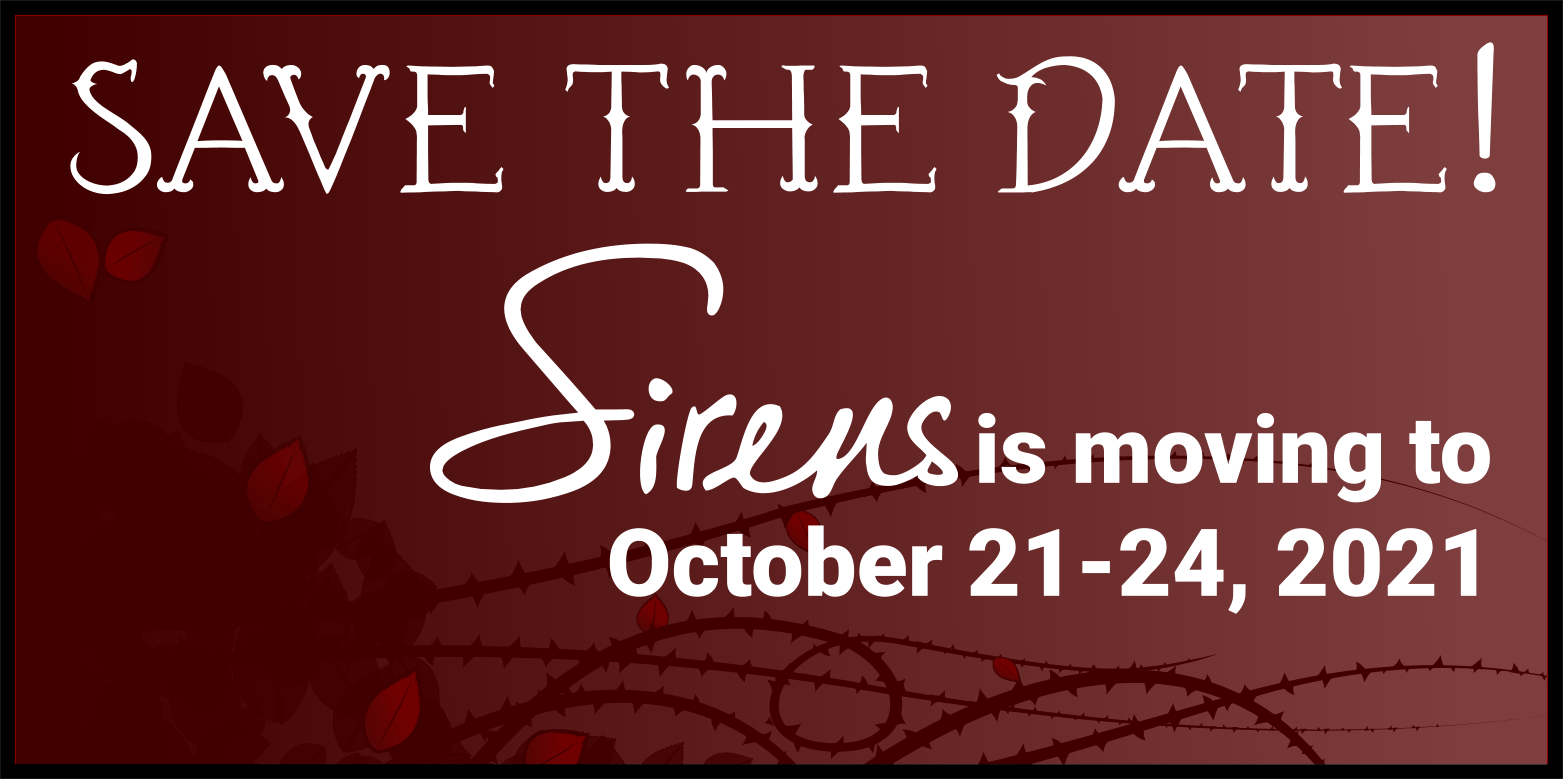 Like you, we have spent the last few months anxious and stressed as we try again and again to determine the impact of COVID-19 on our families and our communities. As we navigate our fifth month of isolation, the picture of the months ahead has, unfortunately, become clear: We simply cannot hold Sirens safely in 2020. For the health and wellbeing of the Sirens community—guests and faculty, presenters, hotel staff, planning team, and all attendees—we are postponing our 2020 Sirens to October 21-24, 2021.
This is a postponement, not a cancellation. While we will convene a year later than intended, we will still gather at the Hilton Inverness Hotel just outside Denver, Colorado. The theme will still be villains, and we will still host guests of honor Dr. Kinitra D. Brooks, Rin Chupeco, Sarah Gailey, and Fonda Lee. The Sirens Studio will be held October 19-20, 2021, with guest of honor Joamette Gil and faculty Casey Blair, Rin Chupeco, Ren Iwamoto, Fonda Lee, Marie Brennan, Anna-Marie McLemore, Kinitra D. Brooks, and Jae Young Kim.
If you have registered for Sirens in 2020, made hotel registrations, or have had a programming proposal accepted, please check your email for more information on how to proceed. Our website has been updated with the 2021 dates, and all are still welcome to register at the current rate.
2020 Activities
As you know, Sirens is carefully designed to foster community through an in-person conference, retreat, and experience. While some events have shifted to an online platform for 2020, recreating Sirens virtually is, of course, not as simple as setting up a few Zoom calls. Rather than ask our volunteer planning team, our guests and faculty, and our presenters to climb that particular mountain in a short time, we've elected not to offer Sirens online.
We are, however, planning online community gatherings, essays, interviews, book features, and more in 2020—including a number of offerings for the weekend that Sirens was to occur this October. We know that everyone is disappointed about not having Sirens this fall and about not having that weekend of rejuvenation with the Sirens community. Stay tuned for what we will be doing from a safe distance!
Our Thanks
Thank you for understanding about our postponement of Sirens. It's clear to us that, in a year where every aspect of life is affected by COVID-19, the need for community and connection is as important as ever, as is a thoughtfully curated space to host challenging conversations. And it's ironic that in a year when we expected to be discussing villains and villainy in a broad sense, a very tiny, invisible villain has disrupted our plans in ways we never dreamed would happen—and we've imagined our way through many disaster scenarios over the years!
We will miss you terribly this year. But we are hopeful that by the next, we'll be in a better, safer place, and that we will be able to provide the conference you expect from us. In the meantime, we'll be working with our team, our guests and faculty, our presenters, the hotel, and all of you, toward 2021. We very much hope to see you then.
Finally, here's a special video message from the 2021 guests of honor, faculty, and Sirens staff with our well-wishes: