If you've been a part of the Sirens community for at least a year or two, you know that we offer an annual reading challenge based largely upon the works of our upcoming guests of honor, our upcoming theme, and newly released speculative works by women, nonbinary, and trans authors. Given the postponement of our 2020 conference to 2021, however, we covered much of that ground for our 2021 conference back in 2020.
So we jumped at the chance to do something slightly different in 2021: a reading challenge that really gets to the heart of Sirens, full of books that we think exemplify the mission of Sirens itself.
Sirens is a space that actively seeks to amplify voices that are pushing boundaries in speculative spaces—and specifically, are pushing those boundaries in the direction of a more inclusive, more empathetic, more just world. This year, we carefully considered what that means to us, and we've selected 25 works by female, nonbinary, and trans authors envisioning that world. We find that these works demonstrate the true wonder of what speculative spaces can be—and what our real world can also be. When we ask ourselves what Sirens is, and what Sirens could be, we look to these works and others like them.
Given how important these works are to Sirens, we want to offer all of you the chance to discuss just a few of them throughout the course of the year. We hope you'll join us at 2-3 p.m. Eastern Time on the last Sunday of each month, starting in March and ending in August, as we examine and debate one book a month from our 2021 Reading Challenge.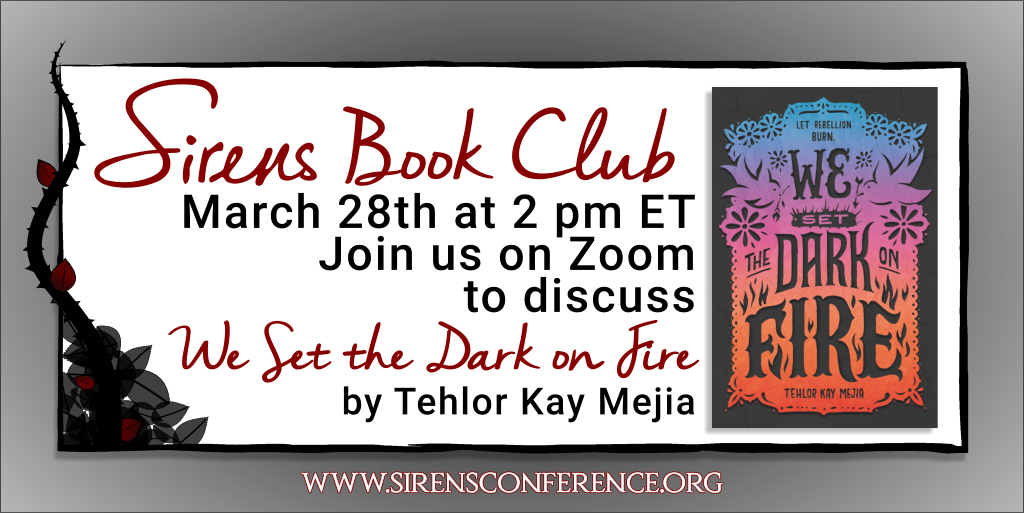 Our inaugural session will be March 28 at 2:00 p.m. Eastern Time. Our first book discussion will be about We Set the Dark on Fire by Tehlor Kay Mejia. And if you'd like to join us, please email us at (help AT sirensconference.org) to be added to our list; for safety and security reasons, we'll be emailing the link out to interested folks closer to the discussion date.
We hope to see you there!
---