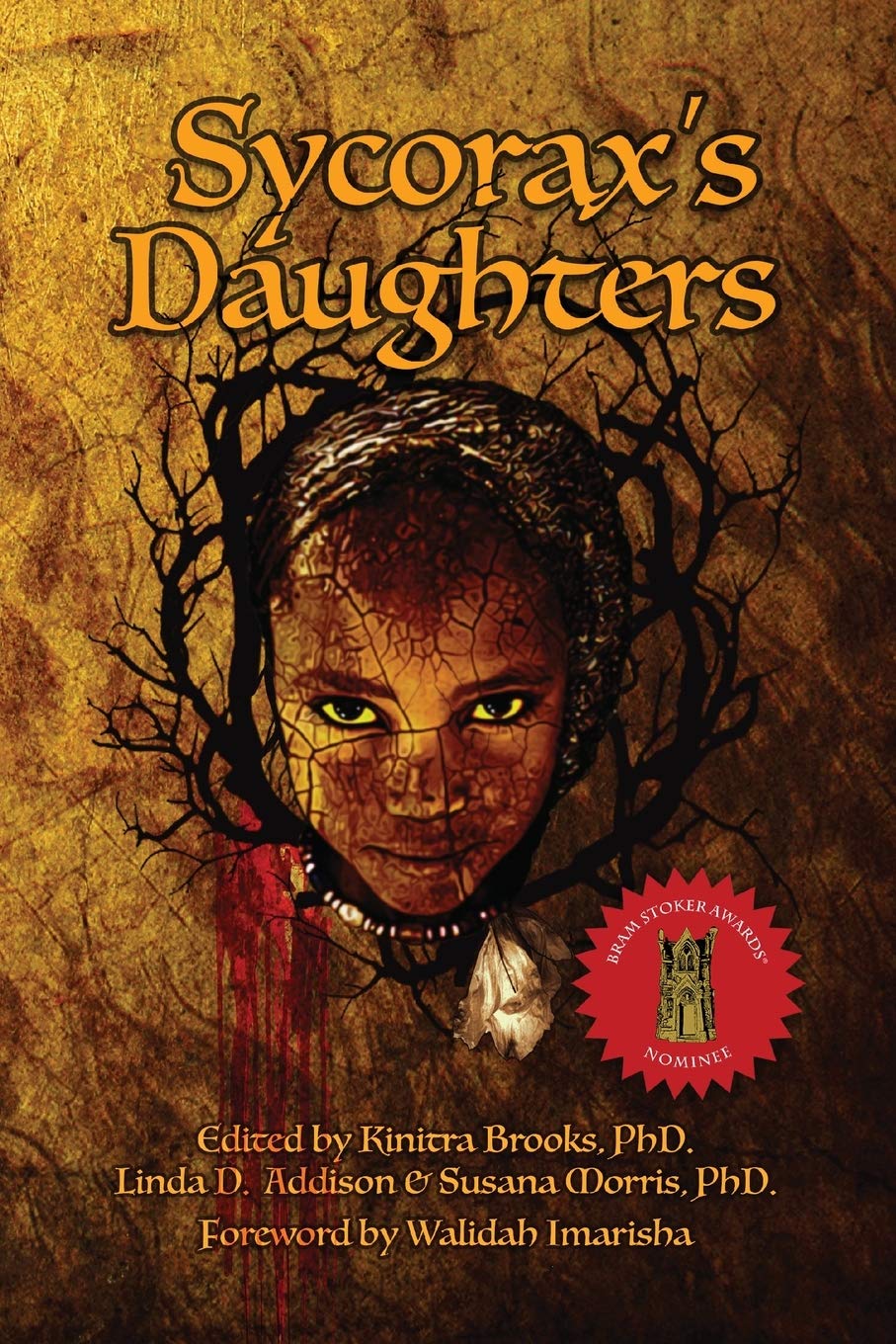 The poems and stories in Sycorax's Daughters showcase the extraordinary variety of the horror genre as written by Black women. In these devastating explorations of fear and inhumanity, there are intriguing tastes of science fiction, fantasy, historical fiction, and even erotica. Walidah Imarisha's inspiring foreword describes this anthology as "a visionary space where Black women explore horror on their own terms," "a beautiful tapestry … challenging how one of the mainstays of our society is the cautionary tale of the monstrously feminine and the ways women with agency become the most evil." Featuring monsters, women with agency, and everyone in between, these works create an array of frightful possibilities with particular resonance for Black women.
Poetry, scattered throughout, scaffolds the tales. Sometimes narrative, sometimes simply emotive, each poem calls up powerful questions. Carole McDonnell's "Terror and the Dark" engages with the fears well-meaning adults plant in children, asking, "Do Jamaican parents still delight in terrorizing their children?" "Polydactyly" by Tanesha Nicole Tyler comments on disability and Blackness in dovetailing anecdotes that show society as the cruelty of a knife chopping off an extra toe. Amber Doe's prose poem "last of the red hot lovers" asks a haunting question: "What would I have looked like if he had never touched me against my will?" Life can inflict so many flavors of trauma, and these poems offer a sampling of the rebirth that follows.
Vampires are an obvious fixation for horror lovers, and Daughters offers several fresh takes on this familiar trope. A former enslaved woman turned vampire uses her supernatural powers for justice in "Born Again" by RaShell R. Smith-Spears, a gory, righteous ode to Black sisterhood. A succubus named Cassandra derives sexual pleasure from destroying her victims in "Cheaters" by Tish Jackson. In Vocab's "Thirsty for Love," someone turned by Dracula laments the monotony of their condition. These vampires are never just after blood; they're seeking liberation.
Daughters features mermaids, too. In Cherene Sherrard's "Scales," one mermaid sister struggles to live in the human world while the other sister hardly wants to try. The collection opens with "Tree of the Forest Seven Bells Turns the World Round Midnight" by Sheree Renée Thomas, in which a woman leads a man through wetlands to be devoured by the river and the trees she calls Mama. Dana McKnight's "Taking the Good" presents an alluring monster who is perhaps half-vampire, half-mermaid, and all tentacles. Water is a space of the unknown, and tantalizingly so for those who aren't granted safety on land.
Werewolves and similar transformative figures also make an appearance. In Crystal Connor's "The Monster," experienced Army officer Maleka ends up trapped in a cabin with white supremacists inside and supernatural beasts outside. A selkie-like figure rides the subways of New York City looking for skins to steal in "Summer Skin" by Zin E. Rocklyn. K. Ceres Wright's "Of Sound Mind and Body" follows shapeshifter Dara Martin as she performs one last top-secret assignment for Homeland Intelligence. In these stories, changing shape can provide freedom, but only temporarily.
Sometimes demons are just demons. A frat brother turned financier manipulates to steal lives and get ahead in "Taste the Taint: A Cursed Story" by Kai Leakes. "Kim" by Nicole D. Sconiers presents a monstrous white girl who steals the souls of Black girls: "The more I resented the white girl, the more she blossomed," muses the besieged protagonist. "Mona Livelong: Paranormal Detective II" by Valjeanne Jeffers introduces Mona and her colleague Curtis, whose fascination with the paranormal mirrors many a reader's feeling about horror—"a wanting, a needing to know more; and at the same time a desire to shut [their] eyes and ears to things [they] couldn't explain or control." The demonic is a twisted mirror of the real world, but it's still a respite compared to the tortures that reality can conjure up.
Reality bends, terrifyingly so, in the more science fictional tales. "Perfect Connection" by Deana Zhollis draws a society where every person has a spirit partner—and every person is in danger of being Split from them by fundamentalist organizations. In Tenea D. Johnson's "Foundling," Petal rescues people from disasters using her mastery of teleportation tech, but discovers a dark side to her work that nearly dooms her. "The Malady of Need," by 2016 Sirens Guest of Honor Kiini Ibura Salaam, describes the mesmerizing daydreams of someone shackled in a shuttle, with little freedom outside of their own mind. Even in the future, in worlds with fantastic technology, the hauntings of human cruelty remain.
In mundane daily life, Black women face the terrors of intersectional oppression, too often magnified by the racism and sexism in mainstream horror narratives—they lead a revolution when they clap back. As Kinitra D. Brooks puts it in her introduction, "There is radical potential in shifting the center of horror." That potential shines in dozens of different ways in the multifaceted abundance of Sycorax's Daughters. Unfortunately, the copyediting and formatting is often rough, which at times makes the text difficult to understand, but the subversive brilliance shines through all the same. From bloody victory to ghostly defeat, the literary daughters of Sycorax illuminate the revolutionary potential of exploring our fears.
---
Nivair H. Gabriel is a writer, editor, and aerospace engineer. Her stories appear in two Sirens benefit anthologies; she has also edited several critically acclaimed picture books. She reviews children's and teen fiction for Kirkus Reviews and has presented work on intersectional feminism and indigenous futurist thought at several conferences, including Sirens. She received her MA/MFA in children's literature and writing for children from Simmons College, and her BS in aerospace engineering from the Massachusetts Institute of Technology.