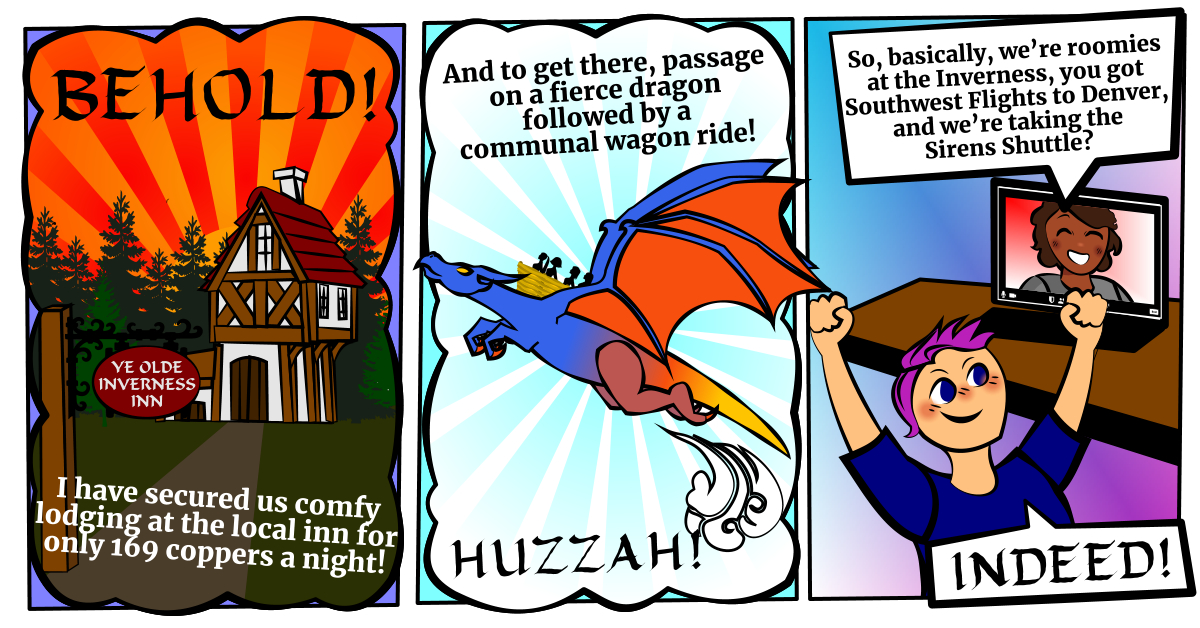 After a very unusual year, in which we transformed Sirens into an online gathering, we are again planning for an in-person event this fall. We are readying the programming schedule, collecting newly released books, searching for amazing auction items, and discussing how we can make Sirens—after a year away—feel as warm and welcoming as ever. We confess: This all feels a bit strange.

And we suspect that coming—or coming back—to Sirens might feel a bit strange to you, too. So we thought we'd offer a series of posts about what Sirens is (or isn't), some travel tips and tricks, and how you might choose to engage with the conference and community. If you're considering attending, we very much hope you do. And if you're returning, we can't wait to see you again.

You can read the first in our Siren's Voyage series, about whether Sirens might be the right conference for you, here. This week, let's talk about traveling to Sirens!
Sirens Conference: Hotel
Sirens—all conference programming and events, including the Sirens Studio—will take place at the Hilton Inverness Hotel, just south of Denver, Colorado. And let us tell you: Having everything under a proverbial one roof makes things super-easy for you and for us! We love having a sunny, warmth-filled lobby, a cozy bar, a convenience shop, and a quiet, soothing spa available for you, and a one-stop destination for meeting room setup, on-site catering, and audiovisual support available for us.
You don't have to stay at the Hilton Inverness to attend Sirens, of course, but if you're looking to simplify your Sirens experience, especially if you're coming in from out of town, we recommend that you do. As you navigate Sirens, you may find that having everything just steps away from the conference is a convenience that can't be beat: You'll have both guest rooms and dining options just steps away from the conference, not to mention that, if you want to take a break from Sirens for a quick visit to the gym or the pool, or even to take a break in your hotel room, you can—and if you want to continue programming discussions over happy hours or late at night in the hot tub, you can do that, too!
Sirens attendees have access to a discounted rate at the Hilton Inverness: $169/night, regardless of occupancy, beginning on October 15 and ending on October 26. This is significantly lower than the hotel's usual rates at this time of year, and we hope that this discount makes traveling to Sirens more affordable for everyone. Also, your stay at the hotel helps Sirens meet its financial obligations to the hotel, which also helps us keep the cost of Sirens lower for everyone.
To make a reservation at the Hilton Inverness for Sirens, just click here. If you prefer to call, you may telephone the hotel at (303) 799-5800, and please make sure to use the discount code "10NC." For more information about the hotel, check out its website, and for those seeking accessibility information, you may find that here.
If you're seeking roommates, we invite you to tweet us @sirens_con or post on our Facebook page. And if you have any questions or concerns about the Hilton Inverness's policies or encounter any difficulties in making a reservation, we invite you to contact us, as we can often assist.
Sirens Conference: Travel
But how do you get to Sirens in the first place? Planes, trains, and automobiles all work, so let us tell you how!
By plane: The closest airport to the Hilton Inverness Hotel—about 30 miles away in the hinterlands of the high plains desert east of Denver—is the massive Denver International Airport. While some may find the sheer size of DIA somewhat daunting, we can assure you that the moving walkways (almost always) work, there is (almost always) food to be found, and there is (always) a place to sit. Especially if, like conference chair Amy Tenbrink, you sometimes fly in a blizzard.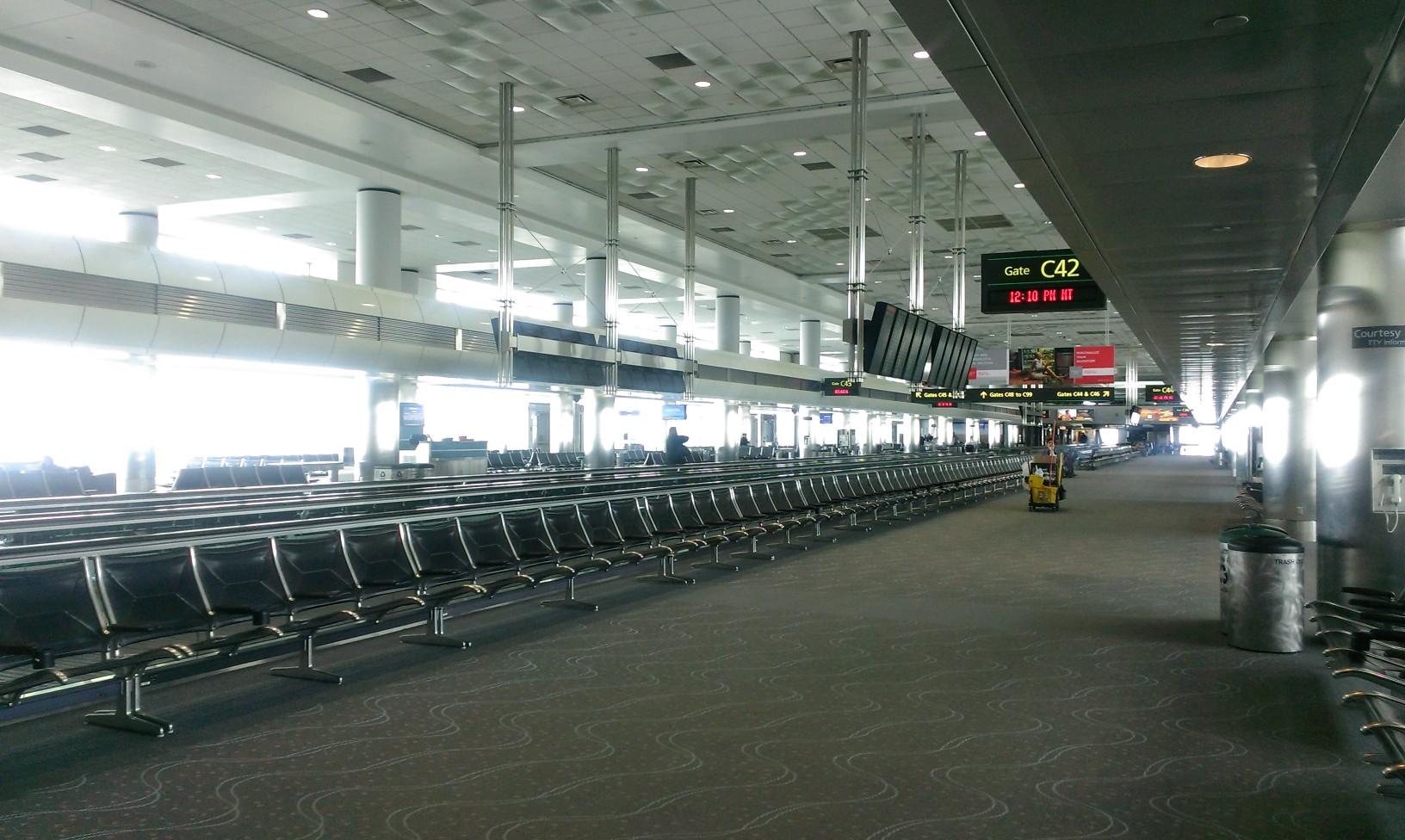 Please note that DIA is currently undergoing a massive, multiyear renovation, so be prepared for large sections of it to be walled off. DIA has attempted to compensate for this inconvenience by providing windows so you can see the construction progress and also by putting up posters that lean into the rampant conspiracy theories about the airport. If you see an alien, please let us know!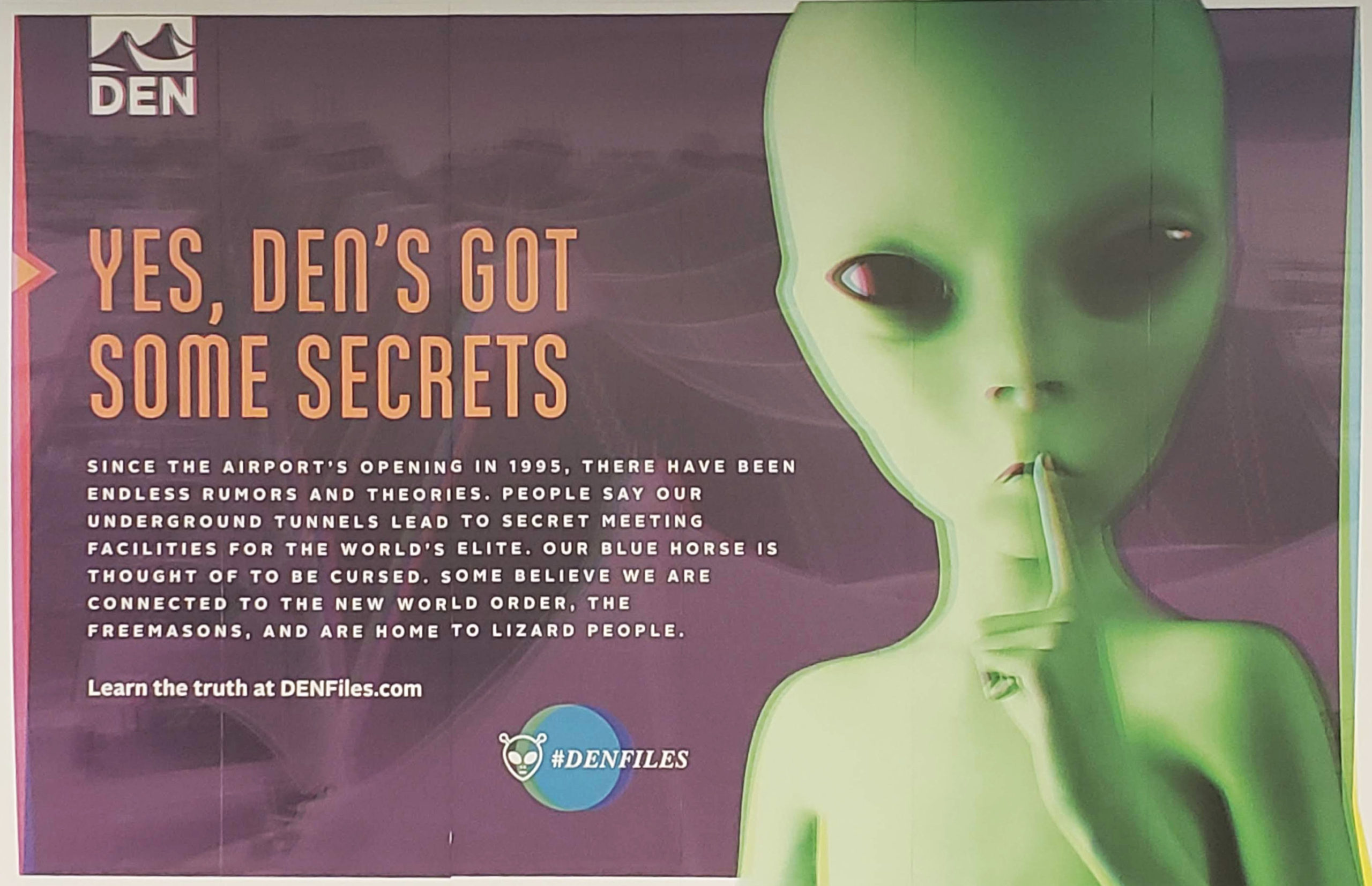 If you choose to fly, you might look at Southwest or United, both of which occupy almost an entire terminal at DIA. Southwest, for those who don't know, doesn't permit you to purchase specific seats, so you'll want to check in 24 hours early to secure your place in line—and then make sure that you're at your gate on time—but often offer terrific sales. United tends to be more traditional, but also more expensive. And a number of other airlines fly in and out of DIA as well.
By train: If trains are your thing—and they're definitely ours—Amtrak's California Zephyr route runs right through Denver, stopping at Union Station downtown, where you can transfer to Denver's very much improved light rail station. The light rail will bring you within just a couple miles of the Hilton Inverness Hotel—just a quick cab ride or Uber away. When you arrive, we'd love to see your pictures!
By automobile: While we love planes and trains, if you ask us, road trips are that most American of adventures. If you're looking to reduce your human contact—and we all are in these difficult times—Denver sits at the junction of I-70/I-76 and I-25. For those of you who think of cars and automatically think "traffic," let us assure you that driving across the Midwest is flat and fast—and driving through the mountains is a joy, though in October, you never know when there might be snow. Once you arrive, the hotel offers free parking—and we'll want to hear about every weird thing you saw along the highway on your way.
Sirens Conference: Ground Transportation
If you choose to fly to Sirens, you'll still need to make it those last 30-ish miles to the Hilton Inverness Hotel—and we can help you with that! When we researched commercial shuttle options, not to mention cabs and Uber, we saw the outrageous prices and thought, "Wow, we can definitely do better than that."
So we chartered a bus! If your travel is flexible, we can offer you a cheaper option for getting from DIA to the Hilton Inverness and back again, and to meet other Sirens and their families and friends along the way. The Sirens Shuttle costs $45 each way, or if you buy a round-trip, only $75. A shuttle will leave Denver International Airport at 8:00 p.m. on Monday, October 18, and at 4:00 p.m. on both Wednesday, October 20 and Thursday, October 21; the return trip for all shuttle riders will depart the Hilton Inverness at noon on Sunday, October 24. Because of travel time, and to leave room for any delays, we recommend that you arrive in Denver no later than 7:00 p.m. on October 18, or 2:00 p.m. October 20 or October 21, and depart no earlier than 2:30 p.m. on October 24. We hope to see you on the Sirens Shuttle!
---
And with that, we hope to see you at Sirens! With a bit of luck, this travel information will make your decisions and your journey to Sirens and back again just a little bit easier. And we're all about making things easier as we continue to muddle through 2021.