In this issue:
PROGRAMMING DEADLINE: MAY 15
Visit the programming section of the Sirens website.
The deadline to submit programming proposals to Sirens is May 15, 2015. That means you have less than two weeks to put together your proposal, to find co-presenters, and to offer your idea to the vetting board. Never fear, however: at the time of submission, you need only have a short summary for the program book and a short abstract (or lesson plan, or set of discussion questions) ready for review. You'll still have until October to prepare! Not sure what to present? Here are a few ideas we've shared on Twitter for #SirensBrainstormMonday or during chats:
Let's Talk About Sex, Baby: The Importance of Female Desire in Young Adult Fantasy Literature

Chat brainstorming: Crossovers between fantasy and other genres (reader expectations, clashing writing tropes, when they work really well).

Chat brainstorming: The sometimes success of non-traditional structures (shifting PoVs, unreliable narrators, non-linear storytelling).

Chat brainstorming: Older heroines who have some wisdom and leadership skills, but are still challenged in a book (e.g., Broken Monsters).

Bring It On: Are Girls More Fearless in Fantasy Literature?

Forgiveness and Revenge in Fantasy

Murder, Mistake, Rebellion, Revolution: Our Changeable Thresholds of Female Villainy in Fantasy Literature

Homicidal Asylum Prisoner to Practically Perfect Authorial Insert: The Many, Many Faces of Alice of Wonderland

"How about something with women-led societies and matriarchal lines: Sorrow's Knot, The Demon King, Queen of the Tearling?"

"40+-year-old women in fantasy lit: Paladin of Souls, A Crown for Cold Silver, Granny Weatherwax…"

Handbook of Revolution: Deploying Your Dragons, Mages, Spies and Wannabe Queens

These folks are or were seeking presentations or collaborators. Please contact them directly; if you don't use Twitter, and you email us ASAP at (programming at sirensconference.org), we'll forward your contact information to them, if we can.
Bethany Powell/ @oh_gingersnap / Panel "Women in War: trauma & healing in SFF" looking for panelists! Would love counseling/medicine/healer perspectives. But: I would also just love perspectives of common sense and mature ladies! Anyone who'd like to chat these topics.

@morinotsuma is looking for co-panelists to discuss IRL heroines as inspiration for fantasy novels. Interested?

Panel on religion in fantasy seeks Buddhist and Muslim voices. If you're attending #Sirens15 and want to join, let @sesmithwrites know!

Catherine Lundoff @clundoff has raised a hand for being part of programming—check out her Twitter for more information and interests.

And we have some facts, frequently asked questions, examples, and inspiration for you!
Staff talks about presenting different kinds of programming:
Attendees talk about programming:
HELP US FUND SIRENS SCHOLARSHIPS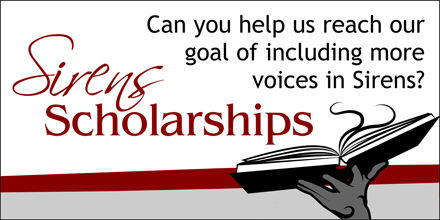 Sirens Conference needs your help to include more voices in our community!
This year, we hope to offer more scholarships than ever before. You can donate any amount, and if you do—no matter the amount—we will feature you, under your chosen name (or anonymous), on our website and in our program book. More importantly, both our Sirens team and our community will be grateful for your commitment both to those who might not otherwise be able to attend Sirens and to the diversity and inclusiveness of our community.
We've already funded a third of our scholarships—the first three will benefit Con or Bust. Can you help us meet our goal of funding a total of nine scholarships? You can donate any amount, and any amount is much appreciated.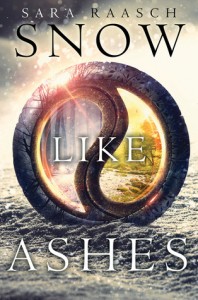 Come read with us! Sirens co-founder Amy leads the Sirens Book Club each month. May's book is Snow Like Ashes by Sara Raasch. Join the discussion here on Goodreads.
Never-before-seen passage cut from an early draft of Madeleine L'Engle's A Wrinkle in Time.

Marvel hires a pair of women to write Captain Marvel.

Fairy tales that are backed by science!

Exploring the appeal of fantasy romance.

Five fantasy epics that would make for better TV than Game of Thrones, including Tamora Pierce's The Immortals.

Four female Muslim superheroes countering stereotypes.

The Darkest Part of the Forest by Holly Black is the 2015 Indies Choice Book Award Young Adult Book of the Year.

"Another day, another erasure of women in the world of books."

"Me and Science Fiction: What Are We, Chopped Liver?"

April was Women in SF&F Month on Fantasy Café.

One Artist Rips Open Grimm's Fairy Tales to Reveal Their Gruesome, Feminist Roots (note: graphic imagery that may be disturbing or NSFW).

DC and Mattel team up to create superhero action figures for girls.

Aniko Kolesnikova's 3-D fantasy book covers.

A peek at how maps get made for fantasy books.

New audio adaptation of Earthsea by Ursula K. LeGuin on BBC Radio 4.

2014 Tiptree Award Winners.

2014 Aurealis Awards.

Magical 3-D art made from abandoned books.
Recent Releases:
PLEASE NOTE: We will soon be transitioning to reporting on books that are out in the previous month, so we'll be skipping new books in the June newsletter. In July, we'll bring you a list of June's releases. As always, we're happy to hear about new releases—please send them to (help at sirensconference.org)!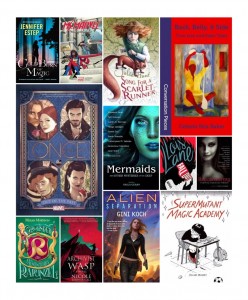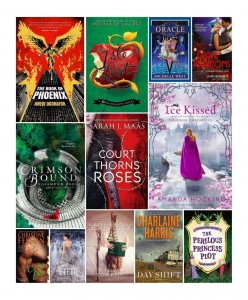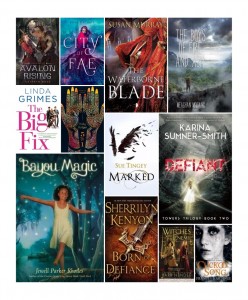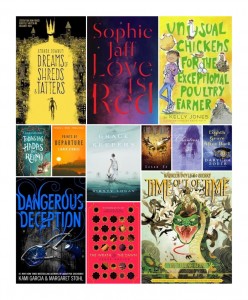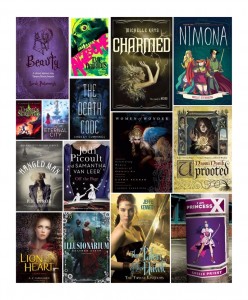 Click each image for a closer look at the covers.
From April:
Back, Belly, and Side: True Lies and False Tales, Celeste Rita Baker
Cold Burn of Magic (Black Blade #1), Jennifer Estep
Grounded: The Adventures of Rapunzel (Tyme #1), Megan Morrison
Ms. Marvel, Vol. 2: Generation Why, G. Willow Wilson, ill. Jacob Wyatt and Adrian Alphona
Once Upon a Time: Out of the Past, Kalinda Vazquez, ill. Corinna Bechko, Pascal Campion, Betsy Peterschmidt, Vanesa Del Rey, and Janet Lee
SuperMutant Magic Academy, Jillian Tamaki

May 1:
Lois Lane: Fallout, Gwenda Bond
Mermaids and Other Mysteries of the Deep, ed. Paula Guran
Song for a Scarlet Runner, Julie Hunt

May 5:
Alien Separation, Gini Koch
Archivist Wasp, Nicole Kornher-Stace
Blood Sisters: Vampire Stories by Women, ed. Paula Guran
The Book of Phoenix, Nnedi Okorafor
Cat's Lair, Christine Feehan
A Court of Thorns and Roses, Sarah J. Maas
Crimson Bound, Rosamund Hodge
Day Shift, Charlaine Harris
Grave Phantoms, Jenn Bennett
The Heir, Kiera Cass
Ice Kissed, Amanda Hocking
Isle of the Lost, Melissa de la Cruz
Oracle, Michelle West
The Perilous Princess Plot (Buckle and Squash #1), Sarah Courtauld
Seriously Wicked, Tina Connolly
The Waterborne Blade, Susan Murray
Witches With the Enemy, Barb Hendee

May 7:
City of Fae, Pippa DaCosta
Marked, Sue Tingey

May 8:
Avalon Rising, Kathryn Rose

May 12:
5 To 1, Holly Bodger
Bayou Magic, Jewell Parker Rhodes
The Big Fix: A Novel, Linda Grimes
Born of Defiance (The League #8), Sherrilyn Kenyon
The Boys of Fire and Ash, Meaghan McIsaac
Cuckoo Song, Frances Hardinge
Defiant, Karina Sumner-Smith
Dreams of Shreds and Tatters, Amanda Downum
End of Days, Susan Ee
Love Is Red, Sophie Jaff
Points of Departure: Liavek Stories, Patricia C. Wrede and Pamela Dean
The Telling Stone (Time Out of Time #2), Maureen Doyle McQuerry
Todas las Hadas del Reino, Laura Gallego García
Unusual Chickens for the Exceptional Poultry Farmer, Kelly Jones
The Wrath and the Dawn, Renée Ahdieh

May 19:
Chantress Fury, Amy Butler Greenfield
Dangerous Deception, Kami Garcia and Margaret Stohl
Eighth Grave After Dark, Darynda Jones
The Gracekeepers, Kirsty Logan
The Hanged Man, P. N. Elrod
Illusionarium, Heather Dixon
Lion Heart, A. C. Gaughen
Nimona, Noelle Stevenson
Off the Page, Jodi Picoult and Samantha van Leer
Thor's Serpents, K. L. Armstrong and M. A. Marr
Uprooted, Naomi Novik
Women of Wonder: Celebrating Women Creators of Fantastic Art, edited by Cathy Fenner

May 26:
The Awesome, Eva Darrows
Beauty (Tales from the Kingdoms #3), Sarah Pinborough
Charmed, Michelle Krys
The Death Code, Lindsay Cummings
The Eternal City, Paula Morris
I Am Princess X, Cherie Priest
The Talon of the Hawk (The Twelve Kingdoms #3), Jeffe Kennedy
SIRENS REVIEW SQUAD
We'd love a few more volunteers to supply us with short reviews of works they have read and loved. If you think you could contribute a book review of at least 250 words sometime during the next year, we would love to have your recommendation for the Sirens newsletter.
Review squad volunteering is quite flexible; we simply ask that you share information about books you've enjoyed. (We are, of course, especially interested in fantasy books by and about women, and we hope you'll consider interesting, diverse selections.) You can contribute once or on an ongoing basis, and on a schedule that works for you. Please visit the volunteer system and, when we ask you what position you're interested in, type in "Book Reviewer."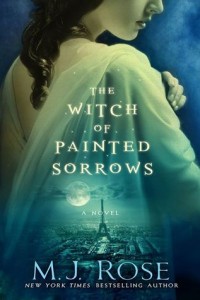 The Witch of Painted Sorrows
M. J. Rose
There are no words for how much I loved this book.
The Witch of Painted Sorrows is the tale of a young American woman who flees to her grandmother's mansion in Paris to get away from her tyrant husband. When she gets there, however, Sandrine finds more than she bargained for in the form of La Lune, a woman of family lore who may still be haunting the house. Through her influence, Sandrine learns to paint, exert her own willfulness, and perhaps most shockingly (to herself at least) embrace her sexuality and sensuality.
This book was incredibly atmospheric evoking the glamour and mystery of La Belle Epoch Paris, nearly gothic in places—it gave me shivers! The house and city become characters as much as the people in the book.
Though Sandrine isn't much developed as a character before her first encounter with La Lune, the changes wrought in her serve to show the reader what she must have been like before. (And I have to say, go La Lune! A woman before her time.) I wish Julien had been a little more developed, but he still served as the perfect pairing of the empowered Sandrine, and foil to her husband. Sandrine's courtesan grandmother may have been the most developed of all the characters. Watching what happens to her was heartbreaking.
And the sex! *fans self* This is not erotica by any means, but in the hands of a skilled author like M. J. Rose, the sex scenes are amazing. Give me this over 50 Shades any day.
As a fan of all things mystical and occult, this book was right up my alley. I loved the reference to the fire opals and rubies (I hope she does more with the stones' symbolism in later books) and the depiction of spiritualism and the occult rites toward the end was spot on from research I've done. Plus, the idea of a ghost possibly possessing someone always lends an air of the uncanny.
I have to say I'm wondering what she's going to do with the rest of the series. The ending was well tied up, save for one shocker that made me sit back and say, "Okay, bring on book 2! " – Nicole Evelina
---
Questions? Concerns? Please email general queries to (help at sirensconference.org) and questions about programming to (programming at sirensconference.org).