In this issue:
INTERVIEWS WITH GUESTS OF HONOR

We recently posted Sirens interviews with two of our guests of honor for 2015: Kate Elliott and Yoon Ha Lee, and they've got some fascinating things to say about reading, writing, and women in fantasy. Coming soon, we'll interview our third guest of honor, Rae Carson, as well!
REGISTRATION DEADLINE
The deadline to register for Sirens is fast approaching. If you haven't purchased your registration yet, please make sure to do so before registration closes on September 12. After that, you must register at the door at an increased price. If you have any questions, please contact us at (registration at sirensconference.org).
TICKETS
Tickets for the Sirens Shuttle, Sirens Supper, and Sirens Studio are still available. The Sirens Shuttle offers discounted group transportation to and from Denver International Airport, for you and any friends or family who'd like a ride too. The Sirens Supper is our annual pre-conference dinner, and a great way to kick off the conference. Finally, our new offering, the Sirens Studio, features two days of workshop intensives (for readers, writers, and professionals), discussion, networking opportunities, and flexible time for you to use however you wish. If you'd like to join us for some—or all—of these, tickers can be added to a registration until registration closes on September 12 . Tickets for these events are unlikely to be available at the door.
HOTEL RESERVATIONS
Don't forget to make reservations to stay with us at the Inverness Hotel in the south Denver metro area. Rooms are filling up quickly, especially for the Sirens Studio days (and nights)! If you're seeking roommates, let us know on Twitter so we can retweet your search, or make a post on Facebook or our website message boards. If you have any issues making a reservation and getting the Sirens discount rate, please do let us know at (help at sirensconference.org); if we can help, we certainly will. Read more about why staying at the hotel helps us and why you will want to stay at the Inverness.
PROGRAMMING SPONSORSHIPS
You can see the presentations we've accepted from Sirens attendees on the accepted programming page. (The schedule is undergoing proofreading as you read this!) If you see a presentation you love, consider sponsoring the presentation under your name or on behalf of a group! Presentation sponsorships cost only $35, and the proceeds go entirely to Sirens' expenses. We appreciate your donations, and if you sponsor a presentation by August 21, we'll be able to list your donation not just on the website, but in the printed program book that all attendees receive.
VOLUNTEERING
Would you like to help out during Sirens? Volunteer shifts vary in length and responsibilities, but most volunteer shifts are during programming and allow you to attend presentations; you might help people find seats, turn microphones on or off, give presenters their five-minute warnings that time is up, and gather lost and found items. See the volunteers page on our website for more details. If you're a returning volunteer, you don't need to fill out the form—just keep an eye out for email from the Google Group. We'll be sending information about available volunteer shifts to group members. Thank you!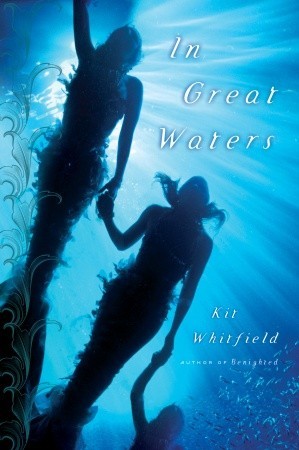 Come read with us! Sirens co-founder Amy leads the Sirens Book Club each month. August's book is In Great Waters by Kit Whitfield. Join the discussion here on Goodreads.
Books for Friday's Books and Breakfast and Saturday's Books and Breakfast have been announced.
Sherwood Smith: Influential Fantasy for Heroines
Hallie Tibbetts: Sirens Accepted Programming for 2015: Papers
June Recap: Sirens News, Book Releases, and Interesting Links has become its very own special feature, with links, book releases, and more. We've rounded up June, and July is on its way…
Yoon Ha Lee: Six Fantasy Works for Sirens
Shveta Thakrar: Seven Fantasy Books Featuring Non-Western Mythology and Folklore
Kate Elliott: Five Fabulous Epic Fantasy Works by Women
Hallie Tibbetts: Six Fantasy Books with Non-US Settings
Testimonials and a Love Letter
---
Questions? Concerns? Please email general queries to (help at sirensconference.org) and questions about programming to (programming at sirensconference.org).