In this issue:
GUEST OF HONOR: VICTORIA SCHWAB
We're interviewing each of our Sirens 2017 Guests of Honor about their inspirations, influences, and craft, as well as the role of women in fantasy literature, as befits this year's theme of women who work magic.
This month,
we interviewed Victoria Schwab
about writing to conquer fear, how much she owes to J. K. Rowling, all manners of monsters, ambitious characters, and being ambitious herself: "When I sit down to construct my characters, I first ask myself what they fear, what they want, and what they're willing to do to get it. Thus, their ambition is one of the pillars of their design. And one of my own pillars, too."
Our feature on Victoria also includes a review of A Darker Shade of Magic by B R Sanders, as well as a list of books recommended by Victoria herself centered on badass ladies and their power.
SCHEDULE & PROGRAMMING SUPPORT
The conference schedule for 2017 is up! Click here to see how many of your favorite things we scheduled across from your other favorite things!
There's still time to sponsor our programming sessions; the cost is $35 per presentation. Thank you again for all your support!
INCLUSIVITY AT SIRENS
In our latest community post, Kate Larking shares with us her experience at Sirens versus the other literary conferences she attends: "One thing that unites us at Sirens is that we love developed, complex voices in speculative fiction. We embrace worlds that are different from our own and seek out the experiences of those who live within them." Read the rest of her post here.
MENUS
Registered attendees, please check your inboxes for the full menus for this year's conference. (You can also view our menus on our Conference and Sirens Supper pages.) If you have any allergies or dietary restrictions, please email us at (help at sirensconference.org) by September 8—after which, we'll assume you can eat from our standard menus.
REGISTRATION TRANSFERS
Although Sirens is officially sold out for 2017, we have several attendees looking to sell their registrations (and sometimes other Sirens tickets as well). If you're looking to sell yours and you'd like a signal boost, please tweet at us (@sirens_con) or feel free to post information on our Facebook. Please keep an eye on our Twitter for any announcements.
9 SIRENS SHUTTLE TICKETS REMAINING
Sirens offers a $95 round-trip shuttle from Denver International Airport to Vail, significantly cheaper than commercial shuttles which can cost upwards of $200. We encourage you to buy your shuttle ticket soon, even if you don't have flights yet—there are only 9 spots left before our shuttle is sold out!
HOTEL RESERVATIONS
We are close to filling our block at the Hotel Talisa for the third and final time. If you have not yet made your hotel reservation, please do so as soon as possible. We have only four rooms left on the main nights of Sirens, and on September 22, the hotel will release all remaining rooms. Any reservations made after that date will not receive the Sirens discount. For more instructions on how to make your reservation, please visit our Hotel page.
AMY'S BOOK CLUB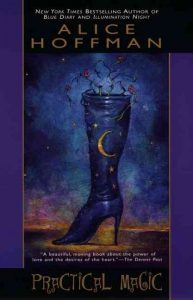 Sirens co-founder Amy Tenbrink read Alice Hoffman's modern classic Practical Magic this month, which she admired for its focus on "a bunch of women…all doing the best they can. Sometimes solutions are magic, sometimes they're determination, sometimes they're taking your fears in hand and charging forward." Full review on the blog and on Goodreads.
READ ALONG WITH FAYE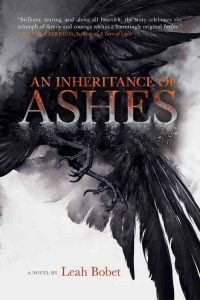 This August, Faye read Leah Bobet's An Inheritance of Ashes for her Reading Challenge pick! She found it "a quiet book…full of surprises, and not shiny at all, in the best way possible." Find out what that means by checking out her review over on the blog and on Goodreads.
SIRENS REVIEW SQUAD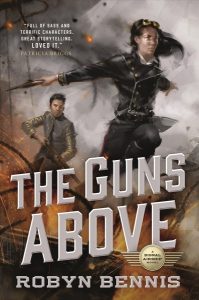 Longtime Siren Casey Blair read Robyn Bennis's The Guns Above, which she loved for its complex world-building, amazing female characters, and masterful tone: "If you love wit and self-awareness in your fantasy to go with your airships, I highly recommend checking this one out." Read her full review here.
IN CASE YOU MISSED IT…
---
Questions? Concerns? Please email general queries to (help at sirensconference.org) and questions about programming to (programming at sirensconference.org).