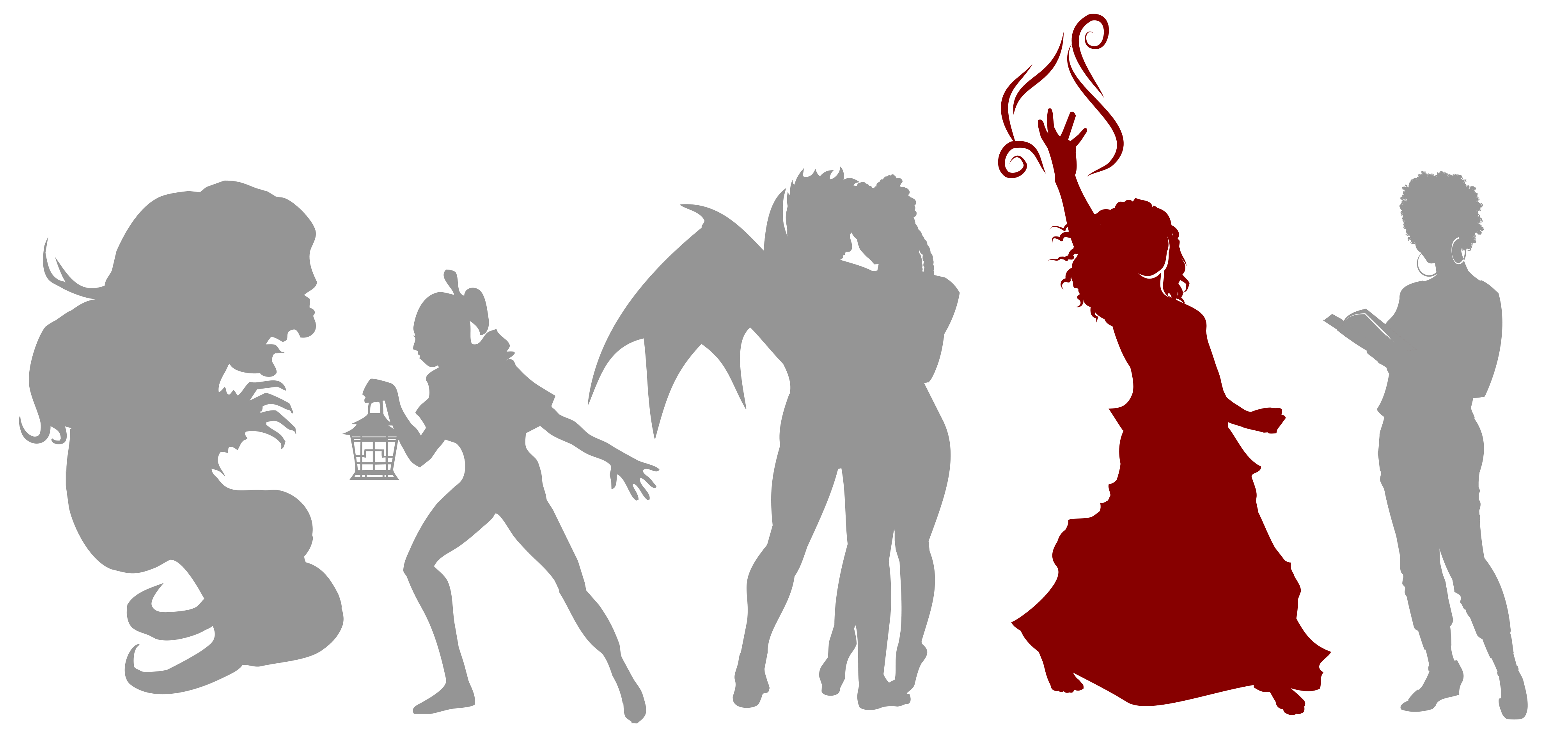 In fantasy literature, magic is, in many ways, the most ready analogue for real-world power.
Mages have magic: the ability to call the storm, raise the dead, or control minds. They are awe-inspiring, intimidating, terrifying. Special. They are often kings, sometimes in direct violation of laws designed to prevent that amalgamation of power. Even mages who aren't kings are so often shadow kings, advisors to kings, or adversaries of kings. And didn't we all share Harry's thrill when Hagrid said, "Harry—yer a wizard"? Of course we did, because having magic gave oh-so-miserable Harry the chance to change his life.
Magic, fundamentally, is power.
So consider, for a moment, female magic-workers in fantasy literature.
Most commonly, they are witches, and—even today, even in fantasy literature, even in fantasy literature by female and nonbinary authors—the word "witch" is so commonly a slur. In contemporary fantasy. In books reexamining historical periods. In all sorts of books with fantasy-world settings. Witches—or you might say women who work magic—are dangerous. They are often solitary, often old, and often ugly. They are in the business of crop-wilting, cattle-killing, storm-bringing, and baby-eating. They deserve the village's righteous justice: burning, drowning, hanging. These women who have magic must be redeemed, so often through death.
Just for having magic. Or, if you will, just for having power.
Having magic gives women the power to subvert expectations. It gives them a way to forge a living, allowing them to choose marriage if they want, rather than relentlessly pursuing a husband (always a husband) for food and shelter and protection. It gives them the opportunity to seek their own path, set their own priorities, and establish their own identity. Magic gives these women choices and independence. And untethered women—women with resources, with skills, with wisdom, with freedom—are dangerous.
May all women have such magic.
Fantasy literature—sometimes intentionally, sometimes not—has an awful lot to say about gender, magic, and power.
Witches in our real world—or reexamined versions of our real world: So many fantasy works examine the mythos of witches through the lens of our world. From very traditional tales of witches (Of Sorrow and Such) to criticism of historical societies (Sorcerer to the Crown, Redwood and Wildfire) to modern-day stories of witches and all-too-real expectations (Labyrinth Lost, All the Birds in the Sky, Practical Magic). From new tales of legendary witches (Vassa in the Night) to new legends of all-too-familiar tropes (This Strange Way of Dying, The Girl Who Drank the Moon). From May-December romances of young witches and mentor wizards (Uprooted) to witches finding late-in-life love together (The Memory Garden) to witches spurning traditional betrothal to seek their own way (The Bear and the Nightingale).

Witches in fantastic worlds: Sometimes, fantasy works take the witch archetype and build it a new world, one that may be more but is sometimes even less sympathetic to magic-working women: good witches (Sister Mine), evil witches (Sarah Pinborough's Beauty), and witches still figuring things out (Bayou Magic). Witches who rule their world (Forest of a Thousand Lanterns) or who would rather live quietly at home (The Beast Is an Animal). Witches who seize their own fate (The Bone Witch) or who are a formidable, desired commodity (Truthwitch). Adventurous witches (The Magical Misadventures of Prunella Bogthistle), ambitious witches (Born Wicked), vengeful witches (The Shadow Queen), desperate witches (Chime), wise witches (The Color Master).

All manner of other sorceresses, illusionists, and magic-workers: In fantasy literature, beyond the witch archetype, women work magic in a thousand ways and for a thousand reasons. Because of slavery (The Fifth Season, The Forbidden Wish) or for vigilante justice (Slice of Cherry), because of talent (Last Song Before Night) or tradition (Three Dark Crowns), because of a bet (The Night Circus) or a hereditary gift (The City of Brass). Reluctantly (Jade City), mistakenly (The Young Elites), genteelly (Shades of Milk and Honey), cleverly (Passing Strange), with great responsibility (Fire) or great skill (The Mistress of Spices) or great grief (Sorrow's Knot). Sometimes, the magic they work isn't even theirs (Monstress).
In 2017, the Sirens theme was women who work magic. Not only women who have magic, but women who work magic. They might work it quietly or shyly or slyly. They might work it with great purpose or great intent or great pride. But these women have power and they use it.
This theme might speak to you in a number of ways. It might be about talent or training or skill. It might be about creation or innovation. It might be about goals and aspirations and drive. It might be about dreams or quests or bargains. It might be about oppression or revolution or revenge. It might be about independence.
And we hope, as we approach this year's Sirens reunion, that you'll contemplate women who work magic, as well as the other themes of our past four years, in your reading, your conversations, and your programming proposals.
---
At Sirens, our reunion years are an opportunity to reexamine the themes of the previous four years, in this case: hauntings, rebels and revolutionaries, lovers, and women who work magic. This is the last post on these themes—but please also know, as you begin to plan your programming proposals, that proposals need not focus entirely or even at all on theme topics. All proposals related to women in fantasy literature are welcome. Get inspired by our 2017 Women Who Work Magic book lists, Suggested Reading and Reading Challenge.