Each year, we select a variety of popular, controversial, and just plain brilliant books—and then, during Sirens, invite our attendees to bring their breakfast and discuss them. Over the years, this program has highlighted the depth and breadth of each of our annual themes and given attendees yet another opportunity to deconstruct, interrogate, and celebrate what women and nonbinary authors are doing in fantasy literature.
This year, our Books and Breakfast program will feature eight books, with two dedicated to each of the themes of our past four years: hauntings, rebels and revolutionaries, lovers, and women who work magic. The complete list of our selections and a spotlight on our hauntings selections are here; a spotlight on our rebels and revolutionaries selections is here; and we'll be featuring the women who work magic selections in the coming weeks. We hope this helps you pick which ones you might like to read before Sirens!

2018 BOOKS AND BREAKFAST SELECTIONS
Hauntings
The Memory Trees by Kali Wallace
An Unkindness of Ghosts by Rivers Solomon
Rebels and Revolutionaries
Children of Blood and Bone by Tomi Adeyemi
Her Body and Other Parties by Carmen Maria Machado
Lovers
A Crown of Wishes by Roshani Chokshi
Passing Strange by Ellen Klages
Women Who Work Magic
The City of Brass by S. A. Chakraborty
Spellbook of the Lost and Found by Moïra Fowley-Doyle

SPOTLIGHT ON LOVERS
Our two Books and Breakfast picks focused on lovers are Roshani Chokshi's A Crown of Wishes and Ellen Klages's Passing Strange. Do you plan on picking these up soon? Let us know! Tweet @sirens_con or use the hashtag #Sirens18!
A Crown of Wishes by Roshani Chokshi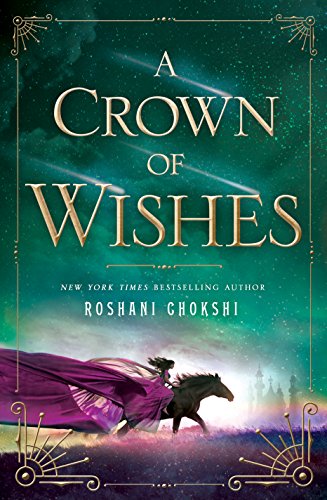 First, a note: Please don't let the fact that A Crown of Wishes is the second book in Chokshi's Star-Touched series deter you! We promise, you may read it easily as a standalone—and in fact, only a single scene in A Crown of Wishes is informed by the first book in the series, and even then, only slightly.
A Crown of Wishes belongs to Gauri and Vikram, she a warrior princess struggling under her brother's rule, he a puppet emperor ascendant of the neighboring kingdom. For reasons you won't truly understand until the end of the book, Vikram stumbles into the Tournament of Wishes, a deadly game run by the enigmatic Lord of Wealth in a mythical land. Vikram's invitation is for two, and in a somewhat improbable meeting with Gauri, helped along by the gods, he proposes that they enter the tournament together: He can wish to rule in truth; she can wish to rule in her brother's stead.
But the gods, of course, have other plans. As Gauri and Vikram navigate myth and magic, they learn an awful lot, through near-death and chance encounters, through conversations and magic. Beautifully, though—and unlike in many romances—they don't just learn from each other, though they do plenty of that. Here, they learn a lot individually, too: about their pasts, their stumbling blocks, their hang-ups. They see how they need to grow individually, and small spoiler, at the end of the book, when they take time to get their individual hopes and dreams in order before reuniting, you can cheer a relationship of equal individuals who choose to be together in a thoughtful way (even as Guari complains, as we all might: I sent him a gift. He should send a gift back. Why hasn't he sent a gift back?).
A Crown of Wishes is, in many ways, the best of the rom coms: funny, smart, sexy, and with a twist at the end that levels their happy ending up from merely happy to legendary. Vikram is hot, of course, but also clever and willing to play the gods' games. Gauri is a revelation: Though she is gorgeous, Vikram frequently describes her as a beast or a monster, in the most admiring terms possible, and it will make your feminist heart melt into a delighted puddle. She's brute force to his calculated misdirection, a fierce directness to his patience, a dagger to his charm. And they so clearly belong together.
Passing Strange by Ellen Klages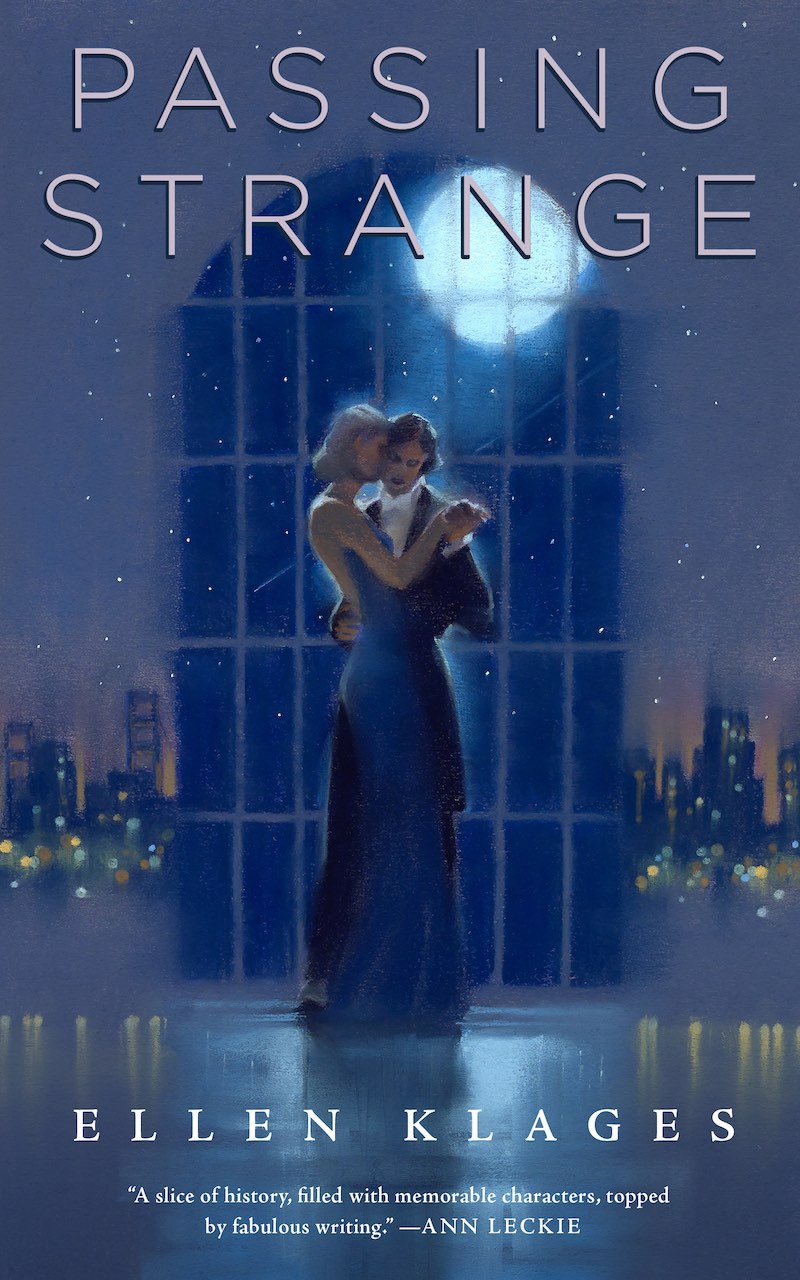 Passing Strange is, perhaps, best described a tone poem. A tone poem, for anyone who didn't suffer through classical music classes once upon a time, is this: a piece of orchestral music, typically in one movement, on a descriptive or rhapsodic theme. They're shorter than symphonies or concertos and, due to their single-movement nature, often lack the variation present in symphonies or concertos as well. Think of them as the musical representation of painting, perhaps. And the same is true of Passing Strange, it's a glorious work, novella-length, that paints a lesbian romance in airy brushstrokes.
Passing Strange is set in San Francisco against the backdrop of the 1939 World's Fair, and the city is as much a character as anyone: inviting, enchanting, deviling the human characters themselves. The World's Fair's Magic City makes an appearance, as do Chinatown and the city's famous Painted Ladies rowhouses. For those of you who yearn for sentient settings, drawn with vivid magic and wills of their own, this one's for you.
But this one is also for anyone who loves a love story for the ages, a moment in time where two people meet and everything else falls away. Where abusive husbands and judgmental people and your own limitations pale in comparison to the person in front of you. In this case, its two women finding each other, improbably, impossibly, despite the violence and discrimination of so many in the city. They are helped along the way by more women, and while the form of their happy ever after won't surprise you, the beauty and transcendence of the scene depicted on the cover just might.