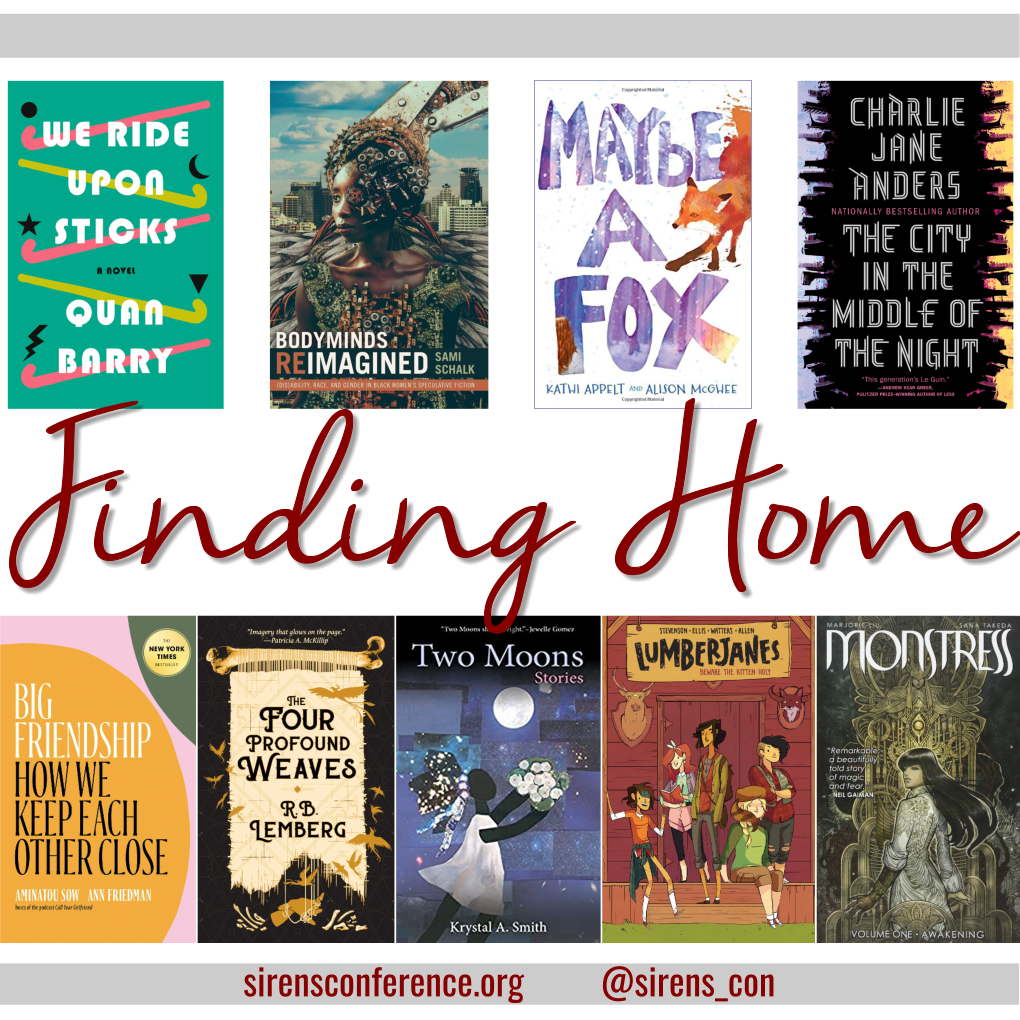 Not being able to gather in person with the Sirens community in 2020 was heart-rending. But it also gave us the gift of time: a chance, after more than a decade of work, to take a breath and consider what Sirens is today—and what we want it to be tomorrow.
Sirens is a conference that actively seeks to amplify voices that are pushing boundaries in speculative spaces—and specifically, are pushing those boundaries in the direction of a more inclusive, more empathetic, more just world. Since we featured works on this year's villainous theme last year, this year's Sirens Reading Challenge instead showcases 50 works by female, nonbinary, and trans authors that envision that better world—and we're exploring what that means to us in a series of six posts, using those works as reference points.
Our first five posts discussed finding and sharing those speculative and nonfiction works that, respectively, reclaim what it means for us to be from somewhere, to transgress boundaries, expectations, and limitations for all people of marginalized genders, to revolutionize our world through collective action, to resolutely, radically hope, and to save yourself from a world's worth of others' expectations . Today, in the last of our series, we discuss how crucial, how necessary to find our own unique embodiment of home.
Finding Home
Sometimes we all need to come home.
Every day, we venture forth. We reclaim and we transgress, we battle and we hope, and we save ourselves. We go adventuring, on grand quests and smaller travels. We seek new experiences and expand our horizons. We go and go and go, so often at others' behest but occasionally for our own growth and happiness.
But we all, sometimes, need to come home.
We're taught that home has a very specific meaning: your house, your place of residence, on which you pay your utilities, a place to keep your belongings. Our societal interpretation of home is terribly impersonal, almost technical, a legal domicile, an investment. Despite that this is, one supposes, where you spend most of your time, where your family or friends reside, where you keep you most treasured possessions.
We don't need a house; we need a home. We need somewhere where we feel warm and cozy and safe. Where we are most ourselves. Where there's no need to reclaim, no need to transgress, no battles to be fought. A place of hope and a place of safety.
Yes, sometimes that is a place. Sometimes that is even a house or an apartment, yours or someone else's, a family member's or a friend's. Sometimes that is another physical location: a desert or a lake, a library or a bookstore, a favorite chair or a porch swing. Anywhere that keeps you warm, keeps you safe, makes you whole.
Other times, that's a person: in the arms of your lover, by the side of your best friend, at the feet of your forebears. Just as much as locations, with all their memories and attachments, people can conjure home for us just as indelibly. People can keep us warm, keep us safe, make us whole.
But whether your home is a location, a pet, a person, it's vital that you have something, somewhere, someone that means home to you. Somewhere or someone that reminds you who you are, what's important to you, what you've lost in the daily bustle of living your life. Somewhere or someone that can help you re-focus, re-group, re-imagine where you want to go next, the next time you feel ready to leave the warm and comfort and safety of home.
And so, in the speculative space that is Sirens, our sixth mission statement is finding home: to create a place or discover a person who makes you feel especially warm and safe.
Whether we battle of our own accord or war comes to us, whether we adventure readily or reluctantly, whether we reclaim or transgress or simply get through the day, our lives are not so different from our stories. Stories of revolution and quests, combat and peace, all present some notion of home. Stories assure us that it's okay to need that place, that person, to fill our hearts, guide us back to our north star, remind us that we can—and will—do whatever it is we set out to do.
Whatever home means, now or ten years from now, we must, each of us, find ours.
Finding Home Works
In Maybe a Fox, Kathi Appelt and Alison McGhee's ugly-cry middle-grade novel, Jules and Sylvie are sisters and, even better, best friends. But when their mother passes away, each of the sisters grieves differently: Jules hunkering down, Sylvie running away. When Sylvie disappears, Jules is lost, bereft, inconsolable, as Sylvie was even more essential to Jules's idea of home thane even their mom was. But at the same time as Sylvie disappears, a new fox is born, one that seems destined to protect Jules as she searches with an ever-thinning thread of hope for her missing sister. Maybe a Fox is a delicate reflection of what it means to grieve, what it means to hope, and what it means to reconstruct your home after a catastrophic loss.
Lumberjanes, the Noelle Stevenson-created comic that has featured dozens of creators over its 21-and-counting volume history (with offshoots for graphic and non-graphic novels), explores what it means to find home by finding your people. Five best friends are determined to have the best time at summer scout camp—and they're not about to let any three-eyed wolves get in their way. Lumberjanes is a little bit punk rock, a little bit girl detective, and a whole lot of joyous queer space all rolled up into a series of fantastical adventures. But where the series really excels is beautifully crafting its main characters and their relationships—which grow and change as they themselves grow and change. Friendship to the max!
Speaking of friendship, Big Friendship: How We Keep Each Other Close, by Aminatou Sow and Ann Friedman, challenges the notion that our friendships should not—could not—be as important that our romantic relationships. By putting their own friendship on display, with all its twists and turns, ups and downs, Sow and Friedman construct a new way of viewing our friendships: as fulfilling, as comforting, as challenging, as complicated and complex and ultimately crucial to our wellbeing. But they also note that those sorts of friendships are not easily won, and require foundational commitment and daily care. As we examine what it means to find home, and how that is so often found through the people in our lives, Sow and Friedman offer a validating, reassuring, earth-shaking option: our friendships.
So much of what we read is challenging, traumatic, dystopian—and rightly so, as we examine our own challenging traumatic, dystopian world and our place in it—but in Two Moons, Krystal A. Smith does something radical: She chooses joy. Two Moons, her collection of thoroughly delightful short stories, is full of Black mysticism, queerness, and happy endings. In the opening, utterly gorgeous work, a woman falls in love with the moon. Later, a woman births a goddess—and receives a surprising reward. In a surprise turn, a woman has a heart-to-heart…with her heart. Each work is a further pleasure, a further enchantment, a further chance to find a little bit of bliss—and a map to a new incarnation of home.
Monstress, the exquisitely crafted comic by Marjorie Liu and Sana Takeda, is now in its sixth volume—and for good reason. In an alternate-world Asia, full of Art Deco architecture, steampunky science, magic inspired by Middle Eastern myth, and a matriarchal society, Monstress offers a beautiful canvass for its creators to explore what it means when your homeland is broken—and the lengths a people will go to reclaim it. As the reader traverses this world, following former child slave Maika Halfwolf, who is hell-bent on avenging her dead mother but who is also the occasional host of a terrifyingly powerful monster, Liu and Takeda travel inexorably down the rabbit hole, asking over and over again: When do you fight for your homeland and when do you burn it all down?
In Charlie Jane Anders's The City in the Middle of the Night, we are on January, a colonized planet frozen in space, where one side lives in perpetual, blazing sun and the other in perpetual, suffocating darkness. In this hellscape, Sophie lives in one of the border cities, moderately more temperate, but after contributing to a failed revolution, she is exiled to the dark. And Sophie navigates her new world, Anders adeptly navigates her themes, including what it means to build a home in a society that is relentlessly corrupt, uncaring, violent, and brutal. We all need home, even when that seems impossible.
The Four Profound Weaves, R.B. Lemberg's debut set in their Birdverse universe, is a bravura exploration of healing, faith, family, and friendship, full of layered and intricate world-building, meticulously crafted language, and complex characters. Uiziya has spent much of her life waiting for her aunt to return and teach her the last secrets of her craft; a nameless man searches for belonging and purpose, unsure he will be welcome if he returns home. Together, they set off in search of Uiziya's missing aunt, fully aware that the answers to their questions might have an enormous cost, and that they will each need to confront the pain of their pasts to find a new path forward. As Lemberg reconciles questing and returning home, your heart will sing.
Bodyminds Reimagined: (Dis)ability, Race, and Gender in Black Women's Speculative Fiction by Dr. Sami Schalk is revelatory. She begins with the notion of the bodymind, or the intertwinement of the mental and physical, the true home of your own physical/mental space. Then, using that as a foundation, she extrapolates the true political and social power of speculative spaces: creation of bodyminds that transcend reality's limitations. Schalk examines works of Black speculative writers as she examines the intersections of marginalizations and creates a new framework for disability studies, Black studies, and gender studies. If the universe truly bends toward justice, it's work like Schalk's that makes that so.
Quan Barry's We Ride Upon Sticks is also about finding home within yourself. In 1989, in Danvers, Massachusetts—formerly Salem Village—a truly terrible girls' field hockey team makes a deal with the devil in the form of a notebook with Emilio Estevez on the cover. If they want to win, they must commit acts worthy of the devil's patronage. The girls start small—a lie here, a prank there—but as the season progresses, their matches become closer, and the girls commit more serious sins. But are these acts devilish—or are they transgressive? Barry's clever, hilarious romp explores the dichotomy between objective bad acts and subjectively bad acts, the diminishing force of unrelenting stereotypes, and using a deal with the devil to find yourself and claim your power.
---
This post is the last of a six-part series on Sirens's mission. You can find the first five posts here: reclamation, transgression, revolution, hope, and saving yourself.