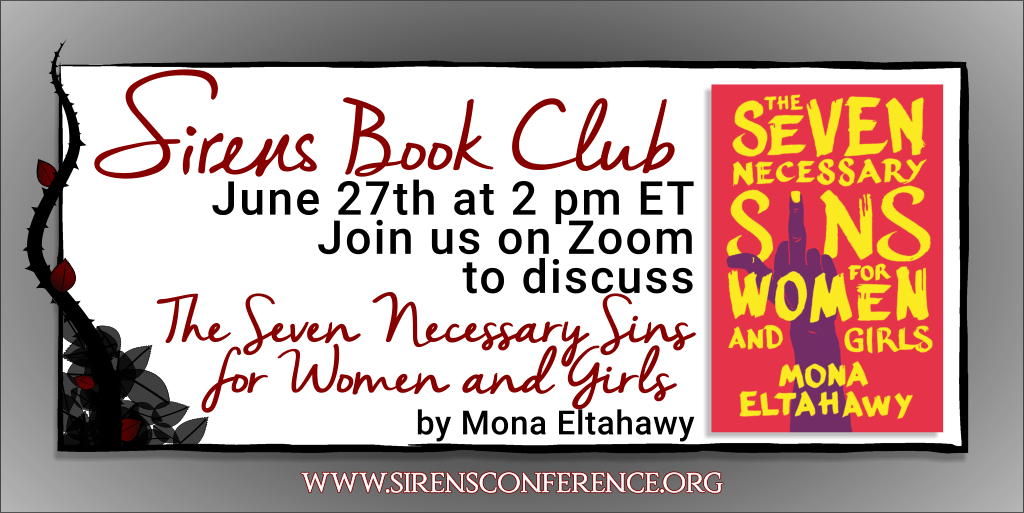 The Sirens Book Club meets monthly to discuss a book from our 2021 Reading Challenge, which includes 50 works by women, trans, and nonbinary authors that imagine a more inclusive, more empathetic, more just world.
In June, we're reading Mona Eltahawy's unrelentingly furious, deliberately profane The Seven Necessary Sins for Women and Girls. Eltahawy presents her version of the seven sins: those seven things that women and girls need to, as she exhorts, "fuck the patriarchy." Through a combination of searing academic work and lived experience as an activist around the world, Eltahawy argues for a singularly blazing approach to feminist thought, one that demands that the patriarchy fear the power of transgressive feminists to defy, disrupt, and destroy it. This brilliant, uncompromising work will teach readers how to be exactly those feminists.
This month's book club will be on Sunday, June 27 at 12:00 p.m. Mountain time (2:00 p.m. Eastern) over Zoom. If you'd like to join us, please email us at (help AT sirensconference.org) to be added to our list; for safety and security reasons, we'll be emailing the link out to interested folks closer to the discussion date.
We hope to see you there!